Lassiter assumes as provincial adjudicator for DAR E. Samar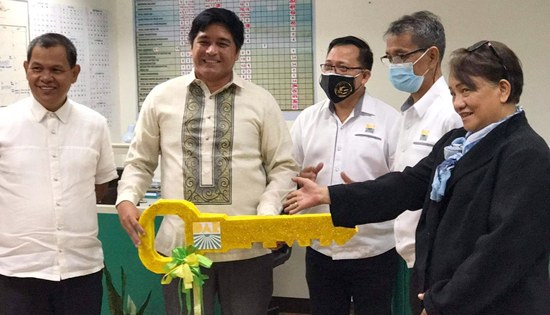 Lawyer Bryan Lassiter now serves as Provincial Agrarian Reform Adjudicator (PARAD) for Eastern Samar after PARAD Nellie Canillas turned over last week her workloads to the former. (Photo by Veah Pascasio)
By JOSE ALSMITH L. SORIA
September 28, 2022
TACLOBAN CITY Ė Provincial Agrarian Reform Adjudicator (PARAD), lawyer Nellie Canillas, formally turned over last week her workloads in Eastern Samar to lawyer Bryan Lassiter.
Lassiter, who was appointed early this year by then President Rodrigo Roa Duterte as PARAD, will succeed Canillas as Department of Agrarian Reformís (DAR) adjudicator for Eastern Samar per Special Order No. 512, Series of 2022, issued on September 1 this year by Agrarian Reform Secretary Conrado Estrella III to attain maximum efficiency at the DAR Adjudication Board (DARAB).
In the same document, Lassiter will also serve as PARAD of Northern Samar.
The said turnover took place at the office of the Regional Agrarian Reform Adjudicator, lawyer Virgilio Rosacay, at the Department of Agrarian Reform Regional office in Tacloban City.
With Rosacay, OIC-Regional Director Ismael Aya-ay and lawyer Florence Hipe, PARAD of Northern Samar and Southern Leyte, witnessed the event.
Presently designated Provincial Agrarian Reform Program Officer II (PARPO II) in Eastern Samar in an officer-in-charge capacity, Lassiter is awaiting designation of his replacement as PARPO II by the Secretary.
Canillas on the other hand will now focus as PARAD of Western Samar.
Meanwhile, Hipe disclosed that turnover of his workloads in Northern Samar will be scheduled in a later date.