Inflation rate in Eastern Visayas goes 7.2 percent in August 2022
Press Release
September 8, 2022
TACLOBAN CITY – The Inflation Rate (IR) in Eastern Visayas decreased to 7.2 percent in August 2022, after five (5) consecutive months of acceleration. The regional IR was higher than the 6.3 percent national IR in August 2022. With this month's IR, the region's average IR from January to August 2022 stood at 6.2 percent. In August 2021, the regional IR was lower at 4.5 percent (Figure 1).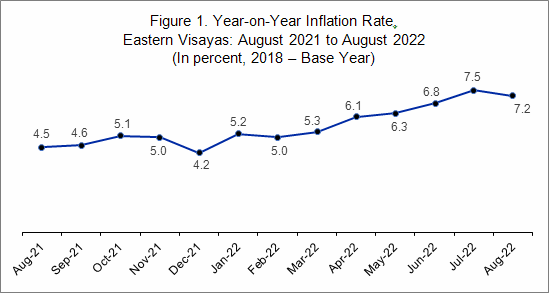 The slowdown in the regional IR in August 2022 was primarily due to the lower annual increment recorded in the index for food and non-alcoholic beverages at 7.5 percent, from 8.0 percent in the previous month. This was followed by transport index whose double-digit IR declined to 13.5 percent in August 2022, from 16.1 percent in July 2022.
On the other hand, IRs were higher for the following commodity groups during the month:
a. Alcoholic beverages and tobacco, 7.0 percent;
b. Clothing and footwear, 1.5 percent;
c. Housing, water, electricity, gas, and other fuels, 9.9 percent;
d. Furnishings, household equipment, and routine household maintenance, 1.7 percent;
e. Health, 16 percent;
f. Information and communication, 0.8 percent;
g. Recreation, sport, and culture, 1.0 percent;
h. Education services, 1.1 percent;
i. Restaurants and accommodation services, 5.3 percent; and
j. Personal care, and miscellaneous goods and services, 2.2 percent
Meanwhile, the financial services commodity group continued to registered zero percent annual growth.
IR for food index slid to 7.8 percent during the month, from 8.5 percent in July 2022. IR for food in August 2021 was posted at 5.7 percent.
By food group, the decrease in the IRs for fish and other seafood at 4.8 percent; vegetables, tubers, plantains, cooking bananas, and pulses at 3.1 percent; and rice at 2.3 percent contributed largely to the deceleration of the food index during the month. Moreover, IRs slowed down in the indices for fruits and nuts at 7.5 percent; and meat and other parts of slaughtered animals at 23.9 percent.
On the other hand, the following food groups exhibited higher IRs during the month:
a. Corn, 5.5 percent;
b. Flour, bread and other bakery products, pasta products, and other cereals, 9.6 percent;
c. Milk, other dairy products, and eggs, 5.0 percent
d. Oils and fats, 10.4 percent;
e. Sugar, confectionery, and desserts, 20.1 percent; and
f. Ready-made food and other food products not elsewhere classified, 3.6 percent;
Inflation Rate by Region
Compared with their respective previous month's IRs, six (6) regions exhibited lower inflation in August 2022, nine (9) regions had higher inflation rates, and two (2) regions retained their previous month's inflation rate. Among the regions, Eastern Visayas' IR at 7.2 percent ranked fifth highest during the month. Zamboanga Peninsula registered the highest IR at 9.1 percent, followed by Davao Region and Caraga Region at 8.9 percent and 7.5 percent, respectively. On the other hand, BARMM remained as the region with the lowest recorded IR at 4.9 percent in August 2022 (Figure 2).
Inflation Rate by Province
Relative to their IRs in July 2022, Leyte, Northern Samar, and Southern Leyte recorded lower IRs in August 2022. On the other hand, increased IRs were observed in Biliran, Eastern Samar, and Samar. Among the provinces, Southern Leyte posted the highest IR at 9.6 percent in August 2022. Northern Samar's IR came next at 9.3 percent, followed by Biliran at 7.9 percent; Eastern Samar at 7.2 percent; and Samar at 6.8 percent. The lowest IR was noted in Leyte at 6.7 percent (Table 1).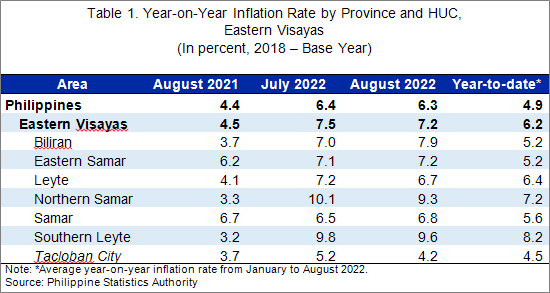 Meanwhile, IR for Tacloban City, the lone Highly Urbanized City (HUC) in the region, was recorded at 4.2 percent in August 2022, lower than its 5.2 percent IR last month.