DE Briones to contractors: Finish prior year projects until Dec. 31, 2022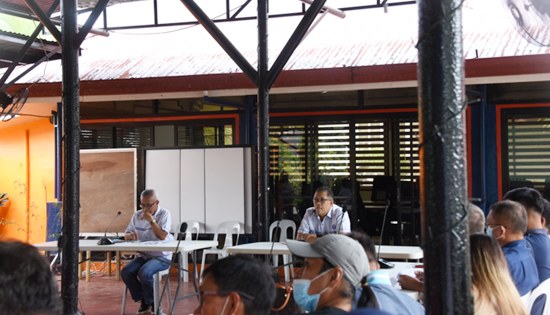 By DPWH-Biliran
September 16, 2022
NAVAL, Biliran – District Engineer Ferdinand A. Briones sets deadline to contractors with project implementation from year 2021 and below.
During the contractors' meeting held at DPWH Biliran District Engineering Office (DEO) on September 01, 2022, DE Briones orders contractors to finish its Prior Year (PY) projects until December 31, 2022 to avoid reversion of funds per Executive Order (E.O) No. 91.
"Those 2021 projects down to the PY projects, ang reversion ng pera is hanggang December 31, 2022 nalang, kaya bilis-bilisan ninyo dahil ang pera ay hindi mag-aantay sa projects," said DE Briones.
DE Briones explained that under E.O. No. 91 or the adoption of the cash-based budgeting system, contracts intended to be implemented for the fiscal year should be fully delivered by the end of the fiscal year.
"We still have PY projects that are still on-going right now, although we encountered problems and consequences in the implementation such as Right-Of-Way (ROW), project not feasible and doable but this should not be an excuse para ihinto ang project," said DE Briones.
As of August 26, 2022, BDEO has still an unpaid balance of P462.97-M for a total of 77 on-going projects implemented from 2017 to 2021.
According to DE Briones, unpaid balances are not just because of the unfinished projects but also because of the contractors' failure to process billing due to lack of documents, even though the projects are completed.
"Pag' binalik ang pera, wala ng pera yan, pag walang pera hindi nyo' na makukuha, although may ginagawang trabaho wala ng pambayad," said DE Briones.
DE Briones also emphasized that projects completed within the fiscal year has still an Extended Payment Period (EPP) of three months following the end of the fiscal year.
The District Engineer instructed the contractors to process the required documents and to fast-track the implementation of their PY projects in order to finish the projects on the allowable time.
"Whether you like it or not, you need to finish PY projects until December 31, 2022," said DE Briones to the contractors.