DTI Chief stresses the importance of RCEP and stronger PH-EU trade relations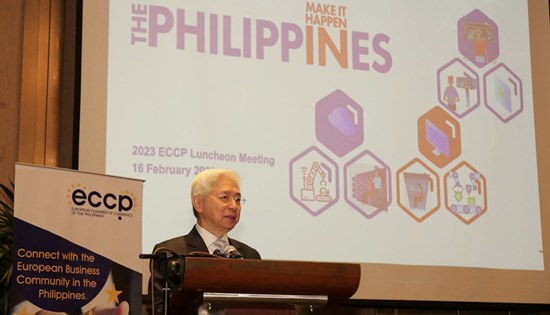 By DTI-OSEC-Public Relations Unit
February 17, 2023
MAKATI CITY – Department of Trade and Industry (DTI) Secretary Fred Pascual boasted about the Philippine government's ongoing efforts to create an enabling environment where businesses can thrive during the European Chamber of Commerce of the Philippines (ECCP) Luncheon Meeting held on 16 February 2023 at the Dusit Thani Manila.
During his keynote speech, Secretary Pascual unveiled the priorities of the DTI to facilitate increased trade and investment and to improve global competitiveness, "The goal is to grow our economy and develop globally competitive and innovative industries that support inclusive growth and quality of life for all Filipinos", he said.
The Trade Chief also took the opportunity to advocate the ratification of RCEP stating that, "The drive for immediate ratification of the Regional Comprehensive Economic Partnership Agreement and other trade agreements is considered vital to expand the country's market reach and foster globally competitive economic industries. The possible influx of investments that these agreements would bring will also create employment opportunities for Filipinos." Likewise, President Ferdinand R. Marcos Jr. earlier emphasized that RCEP would greatly complement the country's game-changing economic reforms.
Apart from RCEP, Secretary Pascual urged European businesses to support the Philippines' re-application for the upcoming renewal of the European Union Generalised Scheme of Preferences Plus (EU-GSP+). This was also supported by Assistant Secretary Allan B. Gepty, who was also present at the Luncheon Meeting and underscored the significant role of the EU-GSP+ during the open forum, "That is why EU-GSP+ is very important because it caters to the demands, the needs of our local stakeholders, and even investors who are exporting to the EU market", he said.
Secretary Pascual further reiterated that "the Philippines counts on European businesses' continued support for our re-application in the upcoming renewal of the EU-GSP+ scheme and our advocacy to resume the PH-EU FTA negotiations. Your business presence here proves that the Philippines stands on sound economic and social reforms."
The European Chamber of Commerce of the Philippines (ECCP) is a bilateral foreign chamber that promotes European interests in the Philippines and vice versa. ECCP also organizes business meetings; seminars with resource speakers from the Philippines, Asia, and Europe, which coordinate the position of the business sector; as well as dialogues with the Philippine government officials on important economic issues affecting the Philippine-European business relations.