Estrella pledges support to Samar's agri development programs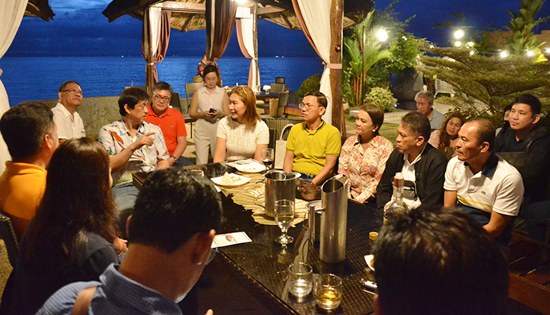 Agrarian Reform Secretary Conrado Estrella III met Samar Governor Sharee Ann Tan and all the provincial board members and mayors in Marabut town where he pledged to support the province's agricultural development programs.
By JOSE ALSMITH L. SORIA
February 17, 2023
MARABUT, Samar – Not only projects from the Department of Agrarian Reform (DAR) did Secretary Conrado Estrella III commit to Samar governor Sharee Ann Tan during the former's recent visit to Eastern Visayas, but promised to link them as well to other government agencies, and even to the president in support to the province's agricultural development programs.
The two government officials had a short meeting at the Layao Beach Resort in this municipality after Estrella distributed Certificates of Land Ownership Award (CLOAs) and turned over a "Tulay ng Pangulo" project and several farm equipment and machineries in nearby Balangiga town in the province of Eastern Samar.
Prior to Estrella's arrival to Region-8, Tan arranged an audience with him to discuss her administration's plan to develop the coconut and cacao industries in the province.
In his meeting with Tan, which was also attended by the provincial board members and all the city and town mayors of Western Samar, Estrella said that DAR could establish processing centers in agrarian reform communities (ARCs) where there are huge number of agrarian reform beneficiaries who would be benefited by these projects.
Aside from various support services that could be extended by DAR, Estrella expressed that he will invite Bernie Cruz, former DAR Secretary, now the Administrator of the Philippine Coconut Authority (PCA), who is expected to provide better assistance to their coconut-related endeavors, in their future meetings.
Based on the data gathered from the Samar web site, coconut is the main commercial crop in the province, which are mostly concentrated in coastal areas.
Estrella also assured the local government officials that he will mention their plan in developing the agriculture sector during cabinet meetings to solicit assistance from other government agencies.
President Ferdinand Marcos Jr. wants to bring the government closer to the people, Estrella stressed.
In her facebook post, Tan shared, "Thank You, Secretary Estrella, for sharing your time and thoughts with us. We look forward to a steady partnership with you and DAR as we continue our efforts to better serve the people of Samar!"
Plans of the Samar provincial government in developing the Peace and Prosperity Village within the Calbiga-Pinabacdao Settlement Project, where DAR donated a three-hectare lot as the agency's contribution to the End Local Communist Armed Conflict (ELCAC), was likewise discussed in this meeting.