Eastern Visayas posts $191.99 million trade surplus in February 2022
By PSA-8
June 28, 2022
TACLOBAN CITY – International trade in Eastern Visayas surged by 61.09 percent to USD 256.50 million in February 2022 from USD 159.23 million total trade in February 2021.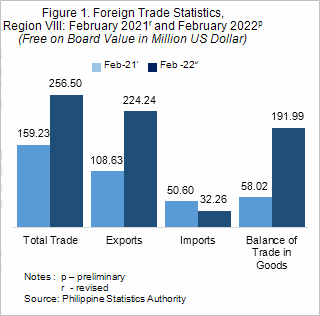 The growth was largely driven by strong exports which more than doubled (106.44%) to USD 224.24 million in February 2022 from USD 108.63 million in February 2021.
On the other hand, import of goods slipped down by -36.25 percent at USD 32.26 million in February 2022 from USD 50.60 million in February 2021.
Balance of Trade in Goods (BoT-G) increased more than three-folds (230.88%) from USD 58.02 million in February 2021 to USD 191.99 million in February 2022.
Eastern Visayas exported 69.59 million kilograms of goods in February 2022. Export sales were predominantly from copper and articles thereof commodity group which sold for USD 202.24 million or 90.19 percent of the total export value in February 2022.
The top export destination was the People's Republic of China with USD 76.83 million worth of exports accounting for more than a third (34.26%) of the region's export market.
The volume of goods imported by the region in February 2022 was 56.72 million kilograms. Out of the USD 32.26 million total import value, more than two-thirds (69.57%) or USD 22.44 million were contributed by the commodity group of mineral fuels, mineral oils and products of their distillation; bituminous substances; mineral waxes. The top import supplier was Republic of Korea with USD 15.37 million worth of goods taking almost half (47.63%) of the total import value of the region in February 2022.
NMP equips fisherfolk of LGU Daram with BSTMHOF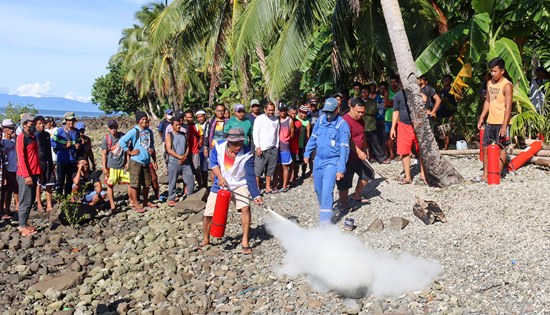 By National Maritime Polytechnic
June 27, 2022
TACLOBAN CITY – A total of 101 participants underwent the 2-day Basic Safety Training for Motorboat Handlers/Operators and Fishermen (BSTMHOF) with Typhoon Preparedness conducted by the National Maritime Polytechnic (NMP) last 26-27 May 2022 at Agutay Island in Daram, Samar.
In partnership with the Philippine Coast Guard Daram Station, NMP facilitated the request for basic safety training of the Local Government Unit (LGU) of Daram through its Public Employment Service Office (PESO), as a fundamental step to prepare the 100 identified beneficiaries in their municipality of the Department of Labor and Employment (DOLE)'s Livelihood Program, who will be receiving a complete set of motorized banca. This is one of the requirements set by DOLE prior to the distribution of the said project.
BSTMHOF covers the different techniques in Personal Survival, Fire Prevention and Firefighting, Elementary First Aid and Personal Safety and Social Responsibility, including topics on the Rules of the Road, Typhoon Awareness and Marine Safety Requirements. It also touches topics on Prevention of Alcohol and Drug Abuse in the Maritime Sector (PADAMS), STD/HIV/AIDS Prevention in the Maritime Sector (SHAPIMS), and Gender Sensitivity Training for Seafarers (GSTS).
The said training intends to provide added knowledge and improve the basic safety and survival skills of local motorboat operators and fisherfolk as they sail out to make a living for their families.
In closing, NMP's Executive Director Joel B. Maglungsod expressed his gratitude to the Municipality of Daram through Mayor Philip Martin Latorre Astorga, and PESO Manager Oscar Lim, for their cooperation and active involvement to realize the said activity. He also emphasized that NMP is serious in bringing its services not only to Filipino seafarers, but also to the various communities all over the country.
"Our country, as an interisland is vulnerable to typhoons, thus, our fisherfolk as well as the motorboat operators who ferry a lot of passengers and tourists, need to be well-trained, for them to respond to the different emergencies," ED Maglunsod said.
Also in attendance to assist in the activity were personnel from the Philippine Coast Guard Daram Station CG SNI Allain Gorembalem, CG 003 John Paul C. Diones, CG SNI Jaime B. Iglesia Jr., and CG ASN Jude M. Malabayabas. The training team of NMP was composed of Training Specialist II Capt. Lito C. Jain, Chief, Training Specialist III Engr. Ercelito S. Enterina, and Training Specialist II OIC NW Timothy M. Limpiado.
Meanwhile, NMP continues the conduct of face-to-face, online and blended modes of training and undertakes research studies for the maritime industry. To view and enroll via online the training courses as scheduled, stakeholders may log in to its website at register.nmp.gov.ph., while NMP's completed researches may be accessed at research.nmp.gov.ph.
DAR-EV tops representation in quasi-judicial cases in 2020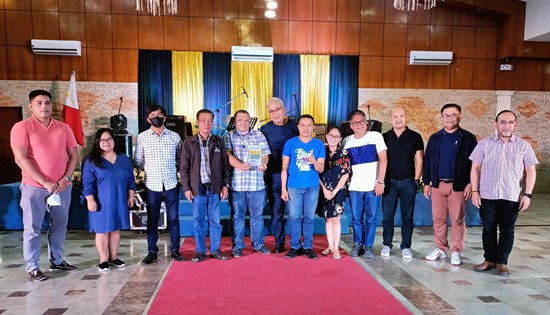 Former Acting Agrarian Reform Secretary Bernie Cruz (center) pose with DAR Eastern Visayas lawyers headed by the Regional Legal Division chief, Atty. Christopher Ryan Rosal. (Photo by Christopher Ryan Rosal)
By JOSE ALSMITH L. SORIA
June 24, 2022
TACLOBAN CITY – The Legal sector of the Department of Agrarian Reform (DAR) in Eastern Visayas was recently recognized by DAR Central Office for having the highest number of quasi-judicial cases represented before the DAR Adjudication Board (DARAB) in 2020.
Legal Division chief, lawyer Christopher Ryan Rosal disclosed that the plaques of recognition were presented to them by Agrarian Reform Secretary Bernie Cruz during the Strategic Planning for Legal Processes, Knowledge-Mapping on DAR Administrative Order No. 1, series of 2021, Legal Templates and Finalization of Resolution of Cases held last month in Talisay, Batangas.
According to Undersecretary Luis Meinrado Pañgulayan of the Legal Affairs Office, Eastern Visayas made a total of 2,756 representations in quasi-judicial cases in 2020 topping other regions. It was followed by Central Visayas with 1,725 and Central Luzon with 1,482.
Rosal shared that this is the second consecutive year that DAR Eastern Visayas ranked first in this category.
He gave the credit to the legal officers throughout the region who are eager to represent the farmers in their cases before the DARAB. They have the heart to help the farmers, he stressed.
Rosal also thanked the legal chiefs of the DAR Provincial Offices for their support and cooperation in attaining a zero-backlog for the region at the end of the year.
Victory's recipe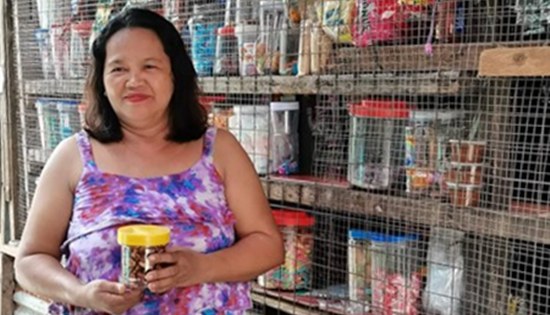 Teresa Desin, a CARD Bank client from Legazpi City, Albay, sees her Pili Nuts products as God's blessing to her family.
By CARD MRI
June 24, 2022
SAN PABLO CITY – Pili Nuts are one of the most famous pasalubongs from the Bicol Region. It is an ethnic food that comes from the fruit of the Pili tree called Canarium ovatum. Pili nuts usually grow in the Region of Bicol. That's why it is one of the most common livelihoods in the area and can be seen in the market. Tourism contributed to the growth of the Pili Nut business in this area because this is what the tourists buy as a pasalubong.
Fifty-three-year-old Teresa Desin from Legazpi, Bicol used Pili Nuts, a product popular to tourists, as her livelihood. Being a mother of five, Teresa used Pili Nuts as her family's source of income for their daily needs and expenses.
Inspired by her husband, Desin, Teresa named her business, "Desin Pili Nuts," known for its unique taste and affordable price compared to its competitors. The business was running smoothly until the COVID-19 pandemic came.
The pandemic caused a lot of changes in tourism and in market transactions. The number of tourists in various places in the Bicol Region has decreased due to the restrictions implemented to avoid the transmission of the virus. Because of this, Teresa's Pili Nut business suffered greatly as the number of tourists declined. She realized that she needed help to solve her problem.
Fortunately, CARD Bank, a microfinance-oriented rural bank which gives financial assistance to low-income households through its products and services, helped Teresa save her business.
Teresa borrowed money from CARD Bank amounting to P15,000 and used it as capital to develop her business and improve her product recipe. With this capital, she made mouthwatering and nutritious Pili Nuts for her customers. Because of her recipe, her sales increased by P25,000 during the first year, P40,000 during the second year, P120,000 during the third year, and currently, her business is earning P275,000.
Aside from the financial assistance, CARD Bank helped Teresa with the education of her children who are now fully qualified police officers and teachers. Teresa also had the means to build a new house and buy a tricycle for her husband and son. She also opened a sari-sari store business to add to her sources of income. Because of this, Teresa improved her family's chances for a better life.
According to Teresa, the recipe for her Pili Nuts is a blessing from God. When she added determination and hard work as recipes to success, she experienced victory in the midst of struggles.
Sandugo to NTC: Crack down on fake news and red-tagging, not advocates and journalists
By SANDUGO Alliance
June 23, 2022
QUEZON CITY – On June 6, the National Security Council (NSC) through Hermogenes Esperon requested the National Telecommunications Commission (NTC) to restrict access to 28 websites, citing them as "affiliates and supporters" of "terrorists and terrorist organizations" and purveyors of "misinformation campaigns." Websites were picked arbitrarily without any due process.
Many of the websites cited in the directive have consistently featured stories of our struggle for land and rights. Some are alternative media outlets like Bulatlat and Pinoy Weekly, which have received acclaim through the years for the caliber of their journalism. Some are of legal progressive formations like Bagong Alyansang Makabayan, the International League of People's Struggles, and various peasant organizations which have stood alongside us in our quest for our right to self-determination. Others include the Rural Missionaries of the Philippines and the Save Our Schools network, which have been key to the establishment and defense of Lumad schools; prior to being targeted by the Duterte regime, these schools have reaped initial recognition from the Department of Education itself.
This is a clear restriction of our right to visibility and dissent. Disinformation and red-tagging is currently disseminated widely through state channels and resources, drowning out the legitimate cries of indigenous peoples and Bangsamoro peoples. This new NSC directive further diminishes our already-dwindling democratic space.
We refuse to be silenced. Advocates of national minorities and human rights are not terrorists. This is exactly why we have been vocal in our opposition to the Anti-Terrorism Act of 2020, which was railroaded by the Duterte administration during the throes of the pandemic. Through this act, organizations and individuals critical of the status quo are easily tagged as terrorists and therefore stripped away of their freedoms and basic rights. The NTC directive is made possible by this draconian Anti-Terror Act.
Sandugo Alliance demands that the NTC retract the order to arbitrarily restrict these websites. The internet should remain a democratic space. Instead, the NTC should turn its attention to sites and outlets that purvey fake news and disinformation, harass media outlets, and red-tag activists. Many of these are within easy access of the Commission, as they are platforms manned by the government itself.
Good Design Award Philippines confers Malasakit Award to Nata de Coco Wound Dressing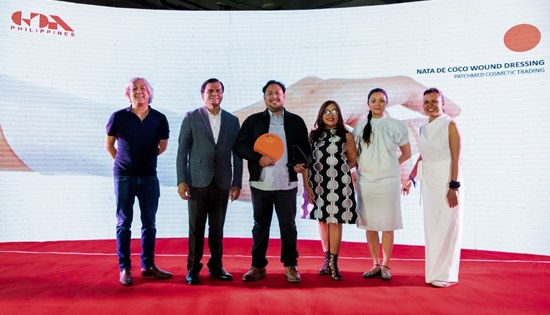 By DTI-TPG-Design Center of the Philippines
June 23, 2022
MAKATI CITY – The Design Center of the Philippines continues to recognize Philippine design excellence propelled by malasakit as it concludes the 2022 run of the Good Design Award Philippines with 11 winning design solutions.
The Good Design Award Philippines is a national design excellence recognition system in search of design solutions that embody the principles of good design–form, function, innovation–plus the Filipino value of malasakit (compassion). The award system aims to underscore how good design goes beyond making things pretty but provides design solutions to address "wicked problems", uplifts the quality of life of Filipinos, and enhances the country's global competitiveness and innovation quotient.
"It is our vision to have the Good Design Award Philippines be the barometer of this new age in design. Where it plays a critical role in leading various industries in our country toward that direction – a direction that believes design is good not only when it is technically sound, but also when it positively impacts people, our country and even the global community," Design Center Executive Director Rhea O. Matute remarks, maintaining that good design is purpose-driven.
This perspective on design is supported by Makiko Tsumura, director of the Japan Institute of Design Promotion, the organizer of the GMark or Good Design Japan, the largest Asian award founded in 1957 and reflects Japanese design values and principles that aim to enrich lives, industries and society.
According to Tsumura, GMark considers design not as a subject of color and shape, but of its innovative power to generate a better society. "In that sense, I believe GMark and the Good Design Award Philippines can share Good Design Award System soon," Tsumura remarks, in reference to the award collaboration eyed to be established between Good Design Awards Japan and Good Design Awards Philippines, in order to usher a stronger design and business opportunities between the two countries. Tsumura also adds that all the Good Design Award Philippines 2022 awardees will automatically be included as entrants of the Good Design Award Japan happening in August 2022.
From over 161 entries received and 150 validated, 45 design solutions were shortlisted during an initial screening and further trimmed down to name 11 design solutions as Good Design Award Philippines 2022 awardees after an intensive final jury deliberations held on 06 June 2022.
Out of the 11 winning entries, Coco Patch, a wound care dressing made from nata de coco emerged as the top awardee. It bagged the highest recognition of the award system, the Malasakit Award or this year's Gran Prix which is the best of the best and considered by Board of Jurors as the design that have the most impact in terms of its ability to address the United Nations Sustainable Development Goals. Coco Patch also brought home additional trophies - the Best in Class or the Gold Award in the category of Object-making, and the Green Award, specifically recognizing good design that addresses environment and sustainability issues indicated by the UN Sustainable Development Goals (SDGs).
The Coco Patch is a design solution that takes pride in elevating wound care and management technology in the Philippines through the ingenious use of coconut, an abundant and accessible local resource nationwide. Denver Chicano, innovator of the coconut-based wound dressing, recalls his nursing experience in the Philippine General Hospital and cites his experience with the patients he attends to as his prompt in developing Coco Patch. Chicano points out that "everything we do is service," where care is an essential skill, circling back to the malasakit aspect of his product.
Entries that stood out under the image-making category are led by satirical cartoonist Tarantadong Kalbo's 'Tumindig' artwork, which garnered the Gold Award. Other entries recognized under image-making and conferred the Red Award are: Tubbataha Coral Rip; Boysen's This is a Tree; CCP Baybayan; and Macho Choir.
For the placemaking category, the MLR Bamboo Pavilion by Sangay Architects won the Gold Award, while Streetlight Tagpuro and Museo ni Jesse Robredo both bagged the Red Award.
For systems/service design, the Gold Award was awarded to Sakay.ph, a mobile app that provides transport directions for commuters and makes Metro Manila more navigable. The Red Award, on the other hand, was won by Alternative Indigenous Development Foundation, Inc.'s Mechanical Water Kiosk.
Recognizing the power of design to improve quality of human life, Design Advisory Council (DAC) Co-chair and Jury Chairperson Ar. Royal Pineda, shares that the Good Design Award Philippines establishes itself as a reference for design that does not only rely on aesthetics, scalability, and functionality, but more importantly, foregrounds a profound sense of malasakit to one's kapwa. "In the context of our current society, malasakit is a very important component of any design as it levels the playing field and keenly ensures inclusivity among all Filipinos regardless of class, gender and any other divisive factors," Pineda adds.
The distinguished panel of jurors is composed of category heads including DAC members Kenneth Cobonpue for Object-making, Angel Guerrero for Image-making, Jennifer Wieneke for Service/Systems Design, and Joey Yupangco and Associates Design Principal Joey Yupangco for Placemaking. Each category jury also includes a representative from the United Nations Development Programme (UNDP) to provide evaluation inputs in relation to the UN SDGs, which quantify the malasakit criteria of Good Design Award Philippines.
Category jury members for Object-making are Tito de la Peña, industrial designer and professor in UP Diliman; Pauline Suaco-Juan, DAC member and executive director of Center for International Trade Expositions and Missions; Bea Valdes, founder of Valdes Design; and Alyanna Carrion, Circular Economy Coordinator and UNDP PH Accelerator Lab representative.
For image-making, category jury members are Matec Villanueva, Marketing and Communications Director of the Ateneo de Manila University; Jowee Alviar, Co-founder and Creative Director of Team Manila Graphic Design Studio; and Charlene Balaan, communications associate of UNDP Philippines.
Placemaking category jury members are Ar. Louwie Gan, Architect/Urban Designer-Planner of L.A. Design Associates; Ar. Kath Sapungay, Principal Architect of Sangay Architects; and Irina Velasco, Head of Exploration of the UNDP PH Accelerator Lab.
Lastly, Systems/Service Design category jury members are Abigail Mapua, country director of Ashoka Philippines; Mark Colentava, Director of Pay of BayaniPay; Reese Fernandez-Ruiz, president and co-founder of Rags2Riches; and Rex Lor, Head of Solutions Mapping of UNDP PH Accelerator Lab.
The deliberation process and tabulation of results were supervised by a third-party auditing firm, P&A Grant Thornton (Punongbayan & Araullo).
Good Design Award Philippines 2022 is organized with the Department of Trade and Industry, Design Advisory Council, Japan Institute of Design Promotion, ASEAN Japan Centre, and United Nations Development Programme, with official partners Adobo Magazine, and Distileria Limtuaco, Inc. and support from Summit Books, Do Good Studio, Philippine Trade Training Center, and Total Exhibit and Expo Solutions.
Two slope protection structures provide safety in Brgy. Lonoy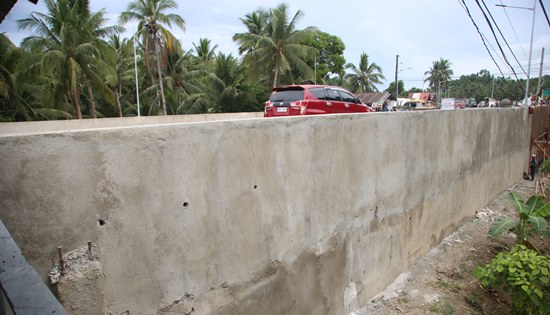 By ROMELLA LALAINE A. GUARDE
June 22, 2022
CALBAYOG CITY – Two (2) slope protection structures erected by Samar First District Engineering Office now provides safety for the residents and travelling motorized vehicles along Calbayog-Catarman Road and along Daang Maharlika in Brgy. Lonoy.
The slope protection structure constructed along Calbayog-Catarman Road has a scope of work which includes a segment with stone masonry, and a segment consisting of a structural concrete with reinforcing steel.
The segment with stone masonry spans to a length of 91 meters and an average height of 2-3 meters on both sides of the road, with a parapet of 0.8 meters x 0.3 meters.
On the other hand, the segment consisting of a structural concrete with reinforcing steel covers to a length of 65 meters and a height of 4.25 meters on both sides of the road, with a parapet of 0.8 meters x 0.3 meters. Additionally, concrete piles have been installed, which are known in the construction and foundation repair industries for their high load capacity, resistance to water from excess drainage, ease of installation, and overall affordability.
Moreover, the slope protection structure along Daang Maharlika covers a total area of 1,645 square meters. Part of its scope of work is a structural concrete with reinforcing steel which comprises a length of 305.5 meters and a height of 3 meters. Furthermore, its scope of work includes a parapet with a height of 0.9 meters and a canal extending to a length of 180 meters. Twenty (20) units of solar street light has likewise been installed along the said slope protection structure.
The two (2) slope protection structures have a cumulative contract amount of P89.87 million drawn from the General Appropriations Act (GAA) 2021.
Slope protection structures offer long-term stabilization of the slope in the surrounding area by avoiding soil deterioration and erosion; thereby, ensuring the protection of properties and people from damage and injury. The same is expected by the DPWH-Samar I through the erection of these two (2) slope protection structures in Brgy. Lonoy.
KOA flies to the city of festivals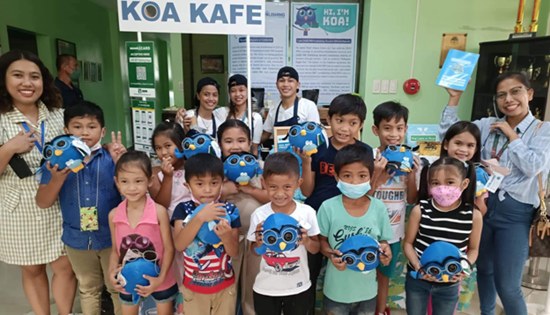 By CARD MRI
June 22, 2022
SAN PABLO CITY – Sharing good stories over a cup of coffee, CARD MRI Publishing House's Koa Kafe heads to Tagum City, Davao Del Norte on June 17, 2022.
Popping up at CMDI Tagum, the pop-up café brings its storytelling activities for children, exciting games for nanays, other CARD MRI quality products on a one-day event available to all. Visitors can enjoy a free cup of coffee as they browse the various publications of CARD Publishing featured on the event. Available for public viewing is CARD MRI's newspaper, Sulong, that features news about CARD MRI and inspiring stories from its clients, hoping to spark meaningful conversations as patrons visit the café. Hijos Tours' Yuhom Box, which features classic Pinoy games, is also available in the event for visitors to play.
Besides the free coffee and Indomie by Mga Likha ni Inay, CARD MRI's marketing arm, members may bring their children for Koa's storytelling for kids. The storytelling aligns to the mission of CARD Publishing house, which is to inspire and raise the new generation of readers. The kids' story "Ang Lapis ni Anya" serves as the highlight of the event. It tells the story of Anya and how she learned how to use her gadgets wisely.
Past flights
Launched on March 25, 2022, Koa Kafe has since visited several cities and provinces before landing on Tagum City. Born with the aim of bringing information about microfinance and CARD MRI closer to its members, Koa has flown to six of CARD MRI's financial institutions' branches. Since its first flight on March 25, Koa Kafe has been to the cities of Vigan, Masbate, Bay, Sta. Cruz, and San Pablo City. With almost a hundred attendees of the storytelling for kids, CARD Publishing slowly raises the next generation of reading, one pop-up café event at a time.
A new paved road serves locals of Almagro, Samar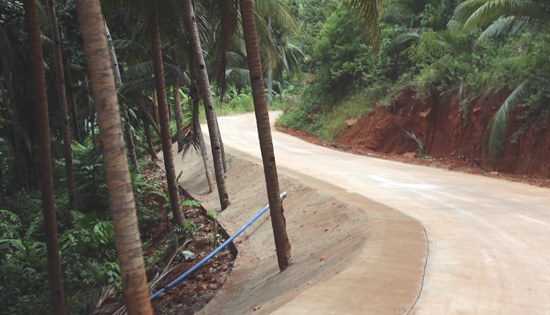 By GISSELLE G. PARUNGAO
June 21, 2022
CALBAYOG CITY – Residents of the coastal municipality of Almagro, Samar now ply this newly-constructed road from Barangays Talahid to Costa Rica with a total revised contract amount of P48.79 million.
The road is part of a bigger circumferential road project that will eventually connect all barangays of the said municipality giving them ease and comfort in terms of travel not only of their products but of locals living therein. It is also in preparation for the continuing growth not only in vehicle population but also in their economic aspect. Aside from that, this will also boost their tourism attracting more visitors that will generate more income for the municipality.
This six-meter wide, two-lane concreted road covers a length of 1.8 kilometers offers greater mobility and ease of traffic for motorists. Apart from it, a slope protection is also constructed along it for stability which spans 1,800 linear meters and a height that varies from one (1) to 2.5 meters due to different slope elevations. Pipe culverts were also incorporated for better water flow and drainage feature.
The project is drawn from the General Appropriations Act (GAA) of 2021.
DAR holds legal clinic in Ormoc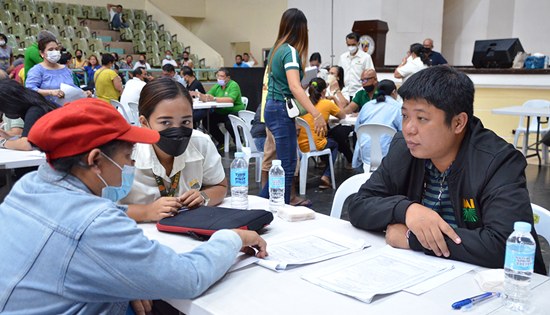 Nearly 300 tenants and agrarian reform beneficiaries availed of the free legal clinic conducted by the Department of Agrarian Reform (DAR) on June 14 at the Ormoc Superdome.
By JOSE ALSMITH L. SORIA
June 21, 2022
ORMOC CITY – "Nagpapasalamat kami na nagkaroon ng ganito dito sa Ormoc, na galing pa talaga sa central office ang mga abogado para maliwanagan kami tungkol sa kaso namin. (We are thankful for having this activity in Ormoc with lawyers coming from the central office, to help us understand about our case.) said Estrella Monsanto-Alejandre.
Nanay Estrella, 64, was among the nearly 300 farmers and agrarian reform beneficiaries (ARBs) from this city and adjacent towns who went to the Ormoc Superdome to avail of the free legal clinic conducted by the Department of Agrarian Reform (DAR) on Tuesday.
She was with her brother Julieto, 60, and neighbor, Melania Aldiano, 74, who went to the venue as early as seven o'clock in the morning to be the first in line. The three are from Barangay Licuma, more than 10 kilometers away from the city proper.
Nanay Estrella said they wanted to consult and be enlightened about their Emancipation Patents (EPs) and Certificates of Land Ownership Award (CLOAs) that were cancelled after more than a decade since the land titles were awarded to them.
After they were entertained, Nanay Estrella shared, "Binigyan kami ng Assurance. Pag-aaralan daw nila ang kaso namin." (We were given assurance. They will study our case.)
Like Nanay Estrella, Tatay Julieto and Nany Melania, many of those who availed of the legal services for agrarian-related issues, went home satisfied and with revived hopes.
Felisa Lambot from Barangay Curva commented "Nakuntento ako. Si Atty. Ryan ang nakausap ko." (I was contented. I talked to Atty. Ryan.)
Provincial Agrarian Reform Program Officer II (PARPO II) Josefina Corazon Turla disclosed that the activity was the fulfillment of DAR Undersecretary Elmer Distor's promise to the farmers who presented various issues during the dialogue he attended in this city last month.
Aside from the central office team, lawyers Christopher Ryan Rosal and Daniel Pen, Legal Division chiefs of the regional and provincial offices, respectively, together with their legal officers joined in addressing the legal problems of the farmers.
All four Municipal Agrarian Reform Program Officers (MARPOs) of this city, Artheiriza Manalo, Aouda Colibao, Marissa Estolano and Ruben Rebato, were likewise present.
The conduct of the legal clinic is among the activities lined up in the month-long celebration as the agency commemorates the 34th year of implementation of the Republic Act No. 6657 otherwise known as the Comprehensive Agrarian Reform Law (CARL) which covered all agricultural lands under the agrarian reform program regardless of tenurial arrangements, and the 50th year of Presidential Decree No. 27, emancipating the tenants from the bondage of the soil.
This year's twin-celebration theme is "Tuloy and pag-asa at pag-unlad hatid ng repormang agraryo."
New minimum wage in EV to take effect on June 27
By NORMA RAE S. COSTIMIANO
June 17, 2022
TACLOBAN CITY – Wage Order No. RBVIII-22 prescribing for a minimum wage increase for workers in Eastern Visayas is set to take effect on June 27, 2022.
After the affirmation of the National Wages and Productivity Commission on June 10, 2022, workers in the region can expect a P50.00 increase in their daily wage to be implemented in two (2) tranches – P25.00 upon effectivity on June 27, 2022 and an additional P25.00 on January 2, 2023.
From its current rate of P325.00 per day, the new daily wage for workers in the non-agriculture sector and retail or service establishments employing 11 workers and above will be P350.00 on June 27, then P375.00 on the 2nd tranche.
Meanwhile, workers in the sectors of non-agriculture, cottage and handicraft and retail/service establishments employing 10 workers and below, who are currently receiving a daily wage of P295.00, will start earning P320.00 upon effectivity and P345.00 on January 2, 2023.
DOLE 8 Regional Director Henry John S. Jalbuena, Chairman of the Regional Tripartite Wages and Productivity Board, informed that the board carefully considered the different inputs gathered during the region-wide consultations with various sectors.
"After careful deliberations, having considered different factors and the inputs we gathered from the series of consultations, the board came up with Wage Order No. 22, and we believe that the same will be favorable for both the labor and management sectors", said Jalbuena.
The new wage order, approved by the RTWPB-VIII on June 6, 2022, was published at the Leyte Samar Daily Express on June 11, 2022.