Rural development seen as DAR turns over 2 bridges in So. Leyte and E. Samar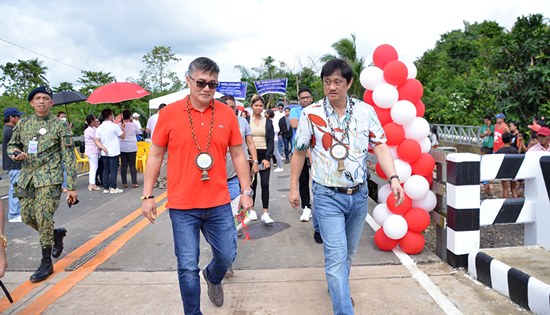 Agrarian Reform Secretary Conrado Estrella III (right) leads the inauguration and turnover of the P9.1 million 28 linear-meter Tulay ng Pangulo in Balangiga, Eastern Samar during his recent visit to Eastern Visayas.
By JOSE ALSMTIH L. SORIA
February 6, 2023
BALANGIGA, Eastern Samar – Residents of Barangay Cag-olango in this municipality are so thankful that a durable bridge was constructed in adjacent village, Sta. Rosa, replacing the wooden bridge which, according to them, many have fallen.
Barangay Cag-olango Chairman Juanito Cabas, together with his constituents, Lilibeth Delcallar, Tessie Elasyon and Eufemia Escalo, did not miss the inauguration of the "Tulay ng Pangulo para sa Kaunlarang Pang-Agraryo" (TPKP) project on Friday (January 27) to express their thanks and happiness to Agrarian Reform Secretary Conrado Estrella III who led the inauguration and turnover rites.
According to them, this is a big help to the farmers especially those living in the upland barangays.
Aside from the two mentioned barangays, residents of two more villages, Guinmaayohan and Maybunga will benefit from this project, they added.
About 4,000 residents from these four villages, 529 of whom are agrarian reform beneficiaries (ARBs), are expected to be directly benefited.
Mayor Dana Flynch de Lira in her message also thanked President Ferdinand Marcos Jr. for the blessings being poured into her town, a fourth-class municipality.
This bridge will help us cross from the state of poverty towards a progressive Balangiga, she exclaimed.
On Thursday and Friday (January 26 and 27) during the visit of Estrella to this region, two two-lanes modular prefabricated steel bridges constructed under the TPKP project were inaugurated and turned over to recipient local government units (LGUs) in two separate areas in Eastern Visayas.
Here, Estrella said, "Kahit maliit na bayan ang Balangiga, magkakaroon tayo ng magandang kinabukasan na ipapamana sa ating mga anak."
A day before, Estrella, who handed Certificates of Land Ownership Award (CLOAs) and turned over farm machineries at the Visayas State University (VSU) in Tolosa, Leyte, ordered Undersecretary Kazel Celeste of the Field Operations Office to lead the inauguration and turnover rites of the TPKP project in Hinunangan, Southern Leyte, which was done simultaneously with the activities in Tolosa.
Celeste in her message said, "Kami po ay napakasaya dahil nabigyan kami ng pagkakataon na mabisita ang Barangay Ilaya at Nava dahil napakaimportante sa amin na maibigay ang serbisyo ng gobyerno sa ating mga magsasaka." Isa sa mga adhikain ng ating pangulo at kalihim ay "To bring the government closer to the people," she stressed.
Barangay Chairman Joey Saguran of Barangay Ilaya thanked DAR and the Department of Public Works and Highways (DPWH). The two government agencies are partner in implementing this project funded by the French government.
Saguran said "Malaki ang tulong ng tulay na ito sa amin dahil mapapadali na ang pagdadala ng aming mga produkto (sa mga pamilihan)."
"Dati, nung spillway pa, pag-umuulan ng isa o dalawang oras, hindi na kami makakadaan dahil umaapaw ang tubig," Saguran added.
Celeste exclaimed "Napakasaya po namin na sa munting proyekto na ito ay malaki na ang pagbabago na magagawa sa ating mga ARBs.
Aside from the over a thousand residents, most of them are ARBs, in three adjacent villages, Ilaya, Nava and Tuburan, who will be directly benefited by this project, hundreds of daily commuters who prefer to take this shortcut route within the Southern Leyte Settlement Project (SLSP) from Hinunangan to St. Bernard or vice-versa will likewise be benefited.
DAR Eastern Visayas Regional Director Robert Anthony Yu disclosed that the two projects have a combined cost of P17.6 million.
He further disclosed that there are now nine completed TPKP projects throughout the region.
Karapatan scores violent police dispersal of anti-mining barricade, lauds people's protest
By KARAPATAN
February 5, 2023
QUEZON CITY – Human rights alliance Karapatan condemned the violent dispersal by the Philippine National Police (PNP) last February 3, 2023 of a barricade set up by residents of Sibuyan Island in Romblon against the operations of Altai Philippines Mining Corporation (APMC).
Residents led by Sibuyanons Against Mining have been manning their barricade since January 26 to stop APMC's mining trucks containing nickel ore from entering a private port in Barangay España, San Fernando town in Sibuyan island. Violence erupted when the trucks escorted by the police rammed through the barricade, injuring two of the protesters.
"Sibuyanons have been resisting the entry and operations of mining companies in their resource-rich island for close to two decades," said Karapatan secretary general Cristina Palabay. "Residents fear that the destruction caused by mining will wreak havoc on their island which is one of the most biologically diverse places in the world," she said, "and undermine their livelihoods which depend on the preservation of the island's biodiversity."
"Mining companies have long wanted to exploit the island's rich nickel, chromite, cobalt and iron deposits, but the residents in solidarity with local government units, church groups and environmental activists have staunchly resisted the mining companies, to the extent that one of their local leaders, Armin Marin, was shot dead by a mining firm security officer during a protest rally in San Fernando town in October 2007." Marin's killer, said Palabay, got off with a slap on the wrist when he was sentenced to a mere three years in prison for negligence and imprudence but was cleared of murder charges.
"On July 28 of last year," said Palabay, "the towns of San Fernando, Cajidiocan and Magdiwang in Sibuyan petitioned newly elected President Ferdinand Marcos Jr. and Congress to declare Sibuyan mining-free. They likewise called on newly appointed DENR Secretary Ma. Antonia Yulo-Loyzaga to 'immediately review, halt, revoke, and reject all mining agreements, operations, and applications within the territorial jurisdiction.'"
"However, the Marcos II regime responded by issuing a mineral ore export permit to APMC on December 29, 2022, allowing the company to bulk test 50,000 metric tons of ore," said Palabay. "This, despite a string of violations committed by APMC."
"Such brazen disregard for the will of the Subayanons comes as no surprise," said Palabay, "since APMC's mining permit seems Marcos' political payback to the Gatchalians, who own the company," she said. During the election, Sen. Sherwin Gatchalian and Valenzuela City Mayor Rex Gatchalian fully supported Marcos' candidacy. Earlier this week, Marcos named Rex Gatchalian as the new DSWD secretary.
"Nonetheless," said Palabay, "the incident has raised public awareness about the evils of big corporate mining in the island and compelled the APMC to back off temporarily from its operations in Sibuyan, pending the resolution of the issues raised by the residents."
"We hail the vigilance and courage of the Subayanons in protecting their rights, and hope that their laudable struggle will inspire residents in other areas being ravaged by destructive mining to rise up against plunderous mining interests," concluded Palabay.
DSWD seeks help in addressing 'boy soldiers'
Press Release
February 3, 2023
TAGUM CITY - The Department of Social Welfare and Development (DSWD) is seeking help in the operationalization of care center for boys involved in armed conflict as combatant, courier, guide, and spy for terrorist and criminal syndicates including those considered as 'boy soldiers.'
According to DSWD Undersecretary for Inclusive and Sustainable Peace Alan A. Tanjusay, the department is actively seeking help from the provincial and local government units, private entities, and non-government organizations in operating the residential care facility for boys who are Children in Situation of Armed Conflict (CSAC) located in Tagum City.
"We must utilize the center and intervene now in the hearts and minds of these boys victims of violence, crimes, various exploitation and extremism while they can be molded, wielded and influenced into productive citizens. And the sooner DSWD expert social workers in the facility commences its work into the lives of these children then we have hope these young people could make it through," emphasized Tanjusay.
Completed with the collaboration between DSWD and Tagum City local government unit in 2021 through the Payapa at Masaganang Pamayanan (PAMANA) program, the one-hectare center is a 24-hour, 7-day residential facility that provides temporary care and serves as rehabilitation center for a maximum of 25 to 30 exploited boys aged 17 years old and below by administering protection, care, training and rehabilitation standards for the victims in a home-like environment for a maximum period of six months before they are reintegrated into their respective families and communities.
However, the 30-bed facility is currently inoperable due to lack of manpower and financial resources following the pandemic crises.
The children are currently housed in different government facilities across several regions in Mindanao. Some of them are abandoned by their parents, some are victims of organized human trafficking and some were rescued and recovered during military operations and found exploited as couriers of firearms and explosives. Other children were forced as human shields, spies and exploited in terrorist extremism activities.
According to the Unicef, between 2005 and 2020, more than 93,000 children were verified as recruited, exploited and drawn by insurgents, rebels, extremists and terrorist groups to conflict and criminal activities.
DAR starts distribution of e-titles under SPLIT in EV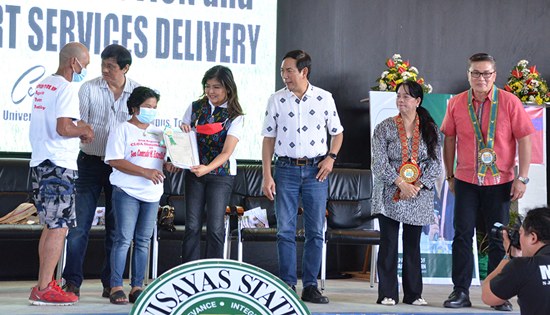 Senator Imee Marcos and Agrarian Reform Secretary Conrado Estrella III distributed more than a thousand Certificates of Land Ownership Award (CLOAs) at the Visayas State University in Tolosa, Leyte.
By JOSE ALSMITH L. SORIA
January 31, 2023
TACLOBAN CITY – Agrarian reform beneficiaries (ARBs) in Eastern Visayas start receiving their individual land titles generated under the Department of Agrarian Reform's (DAR's) Support to Parcelization of Lands for Individual Titling (SPLIT) project.
On Thursday and Friday last week, Agrarian Reform Secretary Conrado Estrella III handed at the Visayas State University (VSU) gymnasium in Tolosa, Leyte and at the covered court of Balangiga in Eastern Samar, 890 electronically-generated individual Certificates of Land Ownership Award (E-CLOAs) under the World Bank-funded SPLIT project.
The same number of ARBs received the said land titles covering an aggregate area of 1,402.6660 hectares of agricultural lands.
Of the 890 E-CLOAs, 690 were distributed in Tolosa covering a combined area of 1,123.6289 hectares of farmlands situated in the provinces of Leyte, Southern Leyte, Biliran, Western Samar and Northern Samar, while the remaining 200 E-CLOAs covering 279.0371 hectares situated in Balangiga and Lawaan towns were distributed at the Balangiga covered court.
Estrella explained that the DAR handed collective CLOAs in the past to expedite the distribution of lands which resulted to uncertainties among the ARBs regarding their respective areas.
Now, with the parcelization of the collective CLOAs and the issuance of individual titles, the beneficiary is installed to his/her designated lot thereby improving land tenure security and strengthen property rights, while the local government unit will have an increased collection of real property tax, he added.
DAR Regional Director for Eastern Visayas, Robert Anthony Yu, said 17,496 collective CLOAs covering 220,473 hectares of agricultural lands situated in different parts of the region are subject for parcelization under the SPLIT project.
In Tolosa, Estrella was joined by Senator Imee Marcos where 157 additional CLOAs covering a combined area of 162,2395 hectares generated under the regular land acquisition and distribution program of the Comprehensive Agrarian Reform Program (CARP) were distributed to 116 more ARBs.
Tingog Partylist representative Jude Acidre was also with the Secretary during the latter's two-day activities in Leyte and Eastern Samar.
Marcos disclosed the bill she filed in the Senate that would emancipate ARBs from the existing debt burden grant of agricultural lands under the CARP.
On September 13 last year, Marcos' brother, President Ferdinand Marcos Jr., signed Executive Order No. 4 ordering a one year moratorium on the payment of the principal obligation and the annual interest due and payable by an ARB.
At 69 years old, Ruben Inciso of Lawaan, Eastern Samar was the oldest CLOA recipient at the Balangiga distribution rite. When asked for comment, he thanked President Bongbong Marcos, and Estrella that finally the 1.8-hectare farmland he is tilling is now titled under his name.
Meanwhile, more than P5.7 million worth of farm machineries and equipment were likewise turned over to agrarian reform beneficiaries organizations (ARBOs) from Leyte, Southern Leyte and Eastern Samar on these two occasions.
Yu said land distribution is DAR's contribution to End Local Communist Armed Conflict (ELCAC), a whole-of-nation approach in attaining inclusive and sustainable peace in the country.
NMP sets sail for a productive 2023: 886 seafarers aboard as of 28 January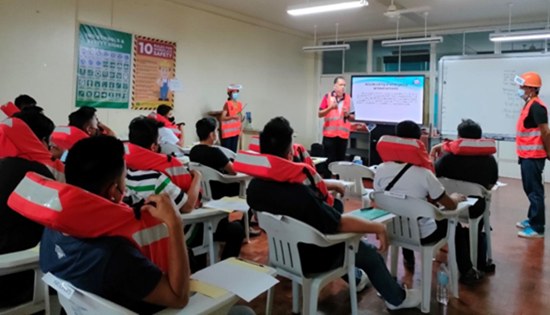 By National Maritime Polytechnic
January 30, 2023
TACLOBAN CITY – The National Maritime Polytechnic (NMP), a premier government-owned maritime training and research institution located at Brgy. Cabalawan, Tacloban City, has set sail for a productive 2023 as it surpasses its monthly target number of trainees for the month of January..
Eight hundred eighty-six (886) maritime trainees were on board NMP as of 28 January 2022 comprised of aspiring and active seafarers, maritime instructors and assessors and supervisors and other maritime allied personnel.
The strong enrollment figure revealed that a substantial 701 (79.12%) took the Basic Courses, 74 (8.35%) enrolled in Specialized Courses, 43 (4.85%) availed of Deck Courses, 35 (4.40%) listed in Engine Courses and the remaining 29 (3.27%) came from Professional Development Courses.
With the said accomplishment, the Agency is off to a strong start as it endeavors to reach its target of ten thousand (10,000) trainees trained in CY 2023.
In the interim, NMP is currently awaiting the result of the MARINA inspection held on 07-11 November 2022, following the rectification of the previously identified deficiencies. Additionally, the Agency is on the process of revising some of its training standards pursuant to MARINA Memorandum Circular No. SC-2022-05 in compliance with the requirement of the Standards of Training, Certification and Watchkeeping Convention (STCW) for Seafarers 1978, as amended.
Meanwhile, in its efforts to contribute in providing employment to Filipino seafarers, NMP continues to improve its facilities and deliver high-quality maritime trainings aligned with the STCW Convention as amended in 2010. These endeavors reflect NMP's dedication to support the employment and professional growth of Filipino seafarers, and strengthen the Philippine maritime industry as a whole.
ICHRP lauds ICC decision to pursue investigation of Duterte's crimes against humanity
Press Release
January 28, 2023
MANILA – On 26 January 2023, the International Criminal Court ("ICC" or "Court") announced that it had granted the Prosecutor's request to resume investigation into the Situation of the Republic of the Philippines ("the Philippines"). The ICC indicated that "following a careful analysis of the materials provided by the Philippines, the Chamber is not satisfied that the Philippines is undertaking relevant investigations that would warrant a deferral of the Court's investigations".
Having examined the submissions and materials of the Philippine Government, and of the ICC Prosecutor, as well as the victims' observations, the Chamber concluded that the various domestic initiatives and proceedings, assessed collectively, do not amount to tangible, concrete and progressive investigative steps in a way that would sufficiently mirror the Court's investigation.
This conclusion of the ICC mirrors the earlier findings of Investigate PH Commission of Inquiry which found that domestic measures were effectively not functioning, and there was no evidence to support the Philippine government's contention that victims could find justice in the Philippine courts. The judicial system itself was in fact being wielded as an instrument in the Philippine government's campaign of state terror.
The ICC decision to continue the pursuit of justice lays bare the Marcos Administration's culpability in shielding the Duterte regime's policies of impunity and state terror that killed perhaps 30,000 or more, and victimized Filipinos for six long years. "We are extremely appreciative of the decision of the ICC," said Peter Murphy, Chairperson of the International Coalition for Human Rights in the Philippines (ICHRP). "It offers a mechanism for victims to continue their pursuit of justice against the Duterte Regime's brutal war on drugs, on dissent and on the Moro and all Indigenous Peoples. Justice will still be served despite the Marcos administration's decision to keep the Philippines outside the jurisdiction of the ICC and cover-up the crimes against humanity committed by the police and the military under Duterte".
The new Marcos-Duterte administration functions simply as a continuation of its brutal predecessor. ICHRP believes the prosecution by the ICC may not stop the Marcos-Duterte government from sheltering the perpetrators from prosecution or prevent such crimes from continuing to occur, but it can provide some constraint and a measure of justice to the victims.
ICHRP congratulates the ICC for cutting through the fog of lies and false claims laid out by the Marcos-Duterte government that the Philippine judicial system is functioning and can address any concerns about the President, the regime and the military's roles in these gross violations of human rights and crimes against humanity.
In November 2022 Justice Secretary Jesus Remulla reported to the United Nations Universal Periodic Review that over 17,000 cases of drug killings involving police officers had been reviewed, resulting in a small number of disciplinary actions. "There is no way that this level of inquiry – most unlikely to be genuine – amounts to an investigation of the crime against humanity of murder which the ICC was investigating," said Murphy.
"ICHRP has full confidence in the impartiality of the ICC. We urge the ICC to vigorously pursue the full investigation of the previous Duterte administration for these crimes against humanity so that, finally, justice may be served and impunity ended," Murphy said.
Murphy, an Australian-based human rights advocate, led Investigate PH, a recent three-part investigation by an international commission on the extrajudicial killings, illegal arrests, abductions and disappearances in the Philippines since July 1, 2016, when President Duterte came into power.
Philippines' GDP grew by 7.6% in 2022, beats 2022 GDP target
By DTI-OSEC-Public Relations Unit
January 27, 2023
MAKATI CITY – The Philippine government's sustained economic recovery efforts and the Department of Trade and Industry's (DTI) continuous investment facilitation has resulted to 7.2 percent Gross Domestic Product (GDP) growth for the fourth quarter of 2022, resulting to a 7.6 percent full-year growth for the said year, based on the recent data from the Philippine Statistics Authority (PSA).
"This annual GDP growth can be attributed to the contributions of various industries, especially wholesale and retail, as well as manufacturing. This serves as a testament to the efficiency of our efforts to facilitate the entry of more investments in the country and our industrialization strategy that aims to empower local industries and increase our global competitiveness", Trade and Industry Secretary Fred Pascual boasted.
Based on the report, the fourth quarter GDP growth was mainly influenced by the following top contributors: (1) Wholesale and retail trade; repair of motor vehicles and motorcycles at 8.7 percent, (2) Financial and insurance activities at 9.8 percent, and (3) Manufacturing at 4.2 percent. On the other hand, top contributors for the annual growth in 2022 were: (1) Construction at 12.7 percent, (2) Wholesale and retail trade; repair of motor vehicles and motorcycles at 8.7 percent, and (3) Manufacturing at 5.0 percent.
Further, Secretary Pascual said that "we are keen to sustain this growth, that is why we are intensifying DTI's investment facilitation activities. During President Ferdinand R. Marcos Jr.'s previous state visits, we have managed to meet several potential investors, some of them are already in active discussions with our Philippine Trade and Industry Centers abroad or the Board of Investments."
"Our GDP will continue to grow as more and more investors come to the Philippines to explore business opportunities. We keep on with work on ease of doing business to attract more investors." he added.
In addition, among major economic sectors, Industry (4.8 percent) and Services (9.8 percent) posted positive growths during the fourth quarter of 2022. On the demand side, PSA mentioned Household Final Consumption Expenditure (HFCE), which grew by 7.0 percent in the fourth quarter of 2022.
Meanwhile, Government Final Consumption Expenditure (GFCE) at 3.3 percent, Gross capital formation at 5.9 percent, Exports of goods and services at 14.6 percent, and Imports of goods and services at 5.9 percent were considered by PSA as other sources of growth for the fourth quarter of 2022.
As a further testament to the robust economic performance of the country, the Philippines also posted 9.3 percent Gross National Income (GNI) growth in the fourth quarter of 2022, and 9.9 percent on full-year.
More than 94% of global population experienced decline in freedom from 2019 to 2020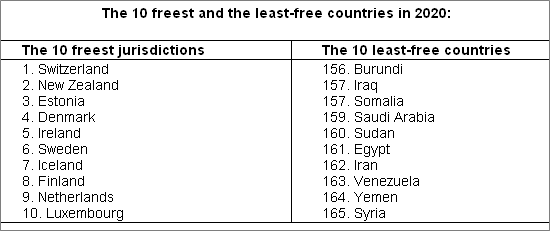 Press Release
January 26, 2023
TORONTO (GLOBE NEWSWIRE) – While global freedom was already waning before COVID, the response from governments during the pandemic accelerated the loss of freedom worldwide, finds a new study released today by Canada's Fraser Institute and the U.S.-based Cato Institute.
"During the pandemic, governments worldwide restricted freedom of movement, expression, assembly and other freedoms even more than in previous years," said Fred McMahon, resident fellow at the Fraser Institute and co-author of this year's Human Freedom Index.
While we take no position on the necessity of COVID policies, they unquestionably limited freedom. From 2019 to 2020 (the latest year of available data), 94.3 per cent of the world's population experienced a decline in freedom.
But again, freedom was on the decline before COVID – the government response simply accelerated the decline. Between 2007 (the highpoint for human freedom) and 2019, freedom declined for 79 per cent of the world's population.
The index measures personal freedom – the rule of law, safety and security, identity and relationships (i.e. the freedom to choose your relationship partner), freedom of movement, speech, assembly and religion – alongside economic freedom, the ability of individuals to make their own economic decisions.
Switzerland, once again, tops this year's freedom ranking followed by New Zealand, Estonia, Denmark, Ireland, Sweden, Iceland, Finland, the Netherlands and Luxembourg. The five least-free countries are (in descending order) Egypt, Iran, Venezuela, Yemen and Syria.
Overall worldwide rankings for other significant countries include Japan (16), Germany (18), the United Kingdom (20), the United States (23), South Korea (30), France (42), Argentina (74), South Africa (77), Brazil (80), India (112), Russia (119), Nigeria (124) and China (152).
Regionally, Western Europe, North America (Canada and the United States) and Oceania have the highest levels of freedom while the Middle East and North Africa, sub-Saharan Africa and South Asia have the lowest levels.
Crucially, people in freer countries are more prosperous than those in less-free countries. For example, the average per-capita income for the top-quartile countries on the index was US$48,644 compared to US$11,566 for the least-free quartile in 2020.
"When government limits the ability of people to move, assemble and speak freely, people are less able to the lives they want to live," said Ian Vásquez, report co-author and director of the Cato Institute's Center for Global Liberty and Prosperity.
The complete index, a joint project of the Fraser Institute and the Cato Institute, is available as a free PDF download at www.fraserinstitute.org. The co-authors of the report are Ian Vasquez, Vice President, International Studies, Cato Institute, Ryan Murphy, associate professor, Bridwell Institute for Economic Freedom, Southern Methodist University, and Guillermina Sutter Schneider, data scientist and research manager, Center for Global Liberty and Prosperity, Cato Institute.
IBP holds Southern Luzon regional convention
Press Release
January 25, 2023
PASIG CITY – Officials from the Integrated Bar of the Philippines, the Supreme Court of the Philippines, judges and other officials of the Judiciary, public prosecutors, public attorneys, and key officials from the Province of Laguna participated in the IBP Southern Luzon Regional Convention on January 20, 2023 at The Bellevue Manila, Alabang, Muntinlupa City. Notable personalities in attendance were Supreme Court Chief Justice Alexander G. Gesmundo, Supreme Court Associate Justices Ramon Paul L. Hernando and Jose Midas Marquez, Court Administrator Raul B. Villanueva, Vice Governor of the Province of Laguna Karen Agapay, Judge Dennis Juso Rafa of RTC Branch 154 of Biñan, Laguna, and Judge Elisa Ramirez Sarmiento- Flores of RTC Branch 71 of Pasig City.
The regional convention, titled Revolutionizing the IBP and the Legal System, was another historic gathering of members of the legal profession to discuss different ideas on changing the legal system by adopting new technologies in the dispensation of justice.
Commencing the start of the regional convention, IBP Governor for the Southern Luzon Region Jerwin J. Lopez conveyed to everyone present that fellowships such as this regional convention are an integral part of the IBP life. Through these gatherings, friendship, camaraderie, and solid vital relationships are built and fostered. He thanked and congratulated all representatives of all chapters under his region for all their accomplishments and credits their successes to their dedication, as especially highlighted by their chapter presidents and officers who allotted time away from their private practice, their families, and from their ownselves, just to be of service to the people, the country, and to their fellow lawyers through the IBP.
In closing, Governor Jerwin Lopez thanked Supreme Court Justices Alexander G. Gesmundo, Ramon Paul L. Hernando, and Jose Midas Marquez, who, despite their busy schedules, have taken the time to grace this event. According to him, this goes to show that the highest court in the land truly regards the IBP as its indispensable partner in the administration and dispensation of justice. Along with this, the Supreme Court, no matter how regal and majestic its stature may be, becomes a humble servant of the country and the people when justice is at the forefront of the conversation.
In his keynote speech, Supreme Court Chief Justice Alexander G. Gesmundo reaffirmed the Supreme Court's commitment of providing a legal system that is swift, just, and modern through the Supreme Court's Strategic Plan for Judicial Innovations 2022-2027 or SPJI. In line with the theme of the regional convention, Chief Justice Gesmundo said that "We cannot overemphasize that the SPJI is necessary to reinvigorate and retool the judicial system. The Court must consistently be proactive and continuously innovate at this time of greater uncertainties and challenges." He shared that the IBP has been a staunch partner in furthering the causes of the Court such as the continuous improvement of procedural rules and the use of information technology.
Adding to what was shared by the Chief Justice, Supreme Court Associate Justice Ramon Paul L. Hernando spoke about the importance of modernizing the Bar Exams. In his words, he stressed the importance of modernizing the manner of admitting new members of the Bar in keeping with the best practices that other legal jurisdictions observe and implement in their respective areas. He reiterated the Supreme Court's goal of shifting to a modern and receptive legal profession.
IBP National President Burt M. Estrada reminded everyone that as lawyers, they all have sworn to uphold the Constitution and the laws. And so, they are regarded as sentinels of the rule of law. He stressed the continuing obligation to uphold the rule of law and gain the people's trust in the legal system. In doing so, lawyers should lead by example. As he said, lawyers are regarded as sentinels of the rule of law. Because of this, the IBP is mandated to assist in the proper administration of justice. In closing, he encouraged everyone to be agents of positive change for the IBP, our legal system, and our country.
8ID renders military honors to 3 newly promoted brigade commanders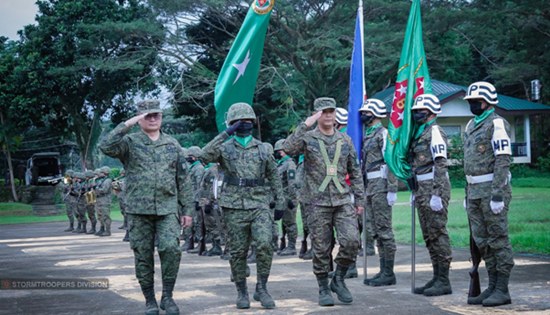 By DPAO, 8ID PA
January 23, 2023
CAMP LUKBAN, Catbalogan City – Three newly promoted Brigade Commanders of this Command were accorded military honors upon their arrival at Headquarters 8th Infantry Division earlier today, January 23, 2023.
Arrival Honors was accorded to Brigadier General Lenart R. Lelina, 801st Brigade Commander, Brigadier General Noel A. Vestuir, 802nd Brigade Commander, and Brigadier General Perfecto P. Peñaredondo, 803rd Brigade Commander and subsequently rendered courtesy call to Major General Camilo Z. Ligayo, Commander, 8ID.
The three Brigade Commanders are members of the Philippine Military Academy (PMA) "Sambisig" Class of 1991.
They were part of the 13 Generals donned with the new rank by the Commanding General Philippine Army, Lieutenant General Romeo S. Brawner Jr. on January 20, 2023, at the Headquarters Philippine Army, Fort Bonifacio, Metro Manila.
As Brigade Commanders, they are instrumental in transforming the insurgency landscape of Eastern Visayas for the better as it has always been regarded as a communist "hotbed" and has been denied socio-economic growth despite its huge potential due to insurgency.
Through their leadership, front guerilla units of the Eastern Visayas Regional Party Committee (EVRPC) have gradually been degraded as a terrorist organization with the neutralization of some of their key leaders, lost grounds due to the surrender of their regular fighters and the withdrawal of support from their so-called "mass base" thereby paving the way for the development of conflict-affected communities in the region.
"I want to congratulate you on your well-deserved promotions. Keep up the good work," stated Maj. Gen. Ligayo.
"A promotion entails new responsibilities on your shoulders and comes with additional responsibilities that call for greater sacrifice and dedication to duties," Maj. Gen. Ligayo concluded.