Aya-ay back as DAR Eastern Visayas RD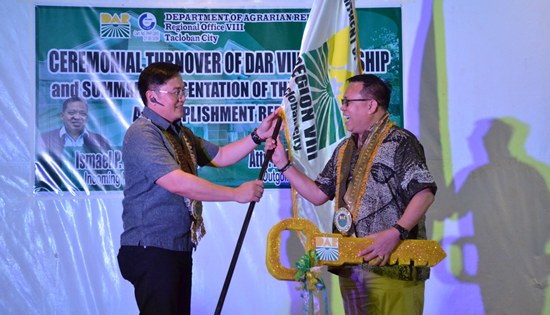 Outgoing Department of Agrarian Reform (DAR) Eastern Visayas Regional Director, Robert Anthony Yu (left), turns over the office's emblem to his successor, Ismael Aya-ay (right), during the latter's installation. Ay-ay was designated OIC-Regional Director by Agrarian Reform Secretary Conrado Estrella III.
By JOSE ALSMITH L. SORIA
July 29, 2022
TACLOBAN CITY – After having been replaced last year by lawyer Robert Anthony Yu, Ismael Aya-ay gets back his old post as the Regional Director of the Department of Agrarian Reform (DAR) in Eastern Visayas.
Agrarian Reform Secretary Conrado Estrella III thru Special Order No. 399, series of 2022, he issued on the first day of July this year, designated again Aya-ay as OIC-Regional Director for this region in a concurrent capacity as the Assistant Regional Director for Administration.
On July 14, Yu relinquished his responsibility back to Aya-ay in a ceremony attended by all DAR officials throughout the region and all the employees at the regional office.
Yu, in his bequeathal message, encouraged all DAR employees all over the region to extend to Aya-ay the same support accorded to him during his tenure.
Aya-ay, in his acceptance speech said, "To the entire workforce of DAR Region-8, I encourage and exhort in the name of public service to sustain the positive strides that we have started."
Prior to Yu, Aya-ay served as OIC-Regional Director for this region for 15 months succeeding the late Stephen Leonidas.
Meanwhile, on the same special order, Yu is transferred to DAR Central Office as Director of the Bureau of Agrarian Legal Assistance (BALA).
NMP welcomes ESSU Salcedo faculty & staff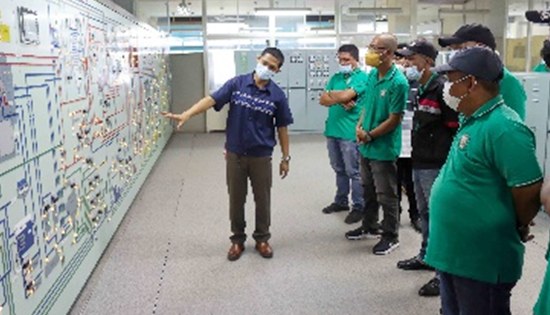 By National Maritime Polytechnic
July 28, 2022
TACLOBAN CITY – Twenty-five (25) members of the faculty and staff of Eastern Samar State University (ESSU) - Salcedo Campus were cordially welcomed by NMP OIC Executive Director, Ms. Mayla N. Macadawan during the former's visit to NMP this morning.
"We are glad that NMP is part of the itinerary of your Lakbay Aral. We hope that as you have a look-see of our equipment, facilities and practical exercises you will be able to acquire new knowledge and skills which you can share with your students," OIC ED Macadawan expressed.
With the help of NMP trainers who are experts in maritime education and training, the group was introduced to the finest state-of-the-art training equipment and facilities of NMP that are being used on board ships. Moreover, the visitors were also given the opportunity to witness the launching of liferaft and firefighting practical exercises.
The visit is part of the Lakbay Aral activity of ESSU which aimed to enhance the knowledge and skills of its faculty and staff through meaningful visits to various institutions in the country.
It can also be recalled that in May 2022, NMP entered into a Memorandum of Agreement (MOA) with ESSU Borongan relative to the latter's availment of NMP's training services and use of facilities and equipment for its students enrolled in Bachelor of Science in Marine Transportation (BSMT) and other allied academic programs.
Senior citizens and Persons with disabilities can avail of a 5% discount on purchases of Basic Necessities and Prime Commodities on their transactions made online, and via phone, text or call
By DTI-CPG-Consumer Policy and Advocacy Bureau
July 27, 2022
MAKATI – The Department of Trade and Industry encourages Senior Citizens and Persons with Disabilities (PWDs) to utilize their 5% special discount for Basic Necessities and Prime Commodities (BNPC) following the release of the Joint Memorandum Circular (JMC) No. 01, series of 2022, entitled "Guidelines on the Provision of the Mandatory Statutory Benefits and Privileges of the Senior Citizens and Persons with Disabilities on their Purchases through Online (e-commerce) and Phone Call/SMS". This discount is distinct from the 20% regular discount covers different goods and services.
DTI-Consumer Protection Group Undersecretary, Atty. Ruth B. Castelo, underscores, "These benefits and privileges under the said Circular, including the 5% discount on BNPC purchases, are meant to be utilized especially the Senior Citizens and Persons with Disabilities all year round, and not only amidst the pandemic".
Under the 5% discount, Senior Citizens and PWDs have a maximum purchase amount of P1,300.00 a week for both online and offline transactions, without carryover of the unused amount. The amount shall be spent for the personal and exclusive consumption of the Senior Citizen and the PWD, and must be spent on at least four (4) kinds of items of BNPCs.
To receive the discount, one must declare to the merchant before placing orders that he or she is a Senior Citizen or a PWD, and submit supporting documents, such as a scanned copy or screenshot of ID, as well as the front and last pages of the purchase booklet. The same proof of discount entitlement should be presented upon the delivery of goods and orders, if the purchase was made online or through a phone text or call.
The BNPCs specified in the amended Price Act are: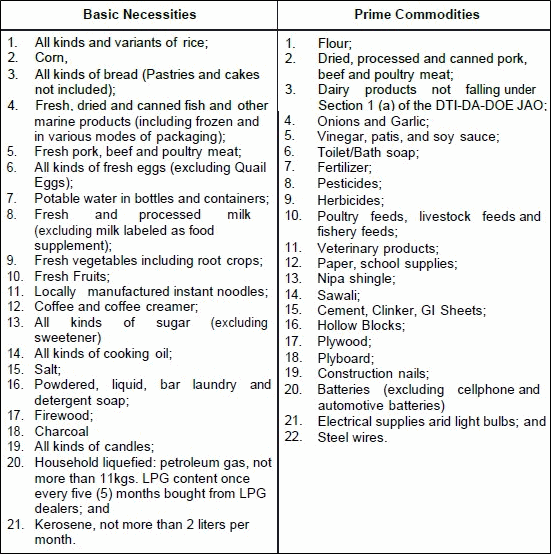 The DTI-Consumer Protection Group (CPG), through its Consumer Policy and Advocacy Bureau (CPAB) issues the Suggested Retail Price (SRP) list for BNPCs. Under its jurisdiction, the DTI monitors the price and supply of Basic Necessities such as canned sardines and other marine products; processed milk; coffee; salt; laundry soap; detergent; candles; bread; and salt. The DTI also monitors the price and supply of Prime Commodities such as flour; canned pork, beef, and poultry meat; noodles; vinegar; soy sauce; patis; toilet soap; paper, school supplies; cement, clinker, G. I. sheers; hollow blocks, construction nails; batteries, electrical supplies, light bulbs; steel wire; bottled water; and batteries.
Daily workers, residents in far-flung areas, welcome PRC Bakuna Bus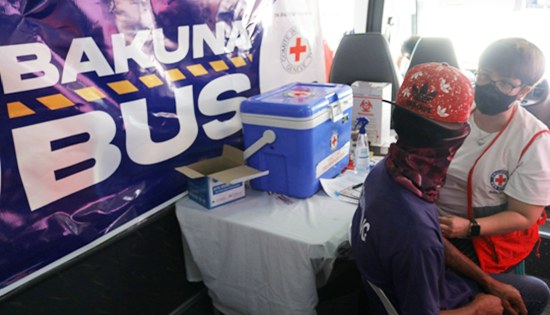 A factory worker from Zamboanga City gets the COVID-19 vaccine. (Photo: D. Alfonso/ICRC)
By ICRC
July 25, 2022
MAKATI – Finally, after waiting for months, Melissa Bajolo can breathe a sigh of relief. The factory worker has received her booster shot from the Philippine Red Cross (PRC) Bakuna (vaccine) Bus, a four-wheel vehicle that goes around Zamboanga City to provide vaccines to those who want to get their COVID-19 jabs.
A laborer at a sardine plant, Melissa has found it difficult to go to the city's vaccination center because doing so means being absent from work for an entire day. Being gone means losing the day's wages. But she is determined to get vaccinated--it was the only way that she can get protected against COVID-19.
"Thank you, Red Cross for doing the vaccination right here in our workplace," she says a few minutes after getting her jab.
Melissa is one of the hundreds of Zamboanga factory workers who have received booster shots from the PRC Bakuna Bus, an initiative that was made possible through a partnership with the International Committee of the Red Cross (ICRC). Fully equipped to store vaccines and manned by PRC staff and dedicated volunteers, the bus has also vaccinated detainees in Cebu, in coordination with authorities, as well as residents of far-flung villages in Mindanao.
Recovering from the pandemic
Like other urban centers in the country, Zamboanga, which has a population of a million people, has been hit particularly hard by the COVID pandemic. Its economy relies on the more than 10 sardine canning plants that employ hundreds of people. When Zamboanga was placed on lockdown, the factories had to operate under limited capacity to ensure that physical distancing was followed.
The steady arrival of vaccines was a step toward normalcy but bringing them closer to people proved to be a challenge. The arrival of the PRC Bakuna Bus has been a game-changer for the residents of Zamboanga.
Jose C. Sy, Melissa's co-worker at the canning plant, was in the same boat as his colleague. He couldn't take a day off to go to the vaccination center.
"One day-off means one day without pay, which is a loss of income for me and my family," he said.
When the PRC Bakuna Bus arrived at his workplace, Jose grabbed the opportunity. After months of waiting, he can finally rest easy. The vaccine eases his worries about getting hospitalized with severe COVID.
Mylene Badiango, the PRC vaccination center supervisor, said that the PRC Bakuna Bus gave the organization the ability to reach more Mindanawons, from their workplaces to their homes. The bus has already visited three sardine factories and seven remote villages surrounding Zamboanga City. Meanwhile, the PRC Zamboanga COVID-19 vaccination center has administered more than 49,000 doses as of June 2022. The PRC and the ICRC have proven to be reliable partners to the local government of Zamboanga in its vaccination drive.
"The PRC Bakuna Bus gave us much mobility to reach people who struggle to leave their far-flung communities or work places to get vaccinated," she says.
At the core of the PRC Bakuna Bus is an enthusiastic cadre of volunteers who work with synergy, from setting up the emergency tents to conducting the pre-vaccination medical screenings. Vince Plaza, one of the volunteers, said that he is proud of the work that the PRC does in Zamboanga.
"Together with other volunteers who take part in bringing life-saving vaccines to the people, we find this task especially meaningful," he says.
But there is still much to be done. Joseline Fernandez, the chapter administrator of PRC Zamboanga, said many residents are still hesitant to get the vaccine. Countering misinformation remains a gargantuan task. But the bus continues in its mission and will travel to Surigao del Norte in August and Agusan del Norte in September.
"We have been tirelessly educating and explaining that the vaccine is safe and effective. The good news is that based on our experience, the presence of the Bakuna Bus in the communities is enough to convince them to get the shot," she says.
Karapatan lauds US House of Reps' passage of amendment suspending security assistance to PNP over rights violations
By KARAPATAN
July 22, 2022
QUEZON CITY – Human rights alliance Karapatan welcomed on Friday the recent amendment passed by the United States' House of Representatives to the National Defense Authorization Act (NDAA), which would suspend security assistance to the Philippine National Police (PNP) until the police ensures its compliance with basic human rights standards and accountability for violations committed by its personnel.
"For the past six years, the Duterte administration has used the US government's security aid to the police and the military to beef up funds for its campaigns of State violence and repression such as the bloody and bogus drug war and its war against political dissenters. With the Marcos Jr. administration pledging to continue these campaigns, the passage of this amendment in the NDAA is a strong message from the American people that they will not tolerate the use of their taxes to enable human rights violations in the Philippines," Karapatan Secretary General Cristina Palabay stated.
The said amendment under Section 58 of the NDAA, which was introduced by Pennsylvania 7th District Rep. Susan Wild, provides that no funding will be made available to the Department of State for assistance to the PNP, including equipment and training, until the Secretary of State has certified that the PNP has "investigated and successfully prosecuted" its members "who have violated human rights," and established protection of the rights civil society activists "to operate without interference."
Last June 24, International Criminal Court (ICC) Chief Prosecutor Karim Khan requested the resumption of the ICC's investigation into the alleged crimes against humanity in the drug war, which was suspended following a deferral request from the Philippine government.
Khan averred in his request that the Philippine government failed to show that "any individual has been investigated for ordering, planning, or instigating any of these killings, nor is there any indication that the domestic authorities are investigating the alleged systemic nature of these and other killings." The ICC's Pre-Trial Chamber has now asked the Philippine government as well as drug war victims and their families for comments regarding Khan's request.
Palabay continued that the Khan's findings "clearly illustrate that the PNP does not meet the conditions stipulated in the amendments to the NDAA, and these should compel the US government to immediately halt its security aid to the Philippines and end its complicity in the human rights violations committed by the PNP."
"We laud Rep. Wild for her tireless solidarity efforts, such as introducing and reintroducing the Philippine Human Rights Act in the US Congress, as well as spearheading the calls to impose targeted sanctions on officials of the Duterte administration responsible for the worst atrocities against the Filipino people. Her actions demonstrate that the international community can undertake meaningful steps to demand accountability and to support the Filipino people's struggle for justice," the Karapatan official ended.
CARD MRI celebrates Filipino culture through Indak ng Panahon: Folk Dance Contest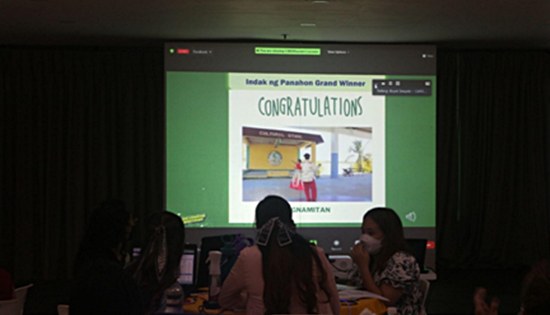 Clients from the Pagnamitan Center of CARD Bank was named Grand Winner during the Indak ng Panahon: Folk Dance Contest Awarding Ceremony, which was streamed live on Facebook and Zoom.
Press Release
July 20, 2022
SAN PABLO CITY – On July 6, 2022, the CARD Mutually Reinforcing Institutions (CARD MRI) held an awarding ceremony for the Indak ng Panahon: Folk Dance Contest where the Kuratsa performance of the Pagnamitan Center of CARD Bank, Inc. from Guiuan, Eastern Samar was declared Grand Winner.
The Grand Winner received P20,000 in cash for the center, P5,000 in cash for the center unit, a Certificate of Recognition, Mga Likha ni Inay Products worth at P3,000, and BotiCARD Products valued at P3,000. Three institutional winners from the other financial institutions of CARD MRI were also announced namely: Kalawag 1- Pabloco of Isulan 1 Unit for Center for Agriculture and Rural Development, Inc. (A Microfinance NGO), Mananga of Talisay 2 Unit for CARD SME Bank, and Inao Awan 1 of the Cavinti Unit for CARD MRI Rizal Bank, Inc. The institutional winners also received cash prizes and products from BotiCARD and Mga Likha ni Inay.
The awarding ceremony was attended by CARD MRI Senior Advisers, members of the Executive and Management Committee, as well as staff and clients from CARD MRI offices nationwide. During the welcome remarks, CARD MRI Senior Adviser of CARD MRI Dr. Dolores M. Torres stated, "I am delighted that our clients took part in this meaningful competition. I am grateful that you continue to show and develop your abilities since we heard your stories not only with our ears but also with our hearts."
The folk dance is part of CARD MRI's program, "Ugnayan at Kwentuhan", which began at the onset of the COVID-19 pandemic. Despite the physical restrictions to prevent the spread of the virus, CARD MRI hoped to continue touching the lives of their families through various online activities. As CARD MRI Managing Director Mr. Aristeo A. Dequito would put it, "The connection that CARD MRI has with its clients is one of our strongest assets. Whatever challenge we go through, we move forward together."
Inspired by its clients and staff who has previously showcased their talents in promoting Filipino culture through folk dance, CARD MRI also launched its official dance on July 8, 2022. Acknowledging the importance of keeping traditions, CARD MRI Founder and Chairman Emeritus of CARD MRI Dr. Jaime Aristotle B. Alip said during his inspirational message, "Rituals are very important in keeping tradition. Here at CARD MRI, our tradition is maintaining our core values not only in our microfinance and microinsurance operations, but also in other creative means such as songs, dances, and poetry. These will be our instruments in showing who we are and what we are trying to do to eradicate poverty."
CARD MRI is set to launch another online contest dubbed as "SineMaya," which is a community film fest open for CARD MRI clients nationwide. Details and mechanics of the said contest can be found in the Facebook Page, Online Kumustahan at Kwentuhan.
CARD MRI is a social development organization with over 8.14 million clients nationwide as of May 2022. It aims to eradicate poverty by providing financial, non-financial, and community development programs. For more information about CARD MRI, visit www.cardmri.com or its official Facebook Page, www.facebook.com/CARDMRIOfficial.
Opportunities as vast as the sea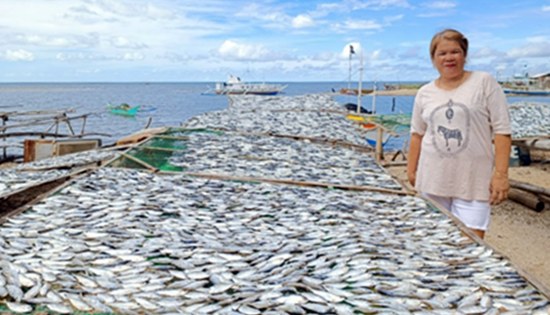 "The sea is vast, so are the ways we can get out of poverty," shares Glenda Bayon-on as she stands proudly next to her dried fish products.
By JEFFREY C. TANDINGAN
July 20, 2022
SAN PABLO CITY – Entrepreneurship is one of the backbones of the Philippines economy. It also contributes significantly to reducing the number of people living under the poverty line. In fact, this is what some see as the solution to get out of poverty. When it comes to business, it is undeniable that most Filipinos are very strategic and creative, they are not only content with one but as much as their capacity and physical body can, they will always grab the opportunity to grow and to reach success.
Glenda Bayon-on from Milagros, Masbate manages four different enterprises; this makes her one of the successful entrepreneurs in her city. Her businesses include prawn hatchery, dried fish, seafood supplier, and piggery. Her family also owns a bunch of laya, a type of small boat used to catch fish. Glenda's business not only benefits her family but also to her community since she employs more than 15 people to take care of her business.
When asked how their successful business began, like some entrepreneurs, they also started with nothing. Her husband was then a technician at a prawn hatchery. As a result, her husband learned how to raise shrimp properly. Since the couple were already in the blood of the business, they decided to find people who will believe and help them start their preferred livelihood. Glenda fully supported her husband, and not long after, in 2006 they met CARD Bank, Inc., a microfinance-oriented rural bank that provides a wide range of financial and non-financial products and services intended to fit clients' businesses and family needs.
With their initial loan of P5,000, the couple began their prawn hatchery; slowly, they grew their small earnings until they bought their own laya and this is what they used to increase their income. Their seafood harvests are brought straight to Navotas City in Manila while some are turned into dried products which are also delivered to Manila and nearby provinces.
Also, with the help of CARD Bank, Inc., Glenda was able to send their three children to school. Her eldest son is now a civil engineering graduate, while her second is in college and her youngest is a junior high school student. She will always be grateful to the outcome of their effort and how brave they were when they risked the small capital that CARD Bank Inc. lent to them.
Overtime, the couple also thought of adding more to their livelihood, especially when they figured out they had the capacity to help their community. From a single laya and small hatchery, they now have 20 laya and extensive piggery where they breed 28 fattening and raising 180 piglets.
To continue to meet the needs of their businesses, the growing number of laborers, and despite their success, they continued to avail loans from CARD Bank, Inc. Currently, Glenda has a loan of PhP200,000 and she makes sure that it is used exactly for the maintenance of their businesses and aids all the people who are working behind and helps them to run their business. Helping them particularly in this era where the post-pandemic is still affecting the lives of many Filipinos is one of Glenda's inspirations to strive hard in their businesses.
Glenda also motivates her fellow CARD clients on how to succeed in their respective businesses, "There is nothing wrong with having a loan as long as you know how to use it correctly. Especially if you are planning to open a new business, do not be afraid to take a risk. Likewise, I encourage my fellow entrepreneurs that diligence, perseverance, trusting others and being generous will help you to make your livelihoods better."
NPA terrorists in N. Samar use anti-personnel mines; kill one army personnel and injure five others
By 20th Infantry Battalion, 8ID PA
July 19, 2022
LAS NAVAS, Northern Samar – Communist NPA Terrorists (CNTs) used anti-personnel mines against CSP Teams of the 20th Infantry (We Lead) Battalion while conducting combat patrol at 09:25 today, July 19, 2022 in the vicinity of Brgy. Osang, Catubig, Northern Samar.
The attack of the members of the CPP-NPA using anti-personnel mines has killed one (1) Army Personnel and injured five others. "The casualties were transported to Eastern Visayas Regional Medical Center for appropriate medical attention," said Second Lieutenant Bayron, Acting 20IB Spokesperson.
Barangay Osang is a recipient among six barangays in Northern Samar which will receive a P20-million worth of Support to Barangay Development Program (SBDP) for the year 2021. This is a courtesy to our soldiers that worked hard to clear the Barangay from NPA's presence. However, communist NPA terrorists returned in an attempt to recover their lost mass base. This is one of the reasons why the AFP and PNP tied up to redeploy CSP Teams in Brgy. Osang and other conflict-affected barangays to ensure that the project implementation of SBDP will push through and not be put hampered by the NPA's extortion and intimidation.
The "We Lead Troopers" cannot allow the people of Las Navas and Catubig to be deprived of government services because of NPA's deceptive propaganda and lies," Bayron added.
The CPP-NPA-NDF once again made a serious violation of Ottawa Convention and International Humanitarian Law in the Province of Northern Samar. It can be recalled that on April 03, 2022, the CNTs used anti-personnel mines (AP Mines) against CSP Teams of the 20th Infantry (We Lead) Battalion at the vicinity of Brgy. San Miguel, Las Navas, Northern Samar which killed two (2) policemen and four other Army and PNP personnel. Likewise, the CPP-NPA also used four (4) AP Mines last July 05, 2022 which injured seven (7) Army Personnel at Brgy. Magsaysay, Mapanas, Northern Samar.
Lieutenant Colonel Joemar Buban, Commanding Officer of 20IB stated that the said terroristic attack of the CNTs is a clear violation of the Ottawa Convention (Mine Ban Treaty) that prohibits the use, stockpiling, production, and transfer of anti-personnel landmines (APLs).
"The 20IB has been doing its best to help the conflict-affected barangays through our Community Support Program Teams to achieve long-lasting peace and sustainable development in Northern Samar. We are calling the Commission of Human Rights to investigate and make a statement on these continuous inexcusable violations of Ottawa Convention, International Humanitarian Law and RA9851 by communist NPA terrorists in Northern Samar. Moreover, the leadership of the National Democratic Front of the Philippines (NDFP), as the self-proclaimed organizational representative of the NPA, should be held liable for not taking any efforts to stop the NPA, its armed wing, from its continuing production stockpile, transport, and use of crudely manufactured anti-personnel mines (APM) that also pose danger to lives of the people in the communities where they lay the mines," Lieutenant Colonel Buban added.
"Ako, at ang buong Catubig, ay mariing kinokondena ang tahasang paglabag ng CPP-NPA-NDF sa Ottawa Convention nang walang takot nilang pasabugin ang anti-personnel mines sa Brgy. Osang, Catubig, Northern Samar kanina na ikinamatay ng isang sundalo at naging sanhi ng pagkakasugat ng lima pang sundalo.
"Panahon na para itigil ang karahasang dala ng Komunistang Teroristang NPA! Panahon na para pagbayarin ang mga liderato ng National Democratic Front of the Philippines sa patuloy na pangungunsinte sa mga maling gawain ng kanilang armadong grupo! Nananawagan ako sa mga CPP-NPA na hayaan po ninyong mamuhay ng maayos at mapayapa ang ating mga kababayan. Huwag po sana nating galawin ang mga on-going SBDP Projects para tuluy-tuloy na ang kapayaan at kaunlaran dito sa Northern Samar," said Hon. Galahad O. Vicencio, Vice-Mayor of Catubig, Northern Samar.
2021 annual provincial labor force statistics

By PSA-8
July 18, 2022
TACLOBAN CITY – In 2021, Eastern Visayas registered a Labor Force Participation Rate (LFPR) of 63.2 percent. This was 5.0 percentage points higher than the 58.2 percent LFPR reported in 2020, and the highest in the past four (4) years since 2018. The 63.2 percent LFPR corresponds to around 2.02 million total population 15 years old and over who were either employed or unemployed during the period in review (Table 1).
Of the six (6) provinces in the region, Samar registered the highest LFPR at 70.6 percent, corresponding to 381 thousand labor force during the year in review. This was followed by Biliran, Northern Samar and Eastern Samar with 68.2 percent, 66.5 percent and 65.1 percent, respectively. Leyte posted the lowest LFPR at 58.7 percent. Tacloban City, the lone Highly Urbanized City (HUC) in the region, had 58.9 percent LFPR in 2021.
There were about 1.88 million employed persons out of the estimated 2.02 million labor force in 2021. This placed the region's employment rate at 93.4 percent, higher by 1.4 percentage points than the 92.0 percent employment rate in 2020. However, this was lower by 2.4 percentage points and 2.2 percentage points compared with the 95.8 percent and 95.6 percent employment rates in 2018 and 2019, respectively.
Meanwhile, among provinces in the region, Samar posted the highest employment rate in Eastern Visayas at 96.1 percent. Eastern Samar was next with 95.0 percent employment rate, followed by Biliran at 92.9 percent employment rate. The lowest employment rate was reported in Northern Samar at 91.5 percent, tailed by Leyte and Southern Leyte at 92.4 percent and 92.5 percent, respectively. Tacloban City recorded 93.5 percent employment rate during the year in review.
Eastern Visayas posted a 6.6 percent unemployment rate in 2021. This means that there were around 134 thousand persons unemployed out of the 2.02 million persons in the labor force in 2021. This showed an improvement from the 8.0 percent unemployment rate in 2020. This rate, however, was still higher compared with the unemployment rates in 2018 and 2019 at 4.2 percent and 4.4 percent, respectively.
Among the provinces in Region 8, Northern Samar reported the highest unemployment rate at 8.5 percent, followed by Leyte, Southern Leyte and Biliran at 7.6 percent, 7.5 percent and 7.1 percent, respectively. The rest of the provinces posted lower unemployment than the 6.6 percent unemployment rate in Region 8 with Samar recording the lowest unemployment rate at 3.9 percent, followed by Eastern Samar at 5.0 percent. Meanwhile, Tacloban City posted 6.5 percent unemployment rate in 2021.
Underemployed population is the proportion of employed population who expresses the desire to have additional hours of work in their present job, or an additional job, or to have a new job with longer working hours. The underemployment rate in Eastern Visayas in the past four years has been double-digit, fluctuating slightly from 21.4 percent in 2018 to 20.9 percent in 2021.
The region's 20.9 percent underemployment rate in 2021 translates to about 394 thousand underemployed persons out of the estimated 1.88 million employed population recorded during the said year. All provinces reported double-digit underemployment rates except Eastern Samar where underemployment rate was 9.1 percent. Northern Samar posted the highest at 29.7 percent, Southern Leyte ranked second at 27.2 percent, Biliran at 25.0 percent, Leyte at 24.9 percent, then Samar at 10. 6 percent. Tacloban City had 18.1 percent underemployment rate.
DOLE-8 partners with INGO for housing project in Limasawa
By NORMA RAE S. COSTIMIANO
July 15, 2022
TACLOBAN CITY – The Department of Labor and Employment Regional Office 8 through its Southern Leyte Field Office (SLFO) has recently made partnership with SDG Promise Japan, an international non-government organization, and the local government unit of Limasawa, Southern Leyte for the construction of houses to be given to victims of the typhoon Odette.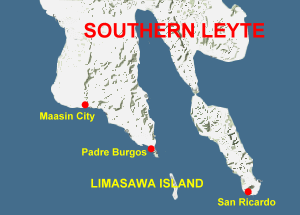 SDG Promise Japan representatives Yuki Sano Akasaka and Hinako Ohno discussed the organization's sponsorship for the construction of houses for the 38 indigent households in Limasawa with a target date of completion on August 15, 2022.
DOLE-SLFO Head, Eden Ligaya Y. Golong said that the DOLE's counterpart will be the implementation of TUPAD Program, in partnership with LGU-Limasawa through Mayor Melchor Petracorta.
"A total of 174 TUPAD workers from Limasawa will be deployed and they shall do the clearing of project sites, loading and unloading of materials and other related light works", said Golong.
Aside from their wages from TUPAD program, Ms. Golong said that each worker will also receive P150.00 daily as meal allowance to be funded by the SDG Promise Japan.
SDG Promise Japan, in coordination with the LGU, facilitated the selection of the recipients of the 38 houses, with priority on the indigents, solo parents and other typhoon Odette victims who remained homeless until now.