Central Luzon State U is first HEI to establish peace markers in PH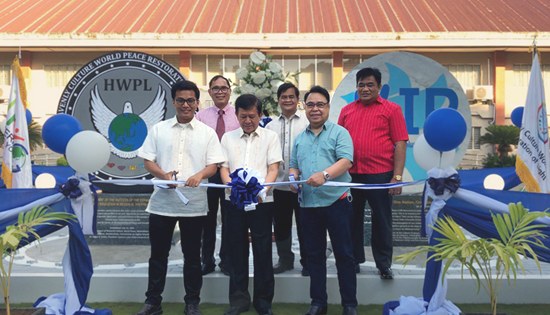 Press Release
July 15, 2022
NUEVA ECIJA – In support for peace education, Central Luzon State University (CLSU) inaugurated peace markers on July 15, 2022, the first to be established in a higher education institution (HEI).
This is a joint project of CLSU, Heavenly Culture, World Peace, Restoration of Light (HWPL) – Philippines, and Volunteer Individuals for Peace (VIP), a non-government organization established by Dr. Ronald L. Adamat, Commissioner of the Commission on Higher Education (CHED).
Dr. Danilo S. Vargas, Vice President for Administration, said that the peace markers symbolize CLSU's commitment of promoting peace education.
"By inaugurating these markers, CLSU will be inspired to further strengthen its commitment to the propagation of peace in the communities and to the world," he said during his speech.
In the pursuance of peace, Dr. Adamat declared that he would establish peace monuments in all state universities and colleges (SUCs) starting with SUCs under his supervision, during his speech in the Unveiling Ceremony of the Peace Monument in Siniloan Integrated National High School held in February 2022. He also authored the memorandum order of CHED mandating SUCs to integrate peace education in the higher education curricula, as a result of the partnership signed between CHED and HWPL in 2018.
Peace Education is one of the core initiatives of HWPL. HWPL provides Peace Education training to educators from partner schools and volunteer teachers to raise students and youths as peacemakers. To date, 2,551 teachers from 557 educational institutions in the Philippines alone have been capacitated to teach peace education to up to 23,000 students.
In his speech, Dr. Adamat shared his plan to establish Peace Clubs in SUCs starting in CLSU to embed the 'peace culture in the hearts of the students' and to shape them as nation-builders once they step out of the university. He also plans to hold a music festival in the university to encourage the youths' active participation in spreading peace awareness.
NMP Inks agreement with PIT on conduct of trainings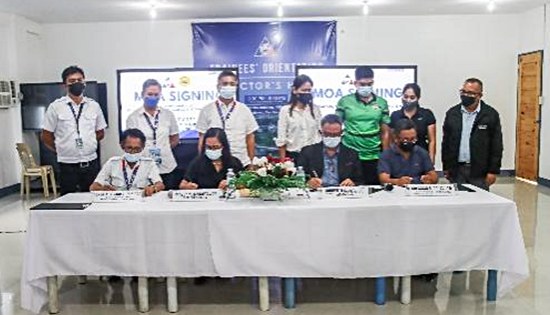 NMP OIC Executive Director Mayla N. Macadawan and PIT President Norberto C. Olavides present copy of the signed MOA.
Press Release
July 13, 2022
TACLOBAN CITY – With the aim of advancing the capabilities of the maritime cadets by ensuring that necessary competences are obtained through effective maritime instructions and quality trainings, the National Maritime Polytechnic (NMP), the only government maritime training and research institution in the country, entered into a Memorandum of Agreement (MOA) with the Palompon Institute of Technology (PIT), a state college located in Region 8.
The collaboration was made possible with PIT's utmost desire to comply with the requirements of the Joint CHED-MARINA Memorandum Circular No. 1, series of 2019 entitled "Policies, Standards and Guidelines for the Bachelor of Science in Marine Transportation (BSMT) and Bachelor of Science in Marine Engineering Programs".
"This partnership is an affirmation of NMP's capability in terms of expertise and facilities needed in the effective delivery of quality trainings to our maritime cadets", said NMP OIC Executive Director Mayla N. Macadawan.
The trainings that will be availed by PIT from NMP are: Basic Training (BT) with PADAMS, SHAPIMS & GSTS; Security Awareness Training and seafarers with designated Security Duties (SAT with SDSD); and Medical First Aid (MEFA). The MOA shall take effect for a period of three (3) years (2022-2025) unless otherwise extended as mutually agreed by both parties.
The signing was attended by NMP OIC Executive Director Mayla N. Macadawan and PIT President Norberto C. Olavides together with other personnel from both parties. The activity was also witnessed by different media outlets in the region.
Eastern Visayas posts 94.0% employment rate in April 2022

By PSA-8
July 13, 2022
TACLOBAN CITY – Eastern Visayas registered a Labor Force Participation Rate (LFPR) of 60.0 percent in April 2022. This placed the region's labor force at 1.95 million persons who were either employed or unemployed out of the estimated 3.24 million population 15 years old and over in April 2022.
The 60.0 percent LFPR was higher by 2.0 percentage points than the LFPR in January 2022 posted at 58.0 percent. This means that the labor force in April 2022 was stronger by around 75 thousand persons than the 1.87 million persons in the labor force in January 2022. However, the number was lower by around 37 thousand persons compared with the 1.98 million persons in the labor force in the same period in 2021.
The region's Employment Rate (ER) in April 2022 was estimated at 94.0 percent. This translates to 1.83 million employed persons out of the 1.95 million persons in the labor force. This was higher by about 90 thousand employed persons than the 1.74 million employed persons reported in January 2022; but, lower by around 54 thousand compared with the 1.88 million employed persons in April 2021.
Eastern Visayas' unemployment rate has improved at 6.0 percent, lower by 1.0 percentage point compared with the 7.0 percent unemployment rate recorded in January 2022. This was equivalent to around 116 thousand persons in the labor force who were unemployed in April 2022, lower by 15 thousand unemployed persons compared with the 131 thousand unemployed persons in January 2022. However, the latest unemployment rate was 1.0 percentage point higher than the unemployment rate in April 2021 at 5.0 percent.
The underemployment rate in Eastern Visayas was posted at 14.8 percent or 271 thousand persons out of the 1.83 million employed persons in April 2022. The latest underemployment rate has improved compared with the underemployment rates of 19.8 percent and 15.5 percent in January 2022 and April 2021, respectively.
CARD MRI exhibits countless stories through "An Sakuyang Kinang"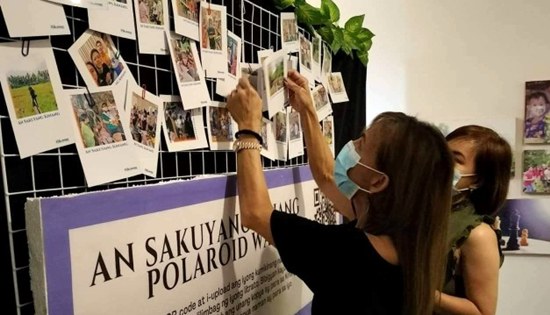 CARD Astro Laboratories President Mary Grace Quinola shares one of her favorite memories with CARD MRI through "An Sakuyang Kinang" Polaroid Wall. The wall enables visitors to post their treasured photos with CARD MRI that tells a memorable story with the institution.
By JEFFREY C. TANDINGAN
July 13, 2022
SAN PABLO CITY – To see CARD MRI through the lens of its clients and showcase their colorful stories to the public, CARD MRI opens "An Sakuyang Kinang" Photo Exhibit, located at Room 306, Maharlika Square Events Place from July 4 to 8, 2022.
Coming from a Bikol phrase that translates to "Ang Aking Kislap", the exhibit aims to tell the stories of its centers that portray success, inspiration, and hope through the lenses and flashes of photography, hence the photo exhibit's title. The featured photos are from one of CARD MRI's online contests in 2022, entitled "Kislap ng Padayon".
Boasting a total of 90 photos from the centers of CARD MRI's Banking Institutions namely CARD Bank, CARD SME Bank, CARD MRI Rizal Bank (CARD RBI), and CARD Inc. (A Microfinance NGO), visitors can take a moment to appreciate the stories told through photography. To give spotlight to the contest's institutional winners, three columns can be found in the exhibit that features the entries and the stories behind their photos. The institutional winners are Poblacion 7 from Davao Oriental, a center of CARD Inc., Salvacion 3P from Davao Del Norte, a center of CARD SME Bank, and Morning Star from Agusan Del Sur, a center of CARD RBI.
One of the main attractions of the photo-exhibit is the entry of the contest's grand winner, Vibe 10, a CARD Bank center from Camarines Sur. Printed on 2.5mx1.4m tarpaulin, the photo shows two individuals gleefully smiling as they glance on their lamp, all while preparing to set sail on a fishing trip on a full moon.
To Vibe 10, the symbolisms they presented is a depiction of how they see CARD MRI and the mothers that make up their center. The lamp held by the individuals symbolizes the mothers of CARD MRI that light up any dark situation, and together with CARD MRI, symbolized by the full moon, inspires hope as they prepare and wait for a brighter future.
"Through exhibits like this, we get to see the stories and perspectives of our centers that we rarely get a glimpse on. As an organization that prides itself on having a meaningful understanding of its clients and clients, this a heartwarming eyeopener and an inspiring exhibit for all," said CARD MRI Managing Director Aristeo A. Dequito as he walks through the exhibit.
"As visitors walk through this exhibit, we get a glimpse of the lives of our clients, their stories, and their journey together with CARD MRI. Through these photos, anyone would be inspired to act. For CARD MRI, this will only fuel our drive to work harder towards poverty eradication, to let these centers share more of their colorful and inspiring stories," CARD MRI Founder and Chair Emeritus Dr. Jaime Aristotle B. Alip on the impact of these stories for the organization.
Besides the photo-exhibit, displays such as the "An Sakuyang Kinang" Polaroid Wall can be viewed. The wall inspires visitors to share their own stories through pictures. Different merchandises, from Koa Kafe and Hijos Tours, are also available for purchase in the exhibit. To view all 90 entries displayed, please visit the "Online Ugnayan and Kwentuhan" Facebook page @CARDkwento.
NMP holds symbolic turn-over ceremony
Press Release
July 13, 2022
TACLOBAN CITY – In a symbolic gesture, NMP Executive Director Joel B. Maglunsod handed over the helm of leadership to his successor, OIC Executive Director Mayla N. Macadawan during the symbolic turn-over ceremony conducted last 07 July 2022 at the Sophia's Way Event Center, City Central Park, Sagkahan, Tacloban City.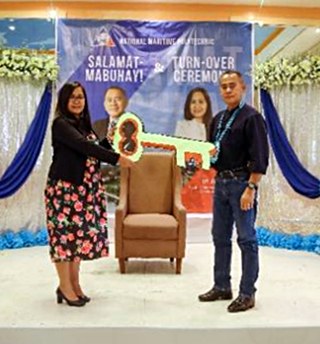 Incoming OIC Mayla N. Macadawan accepts the symbolic key and flag from Outgoing Executive Director Joel B. Maglunsod.
Outgoing ED Maglunsod in his message shared, "I am deeply honored to turn-over to Ms. Mayla N. Macadawan, OIC Executive Director, the symbolic key and NMP flag which symbolize the responsibility to take the lead of the National Maritime Polytechnic particularly in attaining its mission to train and upgrade the competencies of the Filipino seafarers and provide maritime researches which are attuned to the needs of the maritime industry"
In her acceptance speech, OIC ED Macadawan took note of her predecessor's "many accomplishments" which, she said, are "difficult to replicate." She, however, urged NMP employees to help her "take off from and carry on a lot of things that still need to be done."
"I accept the challenge of steering NMP in pursuit to the delivery of its mandates and functions. We will continue to be a key mover in the maritime industry through quality and responsive maritime education, trainings and researches", she expressed.
OIC ED Macadawan also thanked DOLE Secretary Bienvenido E. Laguesma for the trust and confidence in her capabilities to lead NMP.
The ceremony was attended by DOLE RO 8 Regional Director Henry John S. Jalbuena and other members of the DOLE 8 Regional Coordinating Council namely: OIC - Regional Director Ma. Evangelina Veloso-Filamor and Ms. Katrina Obejera of Overseas Workers Welfare Administration (OWWA); Atty. Michelle Basal of Employees' Compensation Commission (ECC); Atty. Marie Ronette Barreda-Campo of Regional Tripartite Wages and Productivity Board (RTWPB 8); and Engr. Maria Elena Diez of Occupational of Safety and Health Center (OSHC).
OIC ED Macadawan will maneuver NMP until 31 July 2022, or until a replacement has been appointed or designated, whichever comes first.
Farmers' products generate more than P100K in 2 days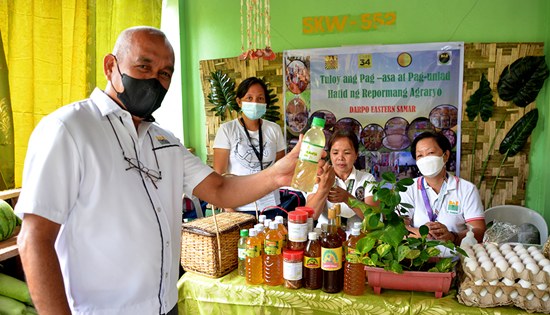 Products of agrarian reform beneficiaries organizations (ARBOs) generated a combined sales of P116,332 during the two-day Agraryo Trade Fair held at the Department of Agrarian Reform (DAR) compound in Tacloban City.
By JOSE ALSMITH L. SORIA
July 11, 2022
TACLOBAN CITY – Farmers' products from different parts of Eastern Visayas generated more than a hundred thousand pesos in sales during the two-day Agraryo Trade Fair held last week at the Department of Agrarian Reform (DAR) compound.
Chief of the Program Beneficiaries Development (PBD) Division, Melecia Ong, disclosed that the trade fair, with the theme "Produktong Benepisyaryo tungo sa Malawak na Merkado," generated a combined sales of P116,332 for products of agrarian reform beneficiaries organizations (ARBOs) alone.
She stressed that sales generated by private entrepreneurs who joined the said trade fair were excluded. According to the organizer, the private entrepreneurs garnered a cumulative sales of more than P40 thousand.
Ong shared that most of the ARBOs products, from fresh fruits and vegetables to processed foods, were sold out.
On processed foods, Ong proudly shared that 13 ARBOs in Region-8 were already given license to operate by the Food and Drug Administration commonly referred to as FDA-LTO; while one product was issued with the Certificate of Product Registration (CPR), making them qualified to penetrate a larger market.
The Agraryo Trade Fair was among the highlight activities during the month-long twin-celebration of the 34th year of Implementation of the Comprehensive Agrarian Reform Program (CARP), which covered all agricultural lands under the agrarian reform program regardless of tenurial arrangements, and the 50th year of Presidential Decree 27, emancipating tenants from the bondage of the soil.
Regional Director Robert Anthony Yu emphasized in his message during the opening of the trade fair, "We are showcasing here the results of all the interventions we provided to the agrarian reform beneficiaries (ARBs) under CARP's provision of support services component."
As Provincial Director Ruthelma Samonte of the Department of Trade and Industry (DTI) described the ARBs now, "They are no longer farmers by themselves, but we call them CARPreneurs (for CARP entrepreneurs), which means, they are already into business."
Samonte advised DAR during the said occasion, "We must prepare them for the bigger market." She stressed, "The ARBOs must be prepared in terms of production."
"With institutional buyers, they must be ready with the supply," Samonte added.
DTI is among DAR's partner agencies in providing the necessary assistance thereby transforming ARBs into farmer entrepreneurs.
Meanwhile, representatives from the Department of Agriculture (DA) and Department of Science and Technology (DOST), Francisco Ocado and Lysander King III, respectively, committed their agency's continued support in helping the ARBOs develop potential products as additional livelihood to their farming activities.
CARD MRI hosts Lakbay-Aral for media in Tagum City

Media practitioners from Mindanao joined the CARD MRI in a lakbay-aral program that introduces the latter's various social development initiatives and explores the beauty of Tagum City.
Press Release
July 7, 2022
SAN PABLO CITY – CARD Mutually Reinforcing Institutions (CARD MRI) held a Media Lakbay-Aral in Tagum City, Davao del Norte on June 16-17, 2022. The study tour program allowed the participants to have a first-hand experience on the different community development programs of the member institutions of CARD MRI, which includes the CARD Bank (a microfinance-oriented rural bank), BotiCARD (a generic pharmacy), CARD MBA (a mutual benefit association) and CARD-MRI Development Institute Inc. (a Senior High School, College, and training institute).
The Media Lakbay-Aral was attended by the following: Aurora "Auring" Lozada (Consultant and Broadcaster of DXDN Radyo Ukay Tagum); Ruel Dagsangan (News Anchor of DXDN Radyo Ukay Tagum); Joseph Jubelag (Manager of Mindanao Bulletin); Naomi Sendad (News Correspondent of Asintado Newsliner); Erlinda Alcid (News Correspondent of Manila Star); Margarita Candido (Editor of Mindanet Balita); Elmer "Dudz Romantico" Tandoc (Station Manager of Radyo Natin Tagum); Allan Basong (from Mindanao Gold Star Daily News); Dexter Visitacion (from Radio Kokak and Superbalita; Mario Saladas, Publisher of Trends and Time Newspaper; Eric Alonzo from DXUM News and Public Affairs; and Markneil Cardona (Marketing Manager of Mindanao Journal).
Microfinance Program
The study tour started with an exposure to the implementation of the microfinance operations of CARD MRI. Two CARD Bank centers in Tagum were visited by the group where they observed the collection of weekly payments from clients. They also witnessed the conduct of Credit with Education (CwE), a learning session on health, enterprise development, financial literacy, and disaster preparedness which help CARD clients to live productively in their community.
After the center meeting, the participants also visited two CARD Bank clients. One of them is Norma Dua, who has been a CARD Bank client for 12 years. She currently has an existing loan of P200,000, which she used as capital for her tree nursery enterprise in Tagum City. They also met Juliet M. Torrivillas, who owns RTW (ready-to-wear clothes), who has been a client of CARD Bank for five years and currently has a P300,000 loan.
Campus Tour
After the field visit, the participants went to CMDI for a tour of the campus' facilities. The CMDI Tagum Campus offers programs for Senior High School such as Academic TRACK with ABM strand and Technical-Vocational-Livelihood Track with ICT and Home Economics strands and Baccalaureate courses such as BS Entrepreneurship with specialization in Microfinance, BS Accountancy, BS Accounting Information System and BS Tourism Management.
CMDI also provides digital tools for students amid the on-going COVID-19 pandemic. Its e-library enables students and faculty members to access the campus library through electronic devices connected to the internet. Meanwhile, the tourism e-laboratory allows students, faculty members and CARD clients to virtually travel to various provinces in the Philippines through 360° videos and other virtual reality tours hosted by CARD MRI Hijos Tours.
This school year, there are 907 enrolled students in college and 405 enrolled students from senior high school.
Koa Kafe
The Media Lakbay-Aral also went to the Koa Kafe Pop-up event hosted by CARD MRI Publishing House. Named after "Koa", the publishing company's owl mascot, the event primarily aims to introduce its publications and communication materials.
Free Koa Kits with coloring books, school supplies, and toys were also given to children who were recognized as top savers of Maagap Savings, a savings account of CARD Bank that encourages children to save their money while they are still young. The same children also attended the storytelling event of CARD Publishing.
In partnership with Mga Likha ni Inay, the marketing arm of CARD MRI, attendees of the pop-event received free snacks and drinks like calamansi juice, iced and brewed coffee, and instant noodles.
Sugilanon
Before the day ended, the participants along with other CARD clients and staff watched an online performance depicting the challenges overcame by CARD microinsurance coordinators and drivers during the onset of the pandemic. This event is presented by CARD MRI Hijos Tours, the tour company of CARD MRI. Sugilanon is a Hiligaynon word that means to tell a story.
A deeper foundation
CARD MRI also arranged a media briefing that enabled the participants to have a deeper understanding of what the organization does. To reach its vision of eradicating poverty in the Philippines, it has established various institutions that cater to the needs of its clients and their families not only in terms of financial support but also in community development including programs in health, education, livelihood, and disaster management, among others.
The media briefing was attended by CARD Bank AVP Jenet Constantino, CARD Bank Regional Director Erwin Lazo, CARD SME Bank Regional Director Ian Madrona, CARD, Inc. Regional Director Mr. Norman Bulao, CMDI AVP Christian Albert Sandoval, CARD MBA Provincial Manager Louie Mar Vestil, MLNI Deputy Director Angela Poonin, CARD Publishing Deputy Director Cyrene Grace Lubigan, and CARD MRI officers and staff.
"I feel delighted that I was invited to this event. I've heard a lot about CARD for a long time, but now my understanding of it has broadened after we witnessed first-hand the microfinance programs and services of CARD MRI within its community," shared Aurora Lozada, a broadcaster and one of the top ten outstanding Tagumenyos who received Tagumpay Excellence Awards 2022 in Tagum City.
The CARD MRI Publishing House Inc. hopes that through collaboration with various media practitioners in the Philippines, messages of opportunities and development through news and stories will reach a broader audience.
"We are grateful for the support of our media friends in our mission of poverty eradication through communications. In this age that information is available to everyone through technology, we acknowledge that communications will play a vital role in how we can reach nation building," said Marilyn Manila, president of CARD MRI Publishing House Inc.
The CARD MRI Publishing House is set to hold more Lakbay-Aral for Media in South and North Luzon and Visayas this year.
From trash to cash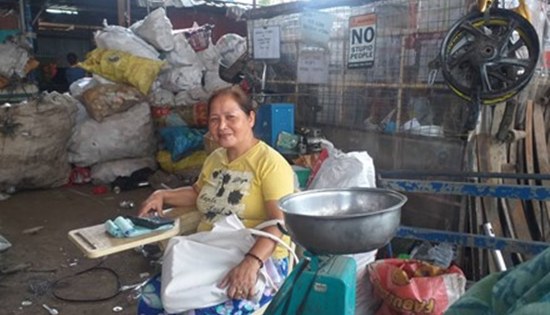 Some people may think of junk as something worthless and trivial, but surely, it is a gem to Perla Boniao.
Press Release
July 7, 2022
SAN PABLO CITY – Junkshops are usually one of those underrated buy and sell businesses. This may be because people think of it as dealing with trash, so they tend to underestimate its true potential in the business industry. But for some people, trash is where they found their treasure.
Perla Boniao is a native of Camiguin Province and has been married for more than 35 years. Three of their five children are already married, while the youngest is currently in her second year in college. Perla also has nine grandchildren who further add joy to their home.
Back when they were still in Camiguin, their family's source of income was growing root crops. Because the primary challenge of agri-business is the seasonality of the produce, there are some months that their income were not sufficient for their needs. Her husband then decided to work for another farm, but the additional income of P220 per day was still not enough to cover their daily expenses, especially since their two children were in high school at that time.
Their family decided to move to Calamba City in Laguna when her husband found a job opportunity there. Still, Perla felt the need to help her husband to provide for their family. Fortunately, her brother in-law who also resides in the same city, was kind enough to teach her how a junkshop operates. With the enough information she gathered and a capital of P10,000, she managed to start her junkshop business.
Her junkshop accepts almost all kinds of junks including - cardboard, steel, tin, galvanized iron, and paper. Due to her connections with the buyers, she did not have any trouble selling the things she acquired. She was able to earn P2,000 a day which for her is a good start for a first timer like her.
As her business grew, she needed a banking institution she can trust for her financial needs. She found CARD SME Bank, a thrift bank that caters not only to microentrepreneurs like her but also to small and medium enterprises. When she started as their client, she first availed a loan of P3,000. Now that her income from her junkshop business significantly increased, she has availed of a higher business loan to further expand her business.
Because her business is already generating income more than her family's needs, she can now acquire assets for her family. She now owns a 300 square meter of land where her relatives from Camiguin are now taking care of her ten cows.
"I have nothing but positive things to say about CARD SME Bank. I am grateful for all the support it has given my family and my business," she explains. Later on, she found out that CARD SME Bank is not just any other thrift bank. It also offers non-financial and community development services like microinsurance. Now, all her family members have insurances that serves as their safety nets in times of uncertainties.
Perla's story reminds as to always look at the positive side of life. Some people may think of junk as something worthless and trivial, but surely it can be a treasure from a different perspective.
N. Samar newly inaugurated bridge to boost fight against insurgency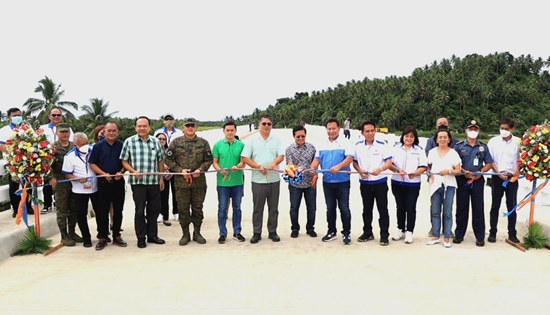 By DPAO, 8ID PA
June 28, 2022
CAMP LUKBAN, Catbalogan City – "Insurgency ends where road begins", this adage has been emphasized during the inauguration of the Simora Bridge in Laoang, Northern Samar, one of the three bridges under Samar Pacific Coastal Road Project (SPCR) in the province of Northern Samar.
The Simora Bridge is a 161 meters road project that connects the "Pacific Towns" of Laoang and Palapag in Northern Samar especially the barangays that were formerly considered as hotbed of insurgency or identified as Konsolidado, Kinokonsolida, Expansion and Recovery (KKER) barangays.
In his message, Northern Samar Provincial Governor, Edwin Marino Ongchuan said that this project will greatly contribute in reducing poverty incidence since the realization of this infrastructure project will increase economic activities through this improved transportation connectivity.
The Governor is also optimistic that this project will be significant in the government's pursuit of ending insurgency in Northern Samar knowing that the province has long been dubbed as the stronghold of the Communist Party of the Philippines – New People's Army – Terrorists (CNTs) in the region.
"There is an adage that says insurgency ends when the road begins. The Provincial Government is very optimistic that this road project will contribute in the eradication of the local armed conflict in this part of Northern Samar," Ongchuan said.
The incoming Mayor of Palapag, Florencio Fawa Batula is also confident that the Samar Pacific Coastal Road Projects in Northern Samar will be significant in the government's advocacy of ending insurgency.
"It will cut the insurgency especially that it transcends the interior barangays," Batula said.
Meanwhile, the Commander of 803rd Infantry Brigade, Colonel Perfecto Peñaredondo said that the Simora Bridge will contribute in the eradication of issues being exploited by the NPA terrorists.
"Malaking bagay na maidugtong natin sila sa mga urban center at mawala na rin 'yong mga ini-exploit ng mga NPA na pinababayaan sila ng gobyerno. Mawawalan na ng saysay 'yong mga ginagamit na isyu na pagpapabaya ng gobyerno at kawalan ng oportunidad sa hanapbuhay, 'yan ang matutugunan ng project na ito, Simora bridge and Samar Pacific Coastal Road Projects," Peñaredondo said.
Peñaredondo also believe that this would be a great help in boosting the economy, livelihood and the lives of the people living in the pacific towns who will benefit in the said project.
The construction of SPCRP has long been posed with threats from CNTs which prompted the AFP and PNP personnel to secure and thwart attacks of the NPA terrorist in their goal of sabotaging the project. For the past years, several uniformed personnel paid an ultimate sacrifice in protecting and ensuring the completion of the projects.
With this, Batula expressed his gratitude to the uniformed personnel especially in the military and encourage them to maintain the partnership as they gear towards an insurgency-free province.
"Let's continue the partnership, mas paigtingin pa natin ang ELCAC especially the CSP program kasi ito lang yung paraan para mairadicate natin yung insurgency in the province, not only in the province but also in the whole country as a whole," Batula said.
The SPCRP is attributed to the flagship program of President Rodrigo Roa Duterte under the Build Build Build program which aims to achieve peace by enhancing accessibility in the delivery of much needed goods and services that will help stimulate economic growth and reduce the problem of isolation in areas where NPA terrorist thrives.
Aside from Simora Bridge under SPCRP in Northern Samar are two other bridges, the 31-meter Jangtud 1 Bridge, and 69-meter Jangtud 2 Bridge, with a budget of P997, 500,000.74.
The completion of the project will eventually establish a circumferential road loop of Samar Island, it will become a major roadlink of Northern Samar and Eastern Samar provinces in the island of Samar.