DPWH-BDEO hastens completion of Dispo Bridge widening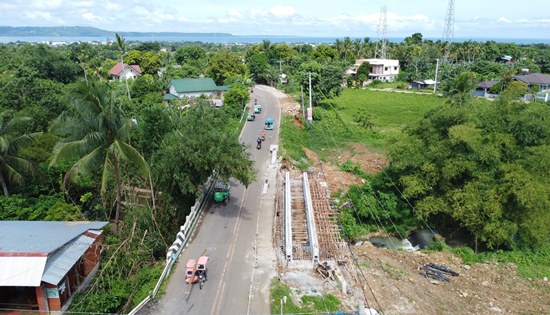 Press Release
August 24, 2022
NAVAL, Biliran – As part of the road widening initiatives of the Department of Public Works and Highways (DPWH) Biliran District Engineering Office (BDEO) in Naval-Caibiran Cross Country Road (NCCCR) network, the Office fast tracks the completion of the Dispo Bridge widening at Brgy. Calumpang, Naval, Biliran.
Dispo bridge is a 20-meter structure that is a vital gateway into Naval town proper for motorist taking the NCCCR network and the Calumpang-Caraycaray Diversion Road. These two road systems that are directly connected to the bridge are important access routes bearing substantial traffic in a daily basis.
The P10.3-M bridge widening project funded under the General Appropriations Act (GAA) of 2022 is now at 55% physical accomplishment and expected to be completed within the year.
The completion of this bridge widening will complement the adjacent road widening projects of Sitio Bliss and Brgy. Calumpang and help ease access in going to the proper town of Naval.
Naval town is the Province's socioeconomic and local government hub bustling with business activities, making the bridge one of the most traversed and essential bridges in the province.
IDE-JETRO researchers visit NMP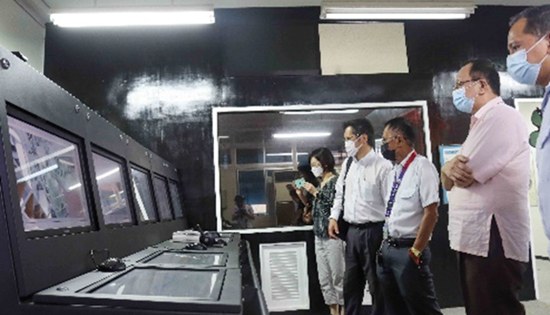 Press Release
August 23, 2022
TACLOBAN CITY – National Maritime Polytechnic (NMP) welcomed the Institute of Developing Economies (IDE) Tokyo researchers in their study visit at the NMP Tacloban office on 22 August 2022. Said visit endeavors to know more about the significant role, history, experience and the plans of NMP especially in relation to the education, training and competency upgrading of seafarers in the Visayas Region.
A briefing was conducted by NMP focusing on the current situation of the Philippine global seafarers in the Visayas and NMP's contributions in maritime manpower development in terms of quality, accessible, and relevant trainings and researches. The discussion also centered around the future directions of NMP having been subsumed by the newly-created Department of Migrant Workers (DMW), under the Office of Seabased Concerns.
NMP's road to recovery from Super typhoon Yolanda was also presented. It was highlighted that with the generosity of different institutions, like the Japan International Cooperation Agency (JICA), NMP was rehabilitated and was able recover from the devastation. It can be recalled that NMP received a US$3 million worth of grant aid from the "Programme for Rehabilitation and Recovery from Typhoon Yolanda" of the JICA. The donation included the delivery, installation and commissioning of training equipment or simulators that consist of a tanker-type totally enclosed lifeboat and davit, fast rescue boat and davit, full mission global maritime distress safety system simulator, full mission engine room simulator, and various safety equipment.
During the briefing, OIC ED Mayla N. Macadawan emphasized that NMP continues to work in collaboration and in synergy with the different maritime stakeholders especially on undertakings that give priority to seafarers and maritime-allied professional including the maritime faculty.
After which, a tour around the NMP Complex took place. The group proceeded to the NMP Boat Davit area where some of JICA's waterborne equipment were installed and being utilized in the conduct of practical exercises. Donated simulators housed at the NMP Training Building were also visited including the NMP's Learning Resource Center where maritime technical books/references and other library resources are available.
IDE researchers present were Mr. Shinya IMAIZUMI, Director, Global Studies Group, Inter-disciplinary Studies Center, and Ms. Izumi CHIBANA, Researcher, Bangkok Research Center, accompanied by Professor Maragtas. S.V. Amante from the University of the Philippines, School of Labor and Industrial Relations (UP SoLAIR).
The IDE is a research institution which acts as a research exchange hub conducting collaborative research projects with researchers/experts and partner institutions globally.
DSWD set Marcos' livelihood and shelter agenda for former rebels
Press Release
August 23, 2022
QUEZON CITY – The Department of Social Welfare and Development (DSWD) has approved an initial amount of P287.95 million as part of President Marcos administration's commitment to honor the government continuing effort to support former rebels and their families' re-integration into society and nation-building.
DSWD's Inclusive and Sustainable Peace Undersecretary Alan Tanjusay said the department last week has earmarked for the remaining six months of the year a total of P287.95 million for sustainable livelihood, modified shelter assistance, and cash-for-work programs for former rebels and decommissioned combatants.
The allocation includes the construction of 150 shelters in identified barangays in thirteen regions including those in the Zamboanga Peninsula, provision for livelihood grants and assistance for the former rebels and their families.
"This is President Marcos' initial commitment to former rebels and former extremists and their families across various spectrums and persuasions including those in hard-to-reach communities in various regions who returned to the fold of the law and who wanted to live a normal, peaceful lives and help in nation-building," said Tanjusay.
He said this is the first of the many commitments under the moving forward directives of Pres. Marcos' "no one is left behind" leadership instructions and Secretary Erwin Tulfo's "bawa't buhay ay mahalaga" public service principle.
Meanwhile, in a courtesy meeting Monday with the Office of the Presidential Adviser on Peace, Reconciliation and Unity (OPAPRU) Secretary Carlito Galvez, Tulfo affirmed DSWD's continuing support to government peace programs and vows to continue to provide financial, material and psycho-social programs to former rebels and former violent extremists and their families.
The DSWD assists government peace efforts in providing a diverse range of cash assistance, livelihood grants and housing assistance to former rebels vetted which was by the OPAPRU.
10 rice farmers in Ormoc receive CLOA from DAR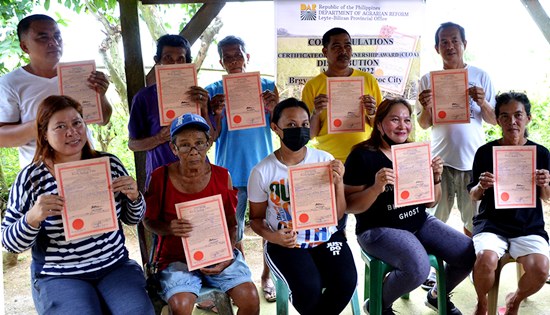 Ten landless farmers in Ormoc City receive their Certificates of Land Ownership Award (CLOA) from the Department of Agrarian Reform (DAR) on August 9 this year making them now owners of the land they till.
By JOSE ALSMITH L. SORIA
August 19, 2022
ORMOC CITY – "Pasalamat ko nga nakadawat kog titulo. Pasalamat ko sa Ginoo nga naa na ko kaugalingon nga titulo." (I am grateful I received a title. Thank you, Lord, I now have my own title.)
These were the words of Ernesto Bolakinia, who was obviously happy to receive his Certificate of Land Ownership Award (CLOA) from Municipal Agrarian Reform Program Officer (MARPO) Ruben Rebato on Tuesday, August 9 this year, in a simple distribution rite held in Barangay San Jose, where most of the recipients reside.
Bolakinia, 63, was among the 10 rice farmers in this city who recently received CLOA from the Department of Agrarian Reform (DAR), making them now the owners of the land they are tilling.
According to Bolakinia, who has six children and a recipient of a .6489 hectare ricefield, the land awarded to him will be of big help in sending his children to school.
Another recipient, Ramil Catado, 42, said "Salamat kaayo nagkaroon kami ng sariling lupa na matataniman para sa aming hanapbuhay." (Thank you very much we now own a land where we can plant for our livelihood.")
Catado, a recipient of 1.0255 hectares of land further said he is happy because they will now be relieved from giving shares to the landowner. "All the harvests will now be ours," he stressed.
Elenita Godin, a recipient of 1.8 hectares of land could not also hide her emotions. According to her, she is very much grateful because she never owned a land. Just now.
Rebato disclosed that the 10 individual CLOAs covered an aggregate area of 6.8660 hectares previously owned by the Concepcion Espina Agricultural Corporation and Anito Ygot. The landholdings are situated in adjacent Barangay Guintigui-an in this city.
As the 10 recipients are now considered landowners, Rebato and MARPO Aouda Colibao emphasized their obligations as agrarian reform beneficiaries (ARBs) including the payment of land amortizations and the real property taxes.
They were likewise encouraged to join agrarian reform beneficiaries organizations (ARBOs) to avail of the various support services extended by DAR.
DPWH-BDEO conducts outreach program for public schools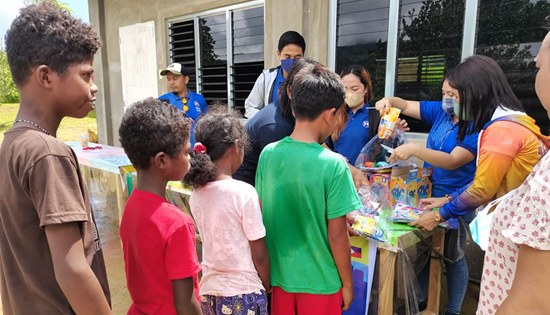 Maintenance Team of DPWH- Biliran District Engineering Office distributed school supplies and food packs to a total of 64 enrollees of Palayan Elementary School at So. Palayan, Brgy. Caucab, Almeria, Biliran on August 11, 2022.
Press Release
August 19, 2022
NAVAL, Biliran – In relation to the Department of Education's (DepEd's) Oplan Balik Eskwela for SY 2022-2023, the Department of Public Works and Highways (DPWH) Biliran District Engineering Office conducted an outreach program to two public schools located in remote areas of this Province on August 9-11, 2022.
Identified schools are the Palayan Elementary School located at Sitio Palayan in Brgy. Caucab in the town of Almeria and Libtong Gamay Elementary School at Brgy. Libtong in the town of Naval.
Team from the Maintenance Section headed by Engr. Glenda G. Dagalea, Chief of the Maintenance Section initiated the said activity as part of the Oplan Balik Eskwela Program.
According to Engr. Dagalea, school grounds improvement and repainting works has been conducted by BDEO for the beautification of the said schools.
Meanwhile, DPWH-BDEO also distributed food packs and school supplies to a total of 64 enrollees at Palayan Elementary School which composed of crayons, notebook, ball pen, pencil, eraser, sharpener and plastic folder.
Last year, BDEO also conducted painting of pedestrian lanes and other painting works, cutting of grass and donated empty pails of cold mix asphalt and unused tires for the selected school beneficiaries.
DPWH-BDEO has been an active partner of the DepED in the conduct of Oplan Balik Eskwela Program. This is an annual event of the DepEd which aims to ensure a smooth and orderly opening of classes.
Japan-affiliated Telco, InfiniVAN Inc., takes part in commencement of cable laying phase of Philippines' longest submarine fiber optic cable network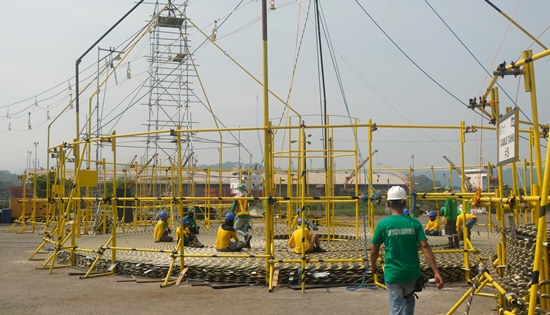 Press Release
August 15, 2022
MANILA – InfiniVAN, Inc., a subsidiary of Tokyo Stock Exchange-listed IPS, Inc. (TSE: . 4390) and bulk bandwidth supplier to the largest Philippine internet service providers (ISPs), along with Eastern Communications and Globe, took center stage in the commencement ceremony of the cable laying phase of Philippine Domestic Submarine Cable Network (PDSCN) held on July 14, 2022, in Subic, Zambales.
With 20+ Tbps of lit capacity in multiple international submarine cable systems, InfiniVAN would now be in a position to distribute internet connectivity to its wholesale, enterprise and residential customers throughout the Philippine archipelago by spearheading the laying of 2,500+ kilometers of fiber optic cables connecting Luzon, Visayas and Mindanao. The joint-build partners have decided to utilize cables manufactured by global fiber optic cable manufacturer - Nexans. It will be the Philippines' longest submarine cable network so far.
This project goes hand-in-hand with Infinivan's backbone Fiber Optic Network Infrastructure push beyond the National Capital Region, where it started its network buildout after obtaining its congressional telco franchise in July 2016.
Having been granted authority by the National Telecommunications Commission (NTC) to provide broadband services nationwide, Infinivan is now mainly focused on delivering bulk bandwidth for retail distribution by the largest cable TV operators in the country, whose main business has now shifted from being content distributors to that of being internet service providers (ISPs). InfiniVAN's parent, IPS, Inc., holds a Type I telecommunications carrier license in Japan.
This $150-million joint-build project of the three telcos targets to enhance the coverage and reliability of broadband connections, both fixed and mobile, throughout the country.
InfiniVAN's Chief Technology Officer Alberto "Abet" Espedido conveyed his gratitude and appreciation to the partners during the said ceremony. "I'd like to thank everyone for their perseverance, professionalism, experience, and patience throughout the whole process of getting us to this milestone, notwithstanding all the challenges that we had to face. It is indeed gratifying to see "coopetition" making these endeavors possible". A portion of the project called the "Express Route" is set to be ready for service by the end of this year. The rest of the segments are set to be completed and usable by April 2023.
Two NPA terrorists killed in San Jose de Buan, Samar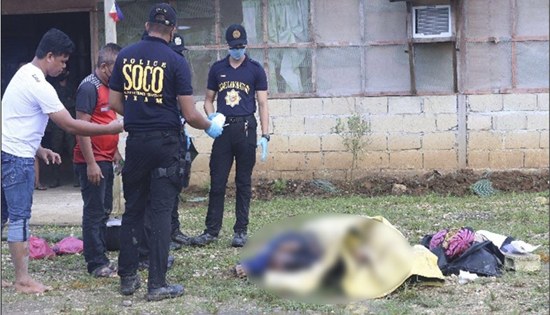 By 801st Infantry Brigade, 8ID PA
August 5, 2022
FATIMA, Hinabangan, Samar – Members of the New People's Army terrorist were killed during a skirmish with the troops of 87th Infantry (Hinirang) Battalion on Monday August 1, 2022 at the vicinity of Brgy. Hilumot, San Jose de Buan, Samar.
The military acted upon receiving a report from a tipster regarding the presence of armed terrorist in the farm lands of Brgy. Hilumot, San Jose de Buan, Samar. Lt. Colonel Luzelito Q. Betinol Inf (GSC) PA immediately organized a combat group together with the 1st and 2nd Samar Provincial Mobile Force Company to scour the area, and while on route, the troops were fired upon by more or less six (6) members of the Communist Terrorist Groups (CTGs) to which they immediately retaliated.
The skirmish lasted for about 10 minutes that resulted to the neutralization of two (2) CTG members and the capture of one (1) M16 A1 ELISCO, one (1) calibre 45 pistol, one (1) laptop bag containing subversive documents with high intelligence value one (1) back pack containing personal belongings, one (1) bandolier and three (3) long steel magazines.
The CTGs fled towards southwest direction leaving their fallen comrade behind. There is no reported casualty in the government troops while other casualties were inflicted on the side of the enemy as indicated by the traces of blood stain in their routes of withdrawal.
The fatalities were later identified to be Rodrigo Mejica Lorezo alias Akag, 60 years old, CO, ROC, EVRPC and Delia Rosco Rotalano alias Mema, 58 years old, Staff, ROC, EVRPC who are high-ranking members of the Communist Terrorist Group.
After the incident Lt. Col. Betinol coordinated with San Jose de Buan MPS and requested for the assistance from the personnel of Scene of the Crime Operatives (SOCO) to process the cadavers. He also organized a special meeting with Hon. Joaquin R. Elizalde, Municipal Mayor of San Jose de Buan to facilitate the proper burial of the deceased CTG members.
The cadavers then underwent a post-mortem examination carried out by Dr. Pheobe D. Dela Cruz, Municipal Health Officer of San Jose de Buan. The cadavers were then given a solemn mass in the Parish Church of San Jose de Buan and were given a proper burial in a Public Cemetery in the said municipality.
Despite the incident, LtCol. Betinol encouraged NPA members who might be wounded to surrender, in order for them to be treated appropriately. While the NPA continue to harass and abuse people, the troops of 87th Infantry (Hinirang) Battalion will continue to perform its mandate in protecting the people in its area of operations.
Col Lenart R Lelina, Brigade Commander of 801st Infantry (Bantay at Gabay) Brigade, 8ID, PA, congratulated the 87IB on their dedication to duty and sacrifices for the attainment of a peaceful community.
"Your accomplishment is also an accomplishment of the peace-loving people of Samar. As the AFP calls on the Communist Terrorist Group to stop further bloodshed, we ask those who are still in the mountain to go back into the folds of the law and let the government help them to become productive members of the society. Through this, we can achieve genuine peace and development for our country," Col. Lelina said.
Moreover, the 801st (Bantay at Gabay) Brigade and the 87th Infantry (Hinirang) Battalion will continue to collaborate with our partner LGUs for Ending the Local Communist Armed Conflict.
DOLE helps ex-rebels in Leyte with P400-k livelihood grant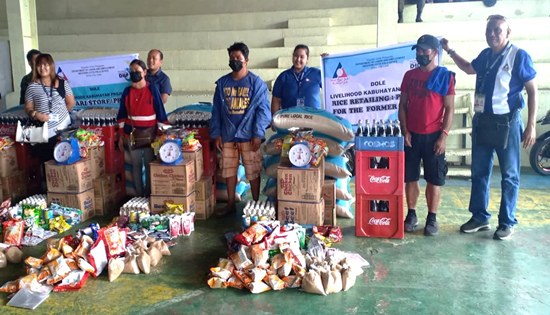 By NORMA RAE S. COSTIMIANO
August 5, 2022
TACLOBAN CITY – 35 former rebels and underemployed members of the Mahaplag Integrated Peace and Development Workers Association (MIPWDA) have received P400,000.00 worth of livelihood grants from the Department of Labor and Employment Regional Office VIII through its Western Leyte Field Office last August 4, 2022.
During the turnover ceremony held at Brgy. Poblacion Gymnasium in Mahaplag, Leyte, 30 of the beneficiaries received rice retailing projects amounting P250,000.00 while the remaining 5 received their sari-sari store projects that cost P150,000.00.
Present to grace the activity were DOLE-WLFO Head Mr. Edgar Tabuyan, Vice-Mayor Myrna Solis and 1st Lt. Jayson Ray Jaramillo of the 14 IB, 8ID of the Philippine Army.
In his message, Mr. Tabuyan underscored the government's efforts to assist former rebels as they strive to go back to the folds of the law.
"We are here to support your new journey as law-abiding citizens. And with these livelihood projects, we hope to see you become successful", said Mr. Tabuyan.
The said livelihood undertaking of DOLE with the municipality of Mahaplag is in support of the National Task Force-End Local Communist Armed Conflict (NTF-ELCAC) which ultimately aims to put an end to rebellion. (with report from DOLE-WLFO)
Parents of child laborers in Catbalogan avail P4.8M DOLE aid
By NORMA RAE S. COSTIMIANO
August 4, 2022
TACLOBAN CITY – Some 84 parents and guardians of child laborers in Catbalogan City received on August 2, 2022 livelihood assistance amounting to 4.8 million pesos from the Department of Labor and Employment Regional Office 8 through its Samar Field Office.
In a simple turnover ceremony held in Brgy. Payao, Catbalogan City, beneficiaries happily received various tools, equipment and materials for their respective projects such as food vending, fishing, small transport and motor parts shop.
The activity was graced with the presence of City Mayor Dexter Uy, Labor and Employment Officer Ma. Chulla Corpuz representing DOLE-SFO Head Engr. Aleksei Ceasar Abellar and PESO Manager Maila De Guia.
The livelihood assistance of DOLE aims to provide the parents/guardians of child laborers access to decent livelihood opportunities to help augment the families' income for the sustainability of the children's basic needs and education, keeping them away from dangerous workplaces.
Mayor Uy expressed his profound gratitude to DOLE headed by Regional Director Henry John S. Jalbuena and the DOLE-SFO team for all the support and assistance extended to the City of Catbalogan then and now. He likewise reminded all the beneficiaries to do their best for their businesses to become successful.
"Ginlalauman namon na tagan liwat niyo hin importansya an mga gnhahatag na oportunidad han gobyerno, masustenar unta niyo an iyo kada tagsa nga livelihood undertaking para makabulig haiyo pamilya labi na ngadto han kabataan nga makabalik na hira pangiskwela", Mayor Uy added.
(We hope that you will give importance to these livelihood opportunities from the government, so that it will be sustained for the benefit of your families, especially for your children's education.)
The livelihood assistance was released under the component of DOLE Integrated Livelihood Program (DILP) or KABUHAYAN Program, a flagship program of DOLE that provides great assistance for capacity building in livelihood and entrepreneurial ventures for vulnerable and marginalized workers. (with report from DOLE SFO)
ICHRP calls for continued ICC investigation of Duterte's crimes against humanity in the wake of Marcos government's attempts to shield perpetrators by refusing to rejoin
Press Release
August 3, 2022
MANILA – Refusal of the Marcos Administration to rejoin the ICC shields Duterte and his policies of impunity and state terror, further victimizing the 30,000 that were summarily executed in the Duterte Regimes wars on drugs; on dissent; and on the Moro people.
"The International Coalition for Human Rights in the Philippines [ICHRP] is extremely disappointed but not surprised by the new Marcos administration's decision to keep the Philippines outside the jurisdiction of the International Criminal Court [ICC]," said ICHRP Chairperson Peter Murphy today. "This is part of the continued and ongoing state cover-up of crimes against humanity."
ICHRP believes the confirmation that the Philippines is out of the ICC is an ominous sign for human rights as the only rationale for not being under its jurisdiction is to shelter perpetrators from prosecution and the intention to continue committing such crimes.
Despite this deplorable decision by the Marcos government, there remain grounds for the continued investigation of Duterte presidency's alleged crimes against humanity.
In June 2021, ICC Prosecutor Fatou Bensouda reported that there were sufficient grounds for a full investigation into the crime against humanity of murder committed in connection with the country's 'war on drugs' between 1 July 2016 and 16 March 2019. ICHRP urges that this full investigation be vigorously pursued and not be stalled by continued false claims that the Philippine judicial system is functioning and can address any concerns about these alleged gross violations of human rights.
"The findings of the First and Second Reports of the Independent International Commission of Investigation into Human Rights Violations in the Philippines (Investigate PH) clearly showed the flaws and failure of the domestic remedies," said Murphy.
The Philippine courts had managed to convict only two police officers for the 2017 murder of 17 year-old Kian Delos Santos. This was one case of the 6,011 officially recorded up to the end of 2020. This case only succeeded because the Barangay Captain had failed to switch off the CCTV which recorded the police abduction of Kian.
Investigate PH also dispelled the Philippine government claims that the thousands of victims of the 'war on drugs' were killed by police in self-defence. It presented forensic evidence to the ICC of victims with defensive wounds, of victims who had been bound before being killed. But there are probably over 30,000 cases of these police killings in anti-drug operations, based on statistics of "Deaths Under Investigation". And now the Philippine Drug Enforcement Agency no longer reports deaths in anti-drug operations, on their Real Numbers PH webpage.
"A review – of 5,655 cases – was first promised by Justice Secretary Guevarra to the UN Human Rights Council in June 2020," said Murphy. In February 2021 Secretary Guevarra reported that just 328 cases had been reviewed, revealing no proper crime scene investigation in more than half the cases.
"ICHRP has full confidence in the impartiality of the ICC. We reiterate that the ICC should vigorously pursue the full investigation of the previous Duterte administration for these alleged crimes against humanity so that, finally, justice may be served and impunity ended," Murphy said.
ICHRP initiated the Investigate PH project, under which an independent international commission conducted its three-part investigation on the extrajudicial killings, illegal arrests, abductions and disappearances, and breaches of collective human rights in the Philippines since 2016 when President Duterte came into power.
CARD SME bank opened its 37th branch at Valencia City, Bukidnon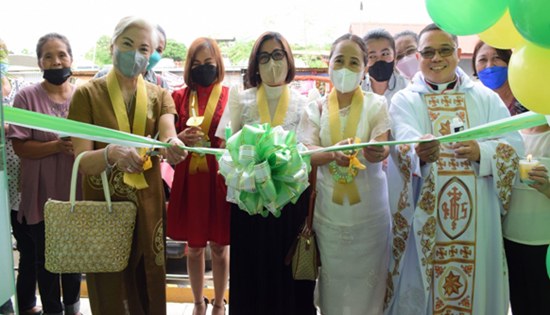 CARD SME Bank Senior Adviser Mary Jane Perreras, CARD SME Bank President and CEO Cynthia Baldeo, and Board of Director Chona Felisidario led the ribbon cutting ceremony for the opening of the 37th branch of CARD SME Bank in Valencia City, Bukidnon.
By JEFFREY C. TANDINGAN
August 3, 2022
SAN PABLO CITY – CARD SME Bank opened its doors in Valencia City, Bukidnon on July 18, 2022, totaling the number of branches of the thrift bank to 37.
This milestone was attended by CARD SME Bank President and CEO Cynthia B. Baldeo, Senior Management Adviser Mary Jane Perreras, Board of Director Chona Felisidario, and Vice President for Operations Cherry Boncajes, and CARD Mutually Reinforcing Institutions (CARD MRI) officers, staff, and clients.
"The success of CARD SME Bank can be attributed to the people who work tirelessly and persistently to uphold CARD's culture and values. At the core of what we do is bringing service to Filipino communities," said Baldeo. She also added that the expansion is another step towards CARD MRI's goal of eradicating poverty in the Philippines.
As part of its commitment to poverty eradication, CARD SME Bank will continue to empower women and their families through the provision of financial, non-financial, and community development programs. Clients in Valencia, Bukidnon can now have access to the bank's products and services, which include SME loans, microfinance loans, savings, and remittance.
Baldeo added "You, our clients, are the ones who motivate us to fulfill our purpose as an institution; to end poverty in the country by providing products and services that leads us to development. You can count on CARD SME Bank to be your partner in achieving your goals."
With 1,143,401 total clients served as of June 2022, CARD SME Bank pledges to continue to expand its scope by showcasing unparalleled commitment and dedication towards nation building.