Japan-affiliated telco InfiniVAN's Submarine Cable Network project with Globe and Eastern Communications marks new milestone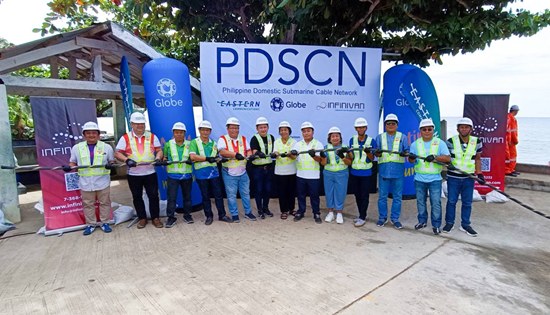 Press Release
September 22, 2022
QUEZON CITY – Following the landmark Subic Cable Loading Event in July, InfiniVAN, Inc. in a joint-build project with two other Philippine telcos, completed the Siargao landing of a segment of the Philippine Domestic Submarine Cable Network (PDSCN) in the Municipality of Dapa, Siargao Island on September 22.
InfiniVAN, Inc., a subsidiary of Tokyo Stock Exchange-listed IPS, Inc. (TSE: 4390) took part in the ceremonial cable pulling event of fiber optic cables that is part of the ongoing cable laying phase of PDSCN. Five (5) of the 24 segments have already been completed to date.
The cable-pulling ceremony was witnessed by Dapa Mayor Elizabeth T. Matugas, Vice Mayor Gerry Abejo and municipal officials along with representatives from InfiniVAN, Inc., Globe Telecom, and Eastern Communications. Once completed, the $150-million joint project that spans around 2,500 km will provide ultra-fast and reliable connectivity across the country.
InfiniVAN, Inc. Chief Technology Officer Alberto "Abet" Espedido said that aside from connecting major islands in the country, the project is designed to bring connectivity to tourist destination islands to further boost tourism and other industries in those places.
"We see this as an opportunity to fulfill our objective of providing connectivity to far flung areas. We hope that the project does not only provide good communications infrastructure to Siargao but also help pump-prime the island's economy," he said.
Espedido shared that the fiber optic cable technology used in the country's biggest and longest submarine cable installation is "future-proof." This means unrepeatered 96-core fiber cables used in the project can handle large data throughputs that can be further expanded through advances in terminal equipment over the next 20 to 25 years.
This InfiniVAN-initiated submarine cable project is a cost-effective solution to building a massive and extensive transmission network through a joint-build arrangement with Globe, the Philippines' leading digital solutions platform and Eastern Communications, premier telecommunications and ICT solutions provider.
"We consider it an achievement, as a new entrant in the market, to be working with well-established partners on this project that will really make a difference in the next few years. It is gratifying to have so-called industry competitors join hands to provide a very precious resource to our countrymen and the country as a whole, in a most unselfish manner," Espedido added.
The Express and Western routes connecting Luzon, Visayas and Mindanao will be ready by December this year and the remaining Eastern routes will be completed by April 2023.
Global leaders in public and private sectors call for united voice for peace as an institution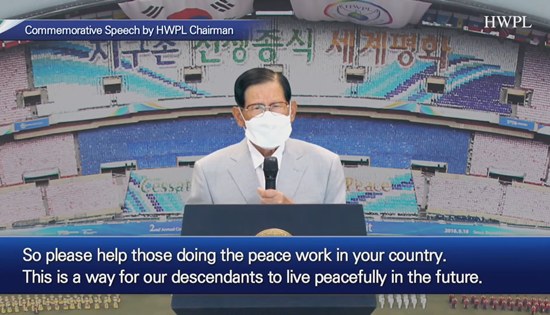 Press Release
September 20, 2022
MANILA – The 8th Anniversary of the September 18th HWPL World Peace Summit was virtually held last Sunday with the theme of 'Peace as an Institution: A Foundation for Sustainable Development'. This event was participated by peace advocates across the world in 146 countries including USA, Germany, South Africa, Australia, Philippines, South Korea with 5,000 participants, reaffirming the importance of the sustainable development guaranteed by institutionalizing peace while the global community has yet to overcome the COVID-19 pandemic and faces new threats caused by the Russian-Ukraine conflict.
Since September 18th in 2014 when the peace summit was held for the first time, Heavenly Culture, World Peace, Restoration of Light (HWPL), an international peace NGO under the UN ECOSOC, has called for solidarity for peacebuilding at the global level through collective actions with various actors including heads of state, ministers, law makers, religious leaders, educators, youth and women leaders, and reporters. This annual summit shares peace activities and achievements in cooperation with governments and civil society around the world.
From the Philippines, Senator Risa Hontiveros delivered a congratulatory message, "I thank the HWPL for living and breathing peace, not only in your programs to stop conflict, but also in your drive to institutionalize it into our laws, our policies and our cultures. As a long time peace advocate myself, I am one with you in your commitment to active non-violence in all the work that we do and in all the roles that we play in our lives."
"While human dignity is besieged by disease, war, climate change and poverty, we will overcome these challenges, as 'WE are ONE!' with HWPL in supporting projects that improve human rights and lay the foundation for livelihood with human dignity," said Chief Justice Alexander G. Gesmundo in his congratulatory letter.
Regarding the cause of peacebuilding at the global level, Chairman Man-hee Lee of HWPL said, "The global village has suffered from the unexpected COVID-19 that has hit every country. People are not alone in the midst of difficulties. We live in the same global village, and we are neighbors and families. Each one of us is obliged to make our world a better place to live. And shouldn't we pass on our good world to our descendants?"
Recognizing the crucial "role of parliaments in building peace and preventing conflict", H.E. Marinus Bee, the chairperson of the National Assembly of Suriname, expressed his willingness to collaborate with HWPL in establishing peace at the legislative level.
Octavia Alfred, Minister for Education, Human Resource Planning, Vocational Training and Nation Excellence of Dominica, said that HWPL's peace education was introduced to the national school curriculum in Dominica as it was "integrated into Social Studies, and also as a stand-alone." She added that the HWPL peace curriculum is helpful "in addressing the challenges of not just students, but even what they take home to their friends and their parents, and also our teachers."
Prabhu Mahendra Das, the Temple President of Sri Sri Radha Madhava Mandir of the Philippines, presented an institutional approach to interreligious dialogue in terms of the role of religion in contributing to peace. He suggested that regularizing international exchanges and programs to prevent conflicts based on religious misunderstanding can be a starting point for a foundation of peace.
Street food vendor in Southern Leyte thrives through DOLE's livelihood program
By NORMA RAE S. COSTIMIANO
September 19, 2022
TACLOBAN CITY – The Department of Labor and Employment (DOLE) through its DOLE Integrated Livelihood Program (DILP) has steadfastly provided livelihood to the needy and deserving informal workers throughout the years.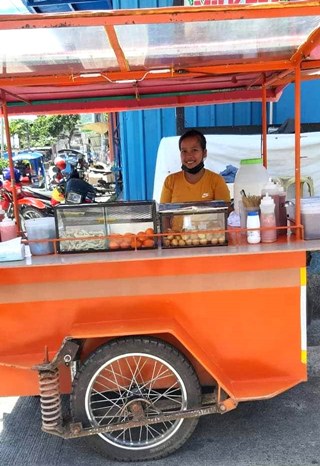 Among the many beneficiaries of the program is Melfo O. Bitor, a 28-year-old former saleslady from Sogod, Southern Leyte, who tried her luck selling fishball and kikiam with a capital of only P150.00.
In February 2021, Melfo received from DOLE Regional Office No. 8 through the Southern Leyte Field Office (SLFO) a livelihood starter kit for her street food business worth P12,310.00.
Armed with gratitude and determination, Melfo strived to manage her business well and eventually gained success. The assistance from DOLE paved the way for the living condition of her family to improve, earning a net income of P2,500.00 per day.
From the income she earned from one vending cart situated at the Sogod Terminal, Melfo was able to buy another food cart which she placed beside a department store in Sogod.
As life isn't always perfect, Melfo and her family encountered so many challenges along the way. Her husband was hospitalized due to COVID, and their house sustained heavy damages because of the typhoon Odette that struck the province of Southern Leyte last December 2021. These exhausted her savings but Melfo did not lose sight of her goal and managed to rise above the problems.
Presently, Melfo opened her third street food branch fronting another department store in Sogod, this time, not only a food cart but a snack house where customers can dine-in and enjoy their favorite street food.
From fishball and kikiam, Melfo now offers a variety of snacks such as potato fries, kwek-kwek, siomai and some refreshments. Her small-scale business is now a sought-after street food in their place.
Looking back on how she started, Melfo couldn't help but shed tears of joy.
"Hindi ko po inakala na magiging ganito kami. Ang hirap talaga nung una, dahil maliit lang ang kita naming mag-asawa. Yung bahay namin noon halos napagkakamalan po na bahay ng baboy. Pero dahil po sa tulong ng DOLE, nag-iba at gumaan ang buhay namin. Natutugunan na namin ang aming mga pangangailangan at nakakatulong pa kami sa iba", Melfo said.
Melfo's successful livelihood project is just one of the many testimonies that DOLE's livelihood program is indeed instrumental in improving the lives of the workers that the department ought to serve. (with a report from DOLE-SLFO)
DE Briones to contractors: Finish prior year projects until Dec. 31, 2022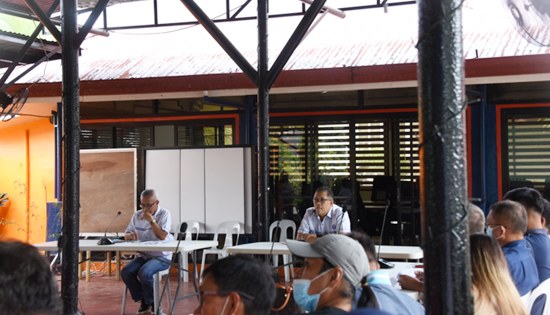 By DPWH-Biliran
September 16, 2022
NAVAL, Biliran – District Engineer Ferdinand A. Briones sets deadline to contractors with project implementation from year 2021 and below.
During the contractors' meeting held at DPWH Biliran District Engineering Office (DEO) on September 01, 2022, DE Briones orders contractors to finish its Prior Year (PY) projects until December 31, 2022 to avoid reversion of funds per Executive Order (E.O) No. 91.
"Those 2021 projects down to the PY projects, ang reversion ng pera is hanggang December 31, 2022 nalang, kaya bilis-bilisan ninyo dahil ang pera ay hindi mag-aantay sa projects," said DE Briones.
DE Briones explained that under E.O. No. 91 or the adoption of the cash-based budgeting system, contracts intended to be implemented for the fiscal year should be fully delivered by the end of the fiscal year.
"We still have PY projects that are still on-going right now, although we encountered problems and consequences in the implementation such as Right-Of-Way (ROW), project not feasible and doable but this should not be an excuse para ihinto ang project," said DE Briones.
As of August 26, 2022, BDEO has still an unpaid balance of P462.97-M for a total of 77 on-going projects implemented from 2017 to 2021.
According to DE Briones, unpaid balances are not just because of the unfinished projects but also because of the contractors' failure to process billing due to lack of documents, even though the projects are completed.
"Pag' binalik ang pera, wala ng pera yan, pag walang pera hindi nyo' na makukuha, although may ginagawang trabaho wala ng pambayad," said DE Briones.
DE Briones also emphasized that projects completed within the fiscal year has still an Extended Payment Period (EPP) of three months following the end of the fiscal year.
The District Engineer instructed the contractors to process the required documents and to fast-track the implementation of their PY projects in order to finish the projects on the allowable time.
"Whether you like it or not, you need to finish PY projects until December 31, 2022," said DE Briones to the contractors.
PH human rights groups submit alternative human rights report to UN treaty body
By KARAPATAN
September 14, 2022
QUEZON CITY – A decade since the United Nations Human Rights Committee conducted a review on the Philippine government's compliance to the International Covenant on Civil and Political Rights (ICCPR), the State party will undergo a fifth review before the UN treaty body this coming October 2022, with non-governmental organizations providing alternative submissions to the government report.
Human rights group Karapatan and Tanggol Bayi, an association of women human rights defenders, submitted their 29-page joint alternative report on September 12, covering human rights issues during the administrations of Benigno Aquino III and Rodrigo Duterte, as well as the first months of the Marcos Jr. administration.
In their report, they stated that "the human rights situation in the country has spiraled into a crisis," as they documented and witnessed gross violations on the right to life and civil liberties, the deeper and pervasive climate of impunity and the dire lack of effective domestic mechanisms for redress and accountability, closing civic and democratic spaces, and unmet obligations to core international human rights instruments, including the ICCPR.
They cited the continuing impunity since the Marcos Sr. regime, with the dictator and his family as well as cohorts yet to be made fully accountable for their acts of gross human rights violations and massive corruption during martial law, impeding efforts towards truth and justice.
"Marcos Jr.'s recent defense of his dictator-father's martial law glosses over their family's rapacious intent to monopolize political power and prolong their rule by suppressing political dissent and pocketing billions from the nation's coffers. Clearly, Marcos Jr.'s presidency seeks to erase all the crimes of the Marcoses against the Filipino people, to enable them to keep their massive loot from public funds, and to further their political ambitions," said Karapatan Secretary General Cristina Palabay, reacting to Marcos Jr.'s recent interview defending his father's imposition of martial law.
Karapatan added that "Marcos Jr. continues the draconian and repressive policies of the Duterte administration, wielding and foisting the anti-terror law and other repressive policies against those who uphold and defend human and people's rights."
"Marcos Jr. is not intent on immediately prosecuting those involved in the gross human rights violations during the Duterte administration and with domestic remedies remaining largely ineffective in pursuing accountability, the climate of impunity remains pervasive," Palabay said.
Karapatan and Tanggol Bayi highlighted "serious human rights violations" committed by State actors including extrajudicial killings in the drug war and counterinsurgency programs of the Philippine government; numerous cases of illegal/arbitrary arrests and detention, threats including red- and terrorist-tagging, and judicial harassment; infringement on press freedom and freedom of expression, as well as freedom of association and academic freedom; forced evacuations and bombings of communities due to military operations; cruel and degrading treatment of prisoners including political prisoners; gendered attacks against women and LGBTQ human rights defenders, among others.
"There is an even more urgent need for the international community and the UN human rights mechanisms to undertake decisive steps for an independent investigation on these concerns and to continue to monitor and report on the human rights situation in the Philippines. We urge the members of the UN Human Rights Committee to comprehensively evaluate how the ICCPR has been grossly violated by the Philippine government through the many years after the last review," Palabay said.
The groups are also set to participate in the 51st session of the UN Human Rights Council and the UN Universal Periodic Review, with the Philippines under scrutiny in the next two months by the UN mechanisms.
Inflation rate in Eastern Visayas goes 7.2 percent in August 2022
Press Release
September 8, 2022
TACLOBAN CITY – The Inflation Rate (IR) in Eastern Visayas decreased to 7.2 percent in August 2022, after five (5) consecutive months of acceleration. The regional IR was higher than the 6.3 percent national IR in August 2022. With this month's IR, the region's average IR from January to August 2022 stood at 6.2 percent. In August 2021, the regional IR was lower at 4.5 percent (Figure 1).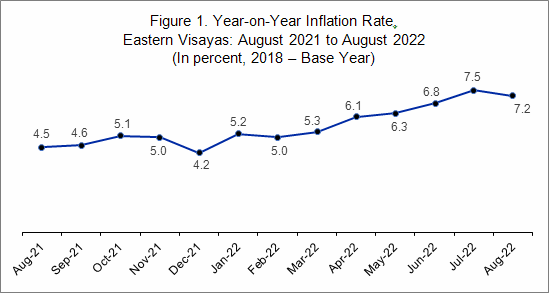 The slowdown in the regional IR in August 2022 was primarily due to the lower annual increment recorded in the index for food and non-alcoholic beverages at 7.5 percent, from 8.0 percent in the previous month. This was followed by transport index whose double-digit IR declined to 13.5 percent in August 2022, from 16.1 percent in July 2022.
On the other hand, IRs were higher for the following commodity groups during the month:
a. Alcoholic beverages and tobacco, 7.0 percent;
b. Clothing and footwear, 1.5 percent;
c. Housing, water, electricity, gas, and other fuels, 9.9 percent;
d. Furnishings, household equipment, and routine household maintenance, 1.7 percent;
e. Health, 16 percent;
f. Information and communication, 0.8 percent;
g. Recreation, sport, and culture, 1.0 percent;
h. Education services, 1.1 percent;
i. Restaurants and accommodation services, 5.3 percent; and
j. Personal care, and miscellaneous goods and services, 2.2 percent
Meanwhile, the financial services commodity group continued to registered zero percent annual growth.
IR for food index slid to 7.8 percent during the month, from 8.5 percent in July 2022. IR for food in August 2021 was posted at 5.7 percent.
By food group, the decrease in the IRs for fish and other seafood at 4.8 percent; vegetables, tubers, plantains, cooking bananas, and pulses at 3.1 percent; and rice at 2.3 percent contributed largely to the deceleration of the food index during the month. Moreover, IRs slowed down in the indices for fruits and nuts at 7.5 percent; and meat and other parts of slaughtered animals at 23.9 percent.
On the other hand, the following food groups exhibited higher IRs during the month:
a. Corn, 5.5 percent;
b. Flour, bread and other bakery products, pasta products, and other cereals, 9.6 percent;
c. Milk, other dairy products, and eggs, 5.0 percent
d. Oils and fats, 10.4 percent;
e. Sugar, confectionery, and desserts, 20.1 percent; and
f. Ready-made food and other food products not elsewhere classified, 3.6 percent;
Inflation Rate by Region
Compared with their respective previous month's IRs, six (6) regions exhibited lower inflation in August 2022, nine (9) regions had higher inflation rates, and two (2) regions retained their previous month's inflation rate. Among the regions, Eastern Visayas' IR at 7.2 percent ranked fifth highest during the month. Zamboanga Peninsula registered the highest IR at 9.1 percent, followed by Davao Region and Caraga Region at 8.9 percent and 7.5 percent, respectively. On the other hand, BARMM remained as the region with the lowest recorded IR at 4.9 percent in August 2022 (Figure 2).
Inflation Rate by Province
Relative to their IRs in July 2022, Leyte, Northern Samar, and Southern Leyte recorded lower IRs in August 2022. On the other hand, increased IRs were observed in Biliran, Eastern Samar, and Samar. Among the provinces, Southern Leyte posted the highest IR at 9.6 percent in August 2022. Northern Samar's IR came next at 9.3 percent, followed by Biliran at 7.9 percent; Eastern Samar at 7.2 percent; and Samar at 6.8 percent. The lowest IR was noted in Leyte at 6.7 percent (Table 1).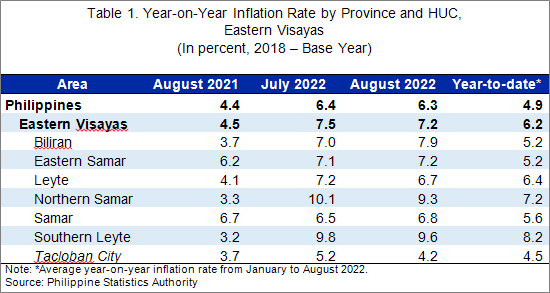 Meanwhile, IR for Tacloban City, the lone Highly Urbanized City (HUC) in the region, was recorded at 4.2 percent in August 2022, lower than its 5.2 percent IR last month.
DTI, government agencies and state universities, sign MOA for the creation of the Regional Inclusive Innovation Center in EV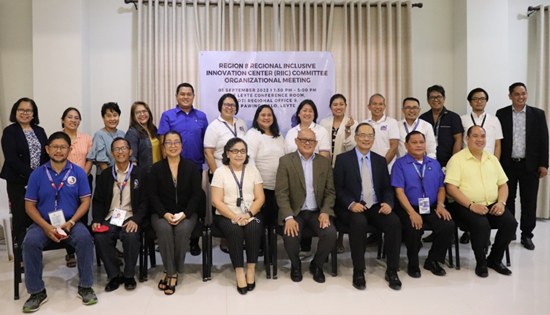 By DTI-Regional Operations Group
September 8, 2022
MAKATI CITY – DTI, government agencies, and state universities, sign the Memorandum of Agreement for the creation of the Regional Inclusive Innovation Center (RIIC) in Region 8 on September 1, 2022.
The Regional Inclusive Innovation Centers (RIICs) are virtual of physical platforms for collaborative programs purposively to generate products, process or service innovation that are deemed important to the goal of inclusive growth and development of the respective regions.
Collaborations are expressed through government-academe-industry partnerships, access to shared service facilities such as R&D laboratories, co-working spaces, fabrication laboratories, and in the case of regional startups, access to capital and investments.
Prior to the MOA signing, an overview of DTI's programs geared toward a more innovative Philippines and the RIIC was thoroughly discussed by DTI Competitiveness and Innovation Group Undersecretary Rafaelita Aldaba.
She zoomed in to the current industry and GDP situation of Region 8 and identified industry opportunities that can help the economic development of the region.
This was backed up by the presentation of DTI Samar Provincial Director Meilou C. Macabare about the high value coconut products which micro and small entrepreneurs in the region are producing. DTI eyes this potential industry to be a priority for the innovative initiatives through the RIIC. This was supported by all the provincial directors of DTI.
Present during this MOA Signing were heads of agencies and presidents and executives of state universities – RD Celerina T. Bato of DTI; RD Ernesto Granada and PD Glen Ocaña of DOST; RD Meylene Rosales of NEDA; RD Felix Tabanao, Jr. of DICT; Mr. Erwin Abonales of PCA; President of EVSU Dr. Dennis de Paz; Vice President of SLSU Ms. Francis Ann R. Sy; Dir. Marclin G. Aguilar of BPSU; and Dir. Vivian Moya of SSU Main.
It was also an opportune time for the Philippine-American Academy of Science and Engineering (PAASE) to discuss innovative ideas and social innovation with the partners. Present were Dr. Mariano R. Sto. Domingo, Dr. Joel Cuelo and Dr. Alvin B. Culaba.
Before the meeting ends, a brief tentative action plan was discussed by DTI ARD Badette Corsiga to mobilize and facilitate the RIIC to be active.
Peace documentary on Mindanao premieres in Davao City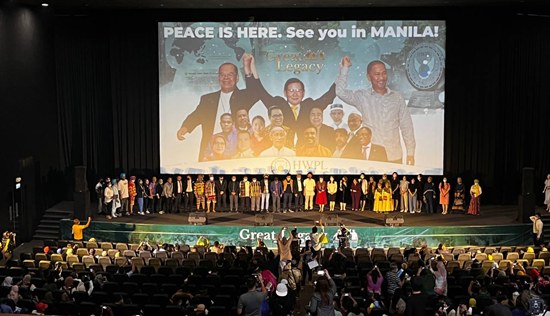 Press Release
September 7, 2022
MANILA – In celebration of the National Peace Consciousness Month, a peace documentary titled "Great Legacy" premiered in a cinema in Davao City on the evening of September 6, 2022. Around 500 distinguished guests from the government, education sector, media, as well as civic society leaders, religious leaders and peace advocates from Mindanao have attended.
The documentary was produced by SMV Media Group, a broadcast company based in Seoul, South Korea, in collaboration with Heavenly Culture, World Peace, Restoration of Light (HWPL), an international non-profit organization advocating for global peace and cessation of war. The film showcased the groups' successful peace movement in Mindanao which contributed to the peace process in the region.
Davao City Mayor Baste Duterte congratulated and commended HWPL and SMV on the screening saying, "By showing people documentaries and films on peace, we may encourage more to be one with us in our peacekeeping and peacebuilding efforts for our communities."
HWPL's peace movement in the Philippines started when HWPL Chairman Lee Man-hee, a Korean war veteran, visited Mindanao. He mediated a civilian peace agreement signed by Archbishop Emeritus Fernando Capalla and then Maguindanao Governor Esmael "Toto" G. Mangudadatu on January 14, 2014 in General Santos City. Before the audience of 300 people including politicians, university professors, religious leaders, and students, the representatives promised to cooperate in ceasing the conflict and building peace especially in the Mindanao region which has long suffered the aftereffects of war.
This agreement became the starting point of HWPL in raising public awareness about peace not only in Mindanao but throughout the Philippines, based on the universal principles of mutual understanding, respect, and harmony. HWPL's peace initiatives include law enactment for peace, interfaith dialogues, peace education, and youth and women empowerment.
In the film, Martin Lee Hojian, former chairperson of the UN Human Rights Commission of the United Nations, Homoibi, highly praised HWPL Chairman Lee, who intervened in the realization of peace in Mindanao as a third person, and the Filipino people who had a keen passion for peace. Also, Nabil Tirmage, Asia Pacific Broadcasting Development Organization program manager, said that the civil peace agreement in 2014 is an 'amazing case of realization of peace that the world should study'.
Before the screening, a press conference was held for Mr. John Rommel Garces, Chief Branch Manager of HWPL Philippines, Ms. Hyun Sook Yoon, Chairwoman of the International Women's Peace Group (IWPG), and Ms. Sholai Lim, Vice President for Mindanao of the Philippine Federation of Local Councils of Women and Publicity Ambassador of IWPG.
IWPG, a partner organization of HWPL, unveiled the first IWPG Peace Monument on the grounds of Maragusan, Davao de Oro overlooking the sea of clouds on September 6 morning. Their delegates from South Korea traveled to the Philippines for the first IWPG Peace Tour from September 5-7.
CARD MBA opens 83rd provincial office in Zamboanga del Sur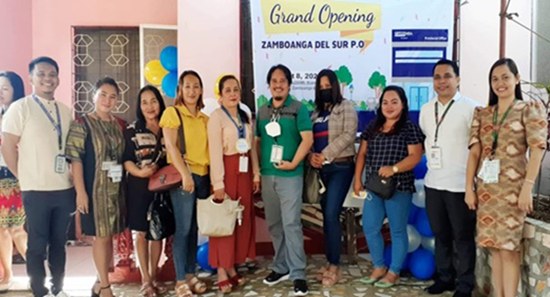 The 83rd provincial office of CARD MBA opened in Zamboanga Del Sur with Senior Operations Director Oliver M. Reyes; Deputy Director for Operations Janicekith N. Navera, CARD SME Bank Area Manager Joel Bermudez and CARD Inc. Regional Director Adonis Saromines, CARD MBA coordinators, CARD MRI members and staff.
Press Release
August 31, 2022
SAN PABLO CITY – To further expand its mission of providing microinsurance to its members, the CARD Mutual Benefit Association (CARD MBA) successfully opened its 83rd branch located in Pacigea Sites, Nazareth, Buenavista, Pagadian City, Zamboanga Del Sur on August 8, 2022.
The event was graced by CARD MBA Senior Operations Director Oliver M. Reyes, CARD MBA Deputy Director for Operations Janicekith N. Navera, CARD SME Bank Area Manager Joel Bermudez and CARD Inc. Regional Director Adonis Saromines, CARD MBA coordinators, CARD Mutually Reinforcing Institutions (CARD MRI) clients and staff.
"CARD MBA strives to provide excellent levels of service through recognizing and meeting the specific insurance needs of client-members," said CARD MBA CEO Jocelyn D. Dequito. "It is our contribution to CARD MRI's goal of poverty eradication to provide insurance even to the hardest to reach communities."
To maintain a high level of satisfaction, CARD MBA ensures that clients' microinsurance needs are met from membership to retirement. In fact, the institution provides microinsurance products to members of the association and their families. This is comprised of Basic Life Insurance Program, Retirement Fund (RF), Loan Redemption Fund (LRF) Plus, Golden Life Insurance, and Family Security Fund.
CARD MBA also offers community development programs to support socioeconomically challenged families and individuals of the community. This includes mass weddings, immediate relief assistance to calamity-stricken areas, and participation in CARD's other nation-building programs in health, livelihood, and education.
With a total insured individual of 23,037,454 as of June 30, 2022, CARD MBA will continue uplift the lives of the marginalized sectors in the country.