New Army Commander in Eastern Visayas takes post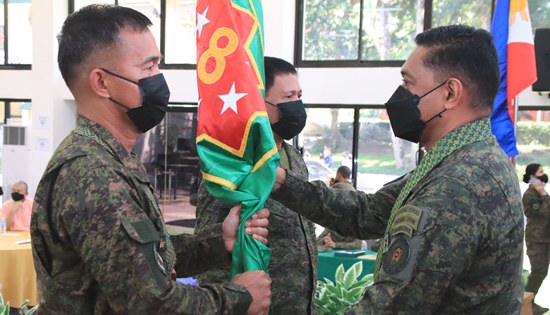 By DPAO, 8ID PA
October 21, 2022
CAMP LUKBAN, Catbalogan City – The 8th Infantry (Stormtroopers) Division, Philippine Army welcomed Major General Camilo Z. Ligayo as he officially assumes as the new Commander of Eastern Visayas today, October 21, 2022.
In a Change of Command Ceremony presided by the Commanding General of the Philippine Army, Lieutenant General Romeo S. Brawner, Jr, outgoing 8ID Acting Commander Brigadier General Zosimo A. Oliveros relinquished the leadership to the former 34th Vice Commander of the Philippine Army.
Major General Ligayo belongs to Philippine Military Academy (PMA) "MAKATAO" Class of 1989. Prior to his assumption, he held key positions such as the Deputy Chief of Staff for Reservist and Retiree Affairs of the Armed Forces of the Philippines (OJ9) and Brigade Commander of the 801st Infantry Brigade, 8th Infantry Division.
In 2019, during his stint as 801st Brigade Commander, Major General Ligayo was instrumental in dismantling four Guerrilla Fronts. Under his leadership, the Brigade achieved a significant victory against the local Communist Terrorist Group in a single joint operation with 20 body counts and recovery of 33 enemy firearms. As the 801st Brigade relentlessly pursued the enemy through focused military operations, he also put equal effort into the unit's civil-military operations by organizing the Youth Love Sports (YLS) as part of the Situational Awareness and Knowledge Management Cluster (SAKM) and Sectoral Unification, Capacity Building and Empowerment (SUCBEM) Cluster, for the youth sector, in line with the National Task Force for Ending Local Communist Armed Conflict.
In his assumption speech, Major General Ligayo asserted his intent to sustain the command's high gains in internal security operations. "We will continue to fight against these so called peace spoilers. As we move forward, we will continue to recognize that the insurgency campaign is a shared responsibility of everyone in government."
"I call upon all our peace and development stakeholders, the different government local units headed by their local chief executives, the regional chief executives for your commitment and support to our ultimate goal in attaining the total defeat of the communist terrorists. Surely, we will be able to attain this strategic defeat of the CPP-NPA-NDF and further prevent their resilience in the region. Together we can succeed," added Ligayo.
In addition, Major General Ligayo is also an active sportsman with a Philippine Football Federation Coaching Certificate. He manages and coaches the Daza Football Club of the 801st Infantry Brigade wherein it emerged as the overall champion during the Football for Peace Tournament on the occasion of the 33rd Founding Anniversary of the 8th Infantry (Stormtroopers) Division. Six active teams from different clubs in Samar and Eastern Samar competed against each other.
Daza Football Club girls were the champion in the Girls Division, the Men's Daza Football Club won 1-0 against the talented Calbayog Football Club. The lone goal was scored by Major General Ligayo performing his best thru a diving header. He also lead the Army Soccer Team to Championships and Athletics Relay for Generals against Navy, Air Force, PNP and PCG.
DAR-EV welcomes new RD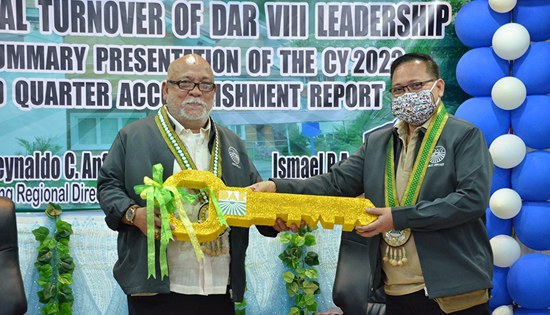 Engr. Reynaldo Anfone (left) is now the new Regional Director of the Department of Agrarian Reform (DAR) in Eastern Visayas.
By JOSE ALSMITH L. SORIA
October 21, 2022
TACLOBAN CITY – Only three months and four days ago when lawyer Robert Anthony Yu, then regional director of the Department of Agrarian Reform in Eastern Visayas, turned over his post to Ismael Aya-ay. On Tuesday, Aya-ay relinquished it again to Engr. Reynaldo Anfone.
By virtue of Department Special Order No. 573, series of 2022 issued by Agrarian Secretary Conrado Estrella III on October 6 this year, Anfone, Regional Director of Central Visayas, was transferred to Eastern Visayas replacing Aya-ay.
On the same document, Aya-ay, who was concurrent Assistant Regional Director for Administration (ARDA) will now focus on his work as ARDA.
An agricultural engineer, Anfone said in his acceptance message, "I am expecting so much with regards to the tasking of the mandates of the Department."
"I will assess everything," he stressed. The new regional director added "Titingnan natin kung meron dapat baguhin o meron dapat i-improve." (We will see if there are things that need to be changed or improved.)
Anfone, the 22nd Regional Director to serve this region since the agency was created on September 10, 1971, is a native of Pikit, Cotabato.
He joined the DAR in 1985 as Agrarian Reform Technologist (ART) and rose from the ranks.
From ART, Anfone was promoted to Engineer II. Then he became Municipal Agrarian Reform Program Officer (MARPO) for 23 years. In 2018, he was appointed Provincial Agrarian Reform Program Officer II (PARPO) by then president, Rodrigo Roa Duterte.
In March this year, Duterte appointed him Director IV. His first assignment as regional director was in Central Visayas.
As a regional director, Anfone said during his installation that he reads and analyzes all the documents before signing them, but emphasized he is not used to micro-managing.
He assured the PARPOs and the MARPOs "I will not interfere on all your affairs. I will just be directing the PARPOs and the MARPOs."
Anfone hopes that his assignment here will not be as short as his stay in Central Visayas. According to him, he just stayed in Region-7 for only three months and 21 days. "I hope to stay here for quite a long time, so we will really know each other," Anfone quipped.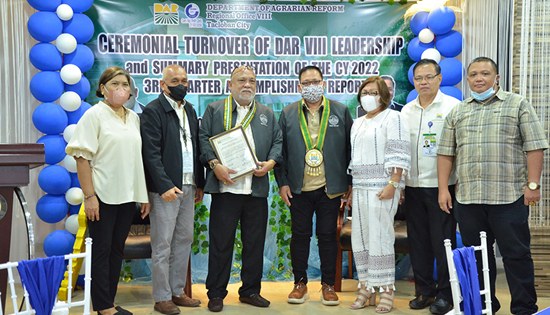 Flood control structure underway in Barangay Macatingog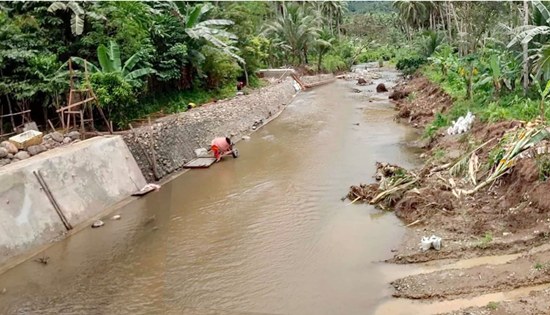 By GISSELLE G. PARUNGAO
October 20, 2022
CALBAYOG CITY – A flood control structure is being erected along Barangay Macatingog, Calbayog City, Samar with a revised contract amount of P48.1 million under the General Appropriations Act (GAA) of 2022.
This structure will serve as a protection wall for residents of said barangay that will span 108 linear meters (upstream) and another 100 linear meters (downstream), built on both sides. Its height varies from 3-6 meters.
As of October 15, 2022 the accomplishment is already at 45%. The structure runs along Hamonini River that eventually goes to the city's main river, Jibatang River which is a major river basin. This will help to reduce the flood impact on the community where it is located and a precautionary measure to ensure that damages caused by flooding are kept at a bare minimum.
BI-GI Association and DTI partners to capacitate PICE-Tacloban members on new standards for black iron and galvanized iron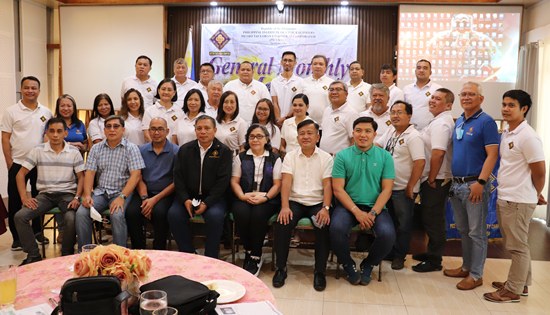 By DTI-Regional Operations Group
October 18, 2022
MAKATI CITY – The Philippine Association of Black Iron and Galvanized Iron Pipes and Tubes Manufacturing, Inc. (BI-GI Association) in partnership with DTI, conducts an Information Campaign with members of the Philippine Institute of Civil Engineers (PICE) - Tacloban Chapter.
The DTI-Bureau of Philippine Standards released a new Philippine National Standard (PNS) 26:2018 for BI-GI Steel Pipes and its related Department Administrative Order (DAO) 19-16 Series of 2019, "The new technical regulations concerning the mandatory products certification of steel – black and hot-dipped zinc-coated (galvanized) longitudinally-welded steel pipes (for ordinary uses) and was published on January 17, 2020.
These regulations will be the basis for identifying certified products conforming to the standard. As a practice, the BI-GI Association partners with DTI in helping disseminate updates to the public thru an information campaign. Evident distinctions of uncertified and substandard steel pipe were identified to educate the participants how they can distinguish it from the standard. Proper handling of these products was also discussed.
The Information Campaign on New Technical Regulation on Mandatory Products forms part of the activities conducted by DTI Regional Office 8 to celebrate the Consumer Welfare Month.
It was necessary to conduct it in time with the quarterly meeting of PICE-Tacloban, composed of engineers and contractors, to ensure the quality of steel pipes used in construction. The vent was conducted last October 8, 2022 at the A Venue Hotel, Tacloban City.
Victim's kin of Jipapad attack slams CPP-NPA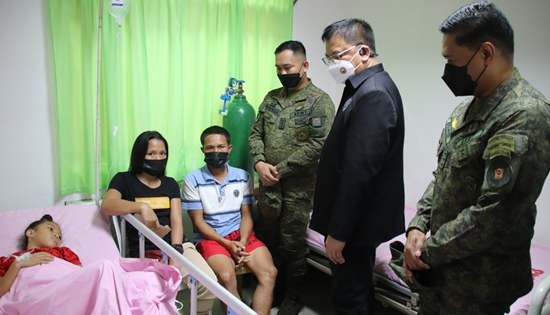 By DPAO, 8ID PA
October 10, 2022
CATBALOGAN CITY, Samar – The mother of the 10-year-old child who is one of the victims of the gruesome attack of the Communist Party of the Philippines - New People's Army (CPP-NPA) at Barangay Dorillo, Jipapad, Eastern Samar slams the CPP-NPA for the vicious attack that resulted in the killing of two soldiers and wounding of three others including her 10-year-old child.
In an interview, Pia Mengote, the mother of Princess Norcio, one of the victims, strongly condemns and calls out the CPP NPA after she almost lost her daughter in the said attack.
"Gusto ko sana na hindi na maulit itong pag-atake nila (CPP-NPA) sa aming barangay, para wala nang madamay na inosenting tao, gaya ng anak ko," Mengote said.
She also appealed to the CPP-NPA to stop the pointless killings of soldiers who were only there to protect and ensure the delivery of government services in their barangay.
"Kayo na mga NPA sana hindi na maulit itong pagpatay sa sundalo kasi mayroon din silang pamilya at mga anak na umaasa sa kanila," Mengote added.
Mayor Benjamin Ver of Jipapad, Eastern Samar has also conveyed his dismay and strongly condemned the CPP-NPA.
"Kinokondena ko ito na ginawa ng mga taong walang konsensya, walang puso, walang magandang pag-iisip na makatulong sa ating mga tao, sa sosyodad at lalo na sa mga residente na naghihirap sa ating barangay," Ver said.
Meanwhile, the Department of National Defense, Officer-in-Charge Senior Undersecretary Jose Faustino Jr. paid tribute to the fallen heroes and visited the wake of the slain soldiers' Staff Sergeant John Claire Flores, and Private First Class Mark Edupancho Siscar, in Borongan, Eastern Samar, Sunday, October 9, 2022.
Along with DND Senior Undersecretary Faustino were Armed Forces of the Philippines Chief of Staff Lieutenant General Bartolome Vicente Bacarro, Commanding General Philippine Army Lieutenant General Romeo Brawner Jr. and 8th Infantry Division Acting Commander Brigadier General Zosimo Oliveros who extended their condolences and support to the families of the slain soldiers.
The group of Faustino also visited the soldiers wounded-in-action (WIA) Sergeant Allan Talania, Private First Class Lou Mark Mengote, and the child victim Princess Norcio who are still recovering in the hospital.
The Wounded Personnel Medal was also awarded by Faustino to the two WIA soldiers. The SND likewise gave financial assistance to the three victims of the gruesome attack.
In an interview, Faustino vows that the National Task Force Ending Local Communist Armed Conflict (NTF-ELCAC) is doing its best to suppress terrorism and achieve long-lasting peace in the country.
"Makakaasa po kayo na ang ating defense establishment, particularly ang ating Armed Forces of the Philippines na gagawin ang kanyang misyon na mapanatili o maibalik ang normalcy dito sa lugar sa EV. Katuwang ninyo ang defense establishment kasama ang lahat ng national agencies, local agencies, local government units at all stakeholders ay pagtutulong-tulungan namin na matapos na ito," Faustino said.
DTI boosts September enforcement, wipes uncertified products in LuzViMin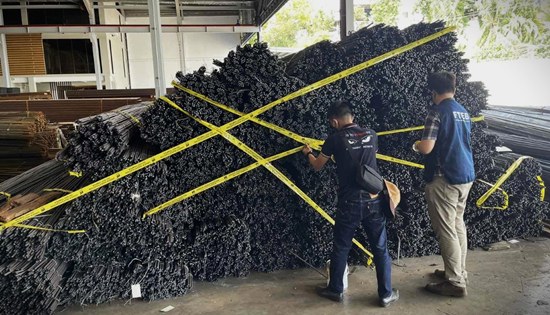 Deformed steel bars sealed in Cebu without the requisite labels and quality marks.
By DTI-CPG-Fair Trade Enforcement Bureau
October 4, 2022
MAKATI CITY – The Department of Trade and Industry (DTI), through its Fair Trade Enforcement Bureau (FTEB), inspected retail firms in Bulacan, Cebu, and Davao in September 2022 to ensure that only safe and reliable consumer products are in the market.
The DTI enforcement teams led by Consumer Protection Group (CPG) Undersecretary Atty. Ruth B. Castelo kicked off the intensified two-day operations in Cebu, 1-2 September. The teams have clamped down on 81,649 pieces of uncertified tires for automotive vehicles, G.I. steel pipes, deformed steel bars, and low carbon steel wires worth P14,776,550.00.
Such was immediately followed by another successful enforcement operation in Davao del Norte, 15-16 September, where DTI cracked down 1,765 pieces of uncertified products worth P830,520.00. The sealed products include self-ballasted LED lamps, PVC electrical tapes, plugs, socket-outlets, snap switches, BI/GI steel pipes, low carbon steel wires, pipes (uPVC) for potable water supply, uPVC rigid electrical conduit, ceramic Plumbing fixtures (sanitary wares), lead-acid storage batteries, inner tubes for tires, and tires for automotive vehicles.
Ending the month strong, the steadfast enforcement operations in Malolos and Meycauayan, Bulacan last 22 September has led to the sealing of 1, 472 pieces of uncertified low carbon steel wires, tires for automotive vehicles, and lead acid storage batteries worth P1,626,430.00.
Out of the 37 firms inspected, 23 non-compliant stores were issued Notices of Violation (NOVs), mandating them to explain within 48 hours from the receipt of the notice.
The nationwide campaign of DTI against uncertified items in the market underscores the enforcement of DTI technical regulations mandating compliance with Philippine Standard Certification Mark Schemes, particularly Department Administrative Order No. 02, Series of 2007.
"The DTI and its provincial and regional offices are one in ensuring that only certified products are being sold in the market; hence, as part of our regular function all of our enforcement teams regularly go out to check products under the mandatory certification," said Usec. Castelo.
Usec. Castelo reiterated that aside from upholding consumer protection, intensified enforcement operations are also a great way to educate businesses about mandatory certification that they have to comply with for a fair trading environment.
From January to August 2022, DTI has already sealed 113,825 pieces of non-conforming products with an estimated retail value of P34,345,283.98.
To protect consumers or potential buyers of electrical and electronic products; mechanical or building and construction materials; and chemical and other consumer products and systems, DTI-BPS regulates 111 products and systems through implementing Mandatory Product Certification Schemes: the Philippine Standard (PS) Quality and/or Safety Certification Mark Licensing Scheme and the Import Commodity Clearance (ICC) Certification Scheme.
The DTI enjoins consumers to report retailers, distributors, and manufacturers that sell necessities above their SRPs, through the Consumer Care Hotline at DTI (1-384) or consumercare@dti.gov.ph.
Most innovative food products recognized
Gov't trade show revitalizes PH food exports, love for local flavors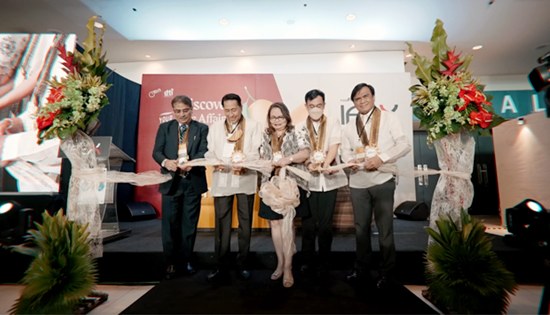 From left to right: H.E. Dr. Imtiaz Ahmad Kazi, Ambassador Embassy of Pakistan, Mr. Sergio R. Ortiz-Luis of PHILEXPORT, CITEM Deputy Executive Director Ma. Lourdes D. Mediran; Pangasinan 4th District Representative Christopher de Venecia; Undersecretary Ireneo V. Vizmonte, Officer-in-Charge (OIC), Department of Trade and Industry (DTI).
Press Release
September 30, 2022
PASAY CITY – Government-run food trade show IFEX Philippines 2022 successfully kicked off at the World Trade Center Metro Manila on Thursday, September 22. IFEX Philippines welcomed nearly 6,000 local and foreign buyers and visitors from all over the world during the three-day event, initially generating approximately USD 100 million in export sales and PHP 56 million in domestic sales. These figures are still expected to increase. More than 300 Philippine exhibitors showcased thousands of premium Philippine food products at the event.
Sen. Cynthia Villar, Chairperson of the Senate Committee on Agriculture, Food and Agrarian Reform, and its Vice-Chairperson Sen. Maria Josefa Imelda "Imee" Marcos, graced the event to support the Department of Trade and Industry's (DTI) thrust to uplift the country's food micro, small and medium food enterprises (MSMEs).
Among those who were also present at the opening ceremony were top foreign and Philippine government officials: Undersecretary Ireneo Vizmonte, Officer-in-Charge (OIC), Department of Trade and Industry (DTI); CITEM Deputy Executive Director Ma. Lourdes Mediran; H.E. Dr. Imtiaz Ahmad Kazi, Ambassador of the Islamic Republic of Pakistan; Commercial Counsellor Serhan Ortaç of the Turkish Embassy; Assistant Director Jhino Ilano of the Export Marketing Bureau (EMB); Executive Director Maria Rita Matute of the Design Center of the Philippines; Executive Director Nelly Nita Dillera of Philippine Trade Training Center (PTTC); Mr. Sergio Ortiz-Luis, President and CEO of PHILEXPORT; and Pangasinan 4th District Representative Christopher de Venecia.
Deputy Executive Director Ma. Lourdes D. Mediran of CITEM, the promotions arm of DTI and event organizer, said that IFEX Philippines 2022 is designed to be "a site of reunion and rediscovery" where Philippine food companies and international buyers can reaffirm their partnerships and make new connections. Visitors came primarily from the Philippines, the United States, the United Arab Emirates (UAE), Japan, and Australia.
In her recorded keynote speech, Sen. Cynthia Villar highlighted the role of agriculture in uplifting the economy and the efforts being made to assist the sector. According to Villar, supporting the agriculture sector is necessary to ensure flexibility during crises like the COVID-19 pandemic.
"We should continue supporting our local produce to ensure our food security and self-sufficiency," said Villar.
Meanwhile, Usec. Ireneo Vizmonte reiterated DTI's commitment to the food sector. Vizmonte also acknowledged the global factors that affect the country's economy, saying these conditions require sustainable and inclusive government response.
Vizmonte said that science, technology, and innovation are essential in building a competitive economy and will be central to the work of DTI under the leadership of Secretary Alfredo Pascual.
"The goal is to grow and develop globally competitive and innovative industries that support inclusive growth and improve environmental sustainability and the quality of life for Filipinos," said Vizmonte.
According to Vizmonte, one of DTI's priorities is the digital transformation of MSMEs and the growth and development of startups. Through innovation and digitalization, DTI aims to double its efforts to upgrade and scale MSMEs in order to improve their productivity growth, employment creation, and participation in global value chains.
"The MSME sector is instrumental to the growth of the Philippine economy, accounting for 99% of all businesses in the country. Needless to say, it is of utmost importance that we ensure that entrepreneurs have access to all the resources, platforms, and technologies that they need to grow their businesses," said Vizmonte.
In addition to supporting the MSMEs, he also said that to promote industrialization, DTI will reconfigure the export industry into three clusters: Industrial, Manufacturing, and Transport; Technology, Media, and Telecommunication; and Health and Life Sciences. Through this strategy, DTI seeks to further build up the country as an exporter of high-value products.
Assistant Secretary Glenn Peñaranda, OIC of DTI's Trade Promotions Group (TPG), echoed this in his recorded welcome message by highlighting programs that help MSMEs boost their competitiveness in the global market. These programs include capacity-building like the Philippine Trade Training Center's (PTTC) Global MSME Academy; export assistance programs like RIPPLES; and market access platforms like CITEM's signature programs and participation in overseas trade fairs.
"The Philippines is one of the most exciting destinations for quality food exports, but with stiff competition from our neighbors, and other drivers such as climate change and health crises, we must continuously adapt and reassert our place in the market," said Peñaranda.
Celebrating Filipino creativity and innovation in the food sector
Aside from providing an avenue for food MSMEs to showcase their goods, IFEX Philippines also recognized the most innovative products for each product category. CITEM named the winners of the Katha Awards for Food on the opening night of IFEX Philippines.
Katha Awards recognizes exporters that explore new galleries of flavors, original brand ideas, unique food fusions, and creative packaging methods. Through this, Katha Awards aims to strengthen the reputation of the Philippines as a go-to destination for globally competitive Asian food and ingredients.
Sen. Imee Marcos, Vice-Chairperson of the Senate Committee on Agriculture and Food, and Chairperson of the Committee on Cooperatives, delivered a special message in which she discussed the current problems in the food and agriculture sectors, including import reliance, food shortages, and hunger. She emphasized the importance of supporting the MSME sector to address these issues. Marcos also lauded efforts such as the Katha Awards, which incentivizes businesses to develop new and innovative products for export.
"The truth of the matter is that I truly believe that in the end, all these depressing views in the agricultural and food sector can only be righted by a much more vigorous and vibrant MSME and retail population," Marcos said.
Here are the winners of the Katha Awards during IFEX Philippines 2022.
New Product Category for Beverages
Sol's Italian Food
Rafael Cococnut Cream
New Product Category for Fine food and specialties
Miguelito's International Corporation
Instant Puto Bumbong
New Product Category for Marine/Seafood
Fisher Farms Inc.
Gourmet Fillet Sampler Box
New Product Category for Meat & Poultry Products
Gulf Pacific Integrated Exports/Elarz
Corned Lechon Lagablab
New Product Category for Snack Foods & Crisp Savoury Products
Innovative Packaging Industry
OSH Choco Dipped Mango Crisps
New Product Category for Baked Goods & Confectioneries
Theo and Philo
Dark Chocolate Covered Cashew and Honey
New Product Category for Processed Fruits and Vegetables
Century Pacific Food Inc
Unmeat Luncheon Meat
New Product Category for Natural, Healthy & Organic Products
Pasciolco Agri-Ventures
Coconut Amínos
Best Booth
Fisherfarms, Inc.
Special Citation for Sustainability
HIJO Superfoods
Quirino Young Entrepreneur's Association
To learn more about IFEX Philippines, visit IFEXConnect.com.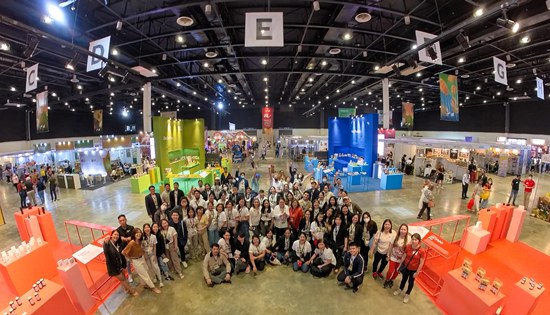 ICHRP commends ICC's rejection of Philippine government request to halt investigation of Duterte government officials
Press Release
September 30, 2022
MANILA – "The International Coalition for Human Rights in the Philippines [ICHRP] applauds the recent decision of International Criminal Court [ICC] Prosecutor Karim Khan to reject the request of the Philippine government to halt the investigation of allegations of serious crimes against humanity committed on its territory related to the Duterte administration's drug war," said ICHRP Chairperson Peter Murphy.
"The response of Prosecutor Khan points out the weakness of the November 2021 request of the Duterte government, which argued for suspension of the ICC investigation on the basis of jurisdiction of the tribunal, gravity of the crimes committed, and supposed domestic mechanisms which can investigate and prosecute those involved in the killings," said Murphy.
"Khan's response demonstrates that no such domestic mechanisms exist on a wide scale, and that no valid argument exists to dispute the jurisdiction of the ICC in regard to these alleged crimes against humanity. This is in line with the results of INVESTIGATE PH, which demonstrated a severe lack of domestic remedies to the human rights crisis in the country."
Human rights organizations like Amnesty International estimate that the number of killings under Duterte's drug war may be as many as 30,000. INVESTIGATE PH, an independent international investigation into the human rights situation in the Philippines carried out by civil society organizations in 2021, presented and analyzed witness testimony and forensic evidence to dispel the Philippine government claims that the thousands of victims were killed by police in self-defence. It also showed that genuine domestic mechanisms to investigate and prosecute the perpetrators of the killings do not exist, despite the claims of the government.
"ICHRP upholds the call of the drug war victims and civil society at large for the cooperation of the Philippine government in the carrying out of the ICC investigation," said Murphy. "We also reiterate the call of INVESTIGATE PH for other intergovernmental bodies, such as the United Nations Human Rights Council, to launch their own independent investigation into the current human rights situation in the country."
"The international community must stay vigilant and hold the current and past administrations accountable until justice is achieved for all victims of these crimes against humanity," Murphy concluded.
Lassiter assumes as provincial adjudicator for DAR E. Samar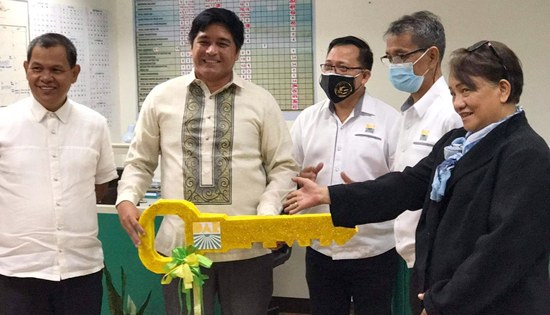 Lawyer Bryan Lassiter now serves as Provincial Agrarian Reform Adjudicator (PARAD) for Eastern Samar after PARAD Nellie Canillas turned over last week her workloads to the former. (Photo by Veah Pascasio)
By JOSE ALSMITH L. SORIA
September 28, 2022
TACLOBAN CITY – Provincial Agrarian Reform Adjudicator (PARAD), lawyer Nellie Canillas, formally turned over last week her workloads in Eastern Samar to lawyer Bryan Lassiter.
Lassiter, who was appointed early this year by then President Rodrigo Roa Duterte as PARAD, will succeed Canillas as Department of Agrarian Reform's (DAR) adjudicator for Eastern Samar per Special Order No. 512, Series of 2022, issued on September 1 this year by Agrarian Reform Secretary Conrado Estrella III to attain maximum efficiency at the DAR Adjudication Board (DARAB).
In the same document, Lassiter will also serve as PARAD of Northern Samar.
The said turnover took place at the office of the Regional Agrarian Reform Adjudicator, lawyer Virgilio Rosacay, at the Department of Agrarian Reform Regional office in Tacloban City.
With Rosacay, OIC-Regional Director Ismael Aya-ay and lawyer Florence Hipe, PARAD of Northern Samar and Southern Leyte, witnessed the event.
Presently designated Provincial Agrarian Reform Program Officer II (PARPO II) in Eastern Samar in an officer-in-charge capacity, Lassiter is awaiting designation of his replacement as PARPO II by the Secretary.
Canillas on the other hand will now focus as PARAD of Western Samar.
Meanwhile, Hipe disclosed that turnover of his workloads in Northern Samar will be scheduled in a later date.