Surf in the City 2022 pushes for gender equality in male-dominated surfing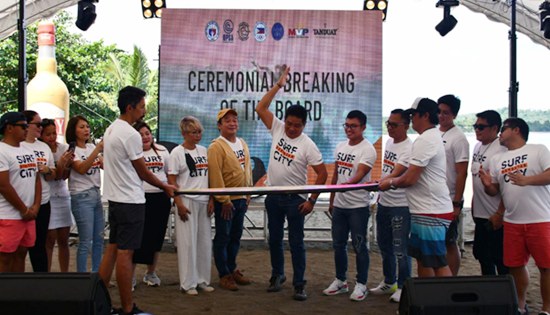 Borongan City Mayor Jose Ivan 'Dayan' Agda leads the breaking of the ceremonial surfboard to officially signify the start of the Surf in the City 2022. With him are Surf in the City Chairman Rupert Ambil, UPSA representative Ralph Tecson, Congresswoman Fe Abunda's representative Cora Basada, Governor Ben Evardone's representative and Eastern Samar Board member Atty. PJ Evardone, Surfrider's Club of Eastern Samar President Atty. Bryan Lassiter, and the Borongan City Councilors. (Photo by BCIO)
By VEE TOLENTINO-GUMBAN
November 26, 2022
BORONGAN CITY – Though sports have contributed significantly towards unifying different races and nations in events like the Olympics, gender inequality remains one of the most hotly-debated issues. Surfing, for example, is still mostly dominated by men.
Surf in the City 2022 in Borongan City, Eastern Samar has been making waves not only because it will award the biggest prize money in surfing competition history in the Philippines amounting to P1.1 million, but also for its aim to close the gap between the prize money in the Men's and Women's Division. The competition will award the same amount to winners from both categories.
In a press conference after the opening ceremony, Surf in the City Chairperson Rupert Ambil announced that more women athletes joined this year's competition. The equal prize money opportunity encourages these females to further develop in the sport.
"If hindi mo kayang i-explain kung bakit mas malaki ang prize money ng lalaki sa babae, eh, fundamentally, mali iyon. Tayo dito naniniwala sa strength ng all genders. It's really a statement from all of us, not only the surfing community but as representatives of Borongan City, Eastern Samar," Ambil said, citing gender equality and LGBTQ rights as "values that a Boronganon respects." (If you can't explain why the prize money for men is higher than for women, then there's something fundamentally wrong there. Here in Borongan, we believe in the strength of all genders. It's a statement from all of us, not only as a surfing community but as representatives of Borongan City, Eastern Samar.)
Meanwhile, John Carby disclosed that the United Philippine Surfing Association (UPSA) will not sanction a competition unless there is a counterpart male and female in both categories. The organization is also trying to include more women in their judging programs.
"We have a minimum standard set for our prize ranges. Borongan has gone beyond that, and also included an initiative to include equal opportunity for men and women. We celebrate, acknowledge, and applaud the initiative Borongan has done that nobody else has done. At this point, we hope other regions see it and increase it and put it into practice," Carby noted.
Surf in the City 2022 officially opens
This is the third time that Borongan City is hosting the event, which brings surfers from across the Philippines to the capital of Eastern Samar. Almost 250 participants from the provinces of Siargao, La Union, Ilocos Sur, Cebu, Eastern, Aurora, Sorsogon, Cebu, Catanduanes, Zambales, Camarines Norte, Leyte, Northern Samar, and Eastern Samar are registered to compete in this year's Surf in the City.
During the opening ceremony on Saturday, Borongan City Mayor Jose Ivan Dayan Agda said the city plans to institutionalize the event, as part of the local government's bigger goals of raising local surf athlete champions.
"The City Government will not just abandon this program. We intend to institutionalize this. Yes, we will come in sponsorship but we will see to it that the spirit of hosting the Surf in the City will not be compromised. That's the very purpose why we are holding a Sports Summit next year - because we intend to institutionalize everything," Mayor Agda said.
He added: "If there is really cooperation and unity politically, progress is what we can expect. There is no division among us. That is the Estehanon way and that is the Boronganon culture, we are united as one."
Gender-sensitive city
For women athletes participating in the competition, the equal prize money is a welcome development in the sport.
"Happy ako, excited, kasi hindi na bias. 'Yung galing ng isang surfer hindi naka-base sa gender, kumbaga pareho na yung tingin both male and female kasi same prize na eh," said Jessa Jundarino, a 21-year-old surfer from Borongan. (I'm happy and excited because it's not biased anymore. A surfer's skills are not based on their gender and it's good that the prize money now acknowledges this.)
The local government of Borongan has also implemented other initiatives to make the city more gender inclusive. It recently created several gender-sensitive comfort rooms along Baybay Boulevard, where the surfing competition is taking place.
The comfort rooms cover four cubicles designated for males, females, gender-neutral, and Persons with Disability (PWDs). Beach showers were also constructed for locals and visitors who engage in water and beach sports activities in the area.
San Jorge Municipal Police Station Building ready for occupancy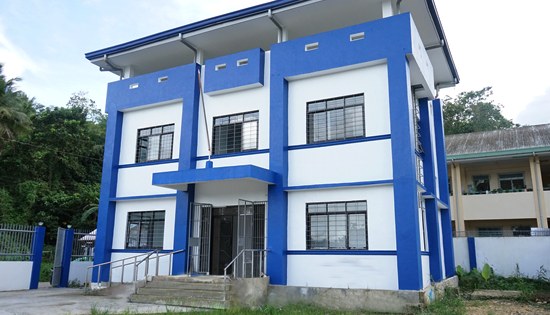 By GISSELLE G. PARUNGAO
November 25, 2022
CALBAYOG CITY – San Jorge Municipal Police Station building is now ready for occupancy by the Philippine National Police (PNP) personnel, says Samar First District Engineering Office.
Phase I of the building was also initiated by the office allowing the construction of the structure. Moreover, phase II of said building is now completed with a contract amount of P4.8 million under the Tatag ng Imprastrakura para sa Kapayapaan at Seguridad (TIKAS) Program.
The project aims to complete the necessary features of the building, thus, its scope of work includes window security grilles, front desk and directory board, tileworks and painting of the whole structure. In addition, perimeter fence and steel gate was constructed as well as solar led lights are installed.
The construction of the PNP building will reinforce their operations in San Jorge, and will boost the morale of the armed forces. This will also provide a more spacious area to better serve the public.
PH national surfing coaches train young surfers in Borongan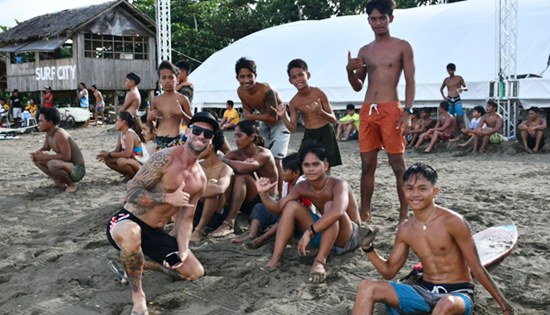 Mike Breuker, Strength and Conditioning Coach of the Philippine National Surfing Team, poses with the 'Groms' during the In and Out of Water Training held in Baybay Boulevard, Borongan City, Eastern Samar. (Photo by Borongan City Information Office)
By VEE TOLENTINO-GUMBAN
November 25, 2022
BORONGAN CITY – Days before the biggest sporting event in Eastern Visayas, Surf in the City 2022, more than sixty (60) local youth participated in the Groms Grassroot Program for young surfers here from November 24-25.
"Malaking tulong ito sa amin para matuto kami ng mga surfing techniques at disiplina sa sarili na rin, tsaka syempre libre na 'to kaya umattend talaga kami," said Kai, a young surfer from Bato, Borongan City. (This is a big help for us to learn about surfing techniques and self-discipline. Of course, we also attended because it's free.)
Though most of the participants will not join in the Surf in the City competition, everyone was all ears as Philippine National Surfing Team Head Coach John Carby encouraged the young surfers to become athletes through discipline, goal planning, and passion.
"Start a small plan and add discipline to your plan. Then use your passion to reach that goal. If you already reach that goal, push it a little bit higher. Let your passion be your flair," stressed Carby during his talk.
Carby also shared that surfing events such as Surf in the City in Borongan is a window of opportunity for aspiring surfers to hone their skills and eventually create a name in the surfing industry.
"You are the future of surfing. You have permission to dream big. You have permission to be who you want to be and to set the limit as high as you can when you want to represent your country in an international competition. You are the next generation of surfing," said Carby.
Mike Breuker, strength and conditioning coach of the Philippine National Surfing Team, then conducted an In and Out of Water Training with the participants. This was followed by a Surfing Techniques and Analysis Training on the second day of the program.
"Kahit hindi kami lahat mag-cocompete, umattend kami para matuto kami kung paano maging mabuting surfer at makatulong sa community na pangalagaan ang karagatan, kasi for awareness din ito," noted one Grom who refused to be named. (Even though we won't be able to compete, we attended to learn how to become good surfers and how to help the community by taking care of the sea. This is also for awareness.)
'Grom' is a shortened form of the slang term 'Grommet' meaning a child. In surfing lingo, grom refers to a child or an adolescent surfer.
The grassroots program of the United Philippine Surfing Association (UPSA) focuses on training youth or people under 18, and educating them on the values of surfing at the grassroots levels, such as a healthy lifestyle, discipline, and techniques or the athletic side of being a surfer for the future of the Philippine National Surfing Team.
Farmer organization from a remote Samar village receives farm equipment from DAR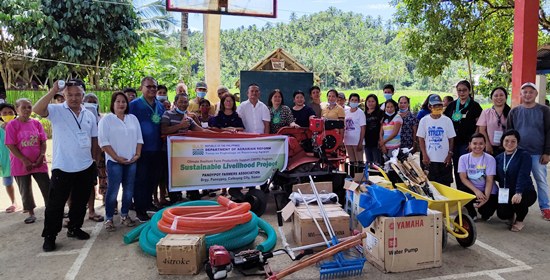 Samar Provincial Agrarian Reform Program Officer II (PARPO II) Alfonso Catorce turns over various farm equipment to the Panoypoy Farmers Association in Calbayog City.
By JESSA LABAGALA
November 23, 2022
CALBAYOG CITY, Samar – An agrarian reform beneficiaries organization (ARBO) from this city's far-flung village rejoiced as they received another set of farm equipment from the Department of Agrarian Reform (DAR).
"We thank you DAR for listening to our concerns, for granting us what you had committed," said Pedro Abajo, president of the Panoypoy Farmers Association (PFA), as he expressed gratitude to DAR officials for fulfilling their promise.
On October 21 this year, DAR Samar provincial chief, Alfonso Catorce, formally turned over to PFA a hand tractor with rotavator, a water pump with suction and discharge hose, a grass cutter and several garden tools.
Catorce disclosed that the said equipment, with a combined amount of P260,250.00 were funded under DAR's Climate Resilient Farm Productivity Support (CRFPS) project.
According to him, the distribution of common service facilities is in line with Agrarian Reform Secretary Conrado Estrella III's nine primary goals which include the provision of modern farm equipment.
PFA identified the above mentioned common service facilities as what they badly need in their daily farm activities, which DAR provided under CRFPS' Sustainable Livelihood Support to Disaster Affected Areas.
Abajo Shared that the newly acquired equipment "will surely benefit our members."
Thelma Alfaro, chief of the Program Beneficiaries Development Division (PBDD) reminded the recipient ARBO of their responsibility to maintain the equipment in good condition and provide a secured storage facility.
Meanwhile City Councilor Minda Pasacas, who is a resident of this village, and Barangay Chairperson Maria Princess Montaner, both expressed their gratitude to DAR for the never-ending support to the agrarian reform beneficiaries (ARBs) here. "From providing them lands to till, to livelihood assistance, to linking them to institutional buyers, and now PFA receives another set of farm equipment from DAR," said Montaner.
Municipal Agrarian Reform Program Officer (MARPO) Jose Arropo further shared that PFA is composed of 113 members, where 69 of them are ARBs. PFA is into hog raising and organic vegetable production, Arropo added.
DPWH-Biliran DEO holds year-end contractors' meeting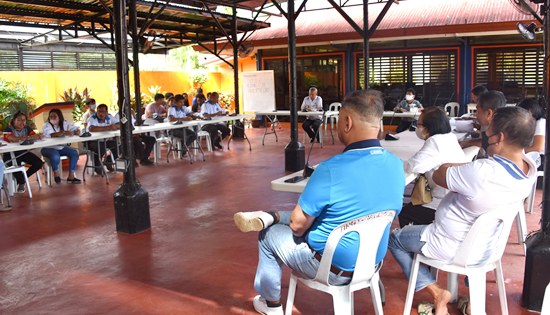 Press Release
November 22, 2022
NAVAL, Biliran – With only a month away before the year ends, the Department of Public Works and Highways (DPWH)- Biliran District Engineering Office (DEO) urged the contractors to fast-track its project implementation in a coordination meeting held on November 16, 2022.
Highlight of the said meeting is the implementation on its Prior Year (PY) projects from 2017-2021 which should have been completed on December 31, 2022.
"We have a problem on our PY projects that is why this meeting is called to address the problem especially that we have limited time before end of the year," said OIC-District Engineer (DE) Alfredo L. Bollido.
OIC-DE Bollido said that the district office failed to meet the 80% target on PY project implementation, with only 44.42% accomplishment as of October 31, 2022.
According to OIC-DE Bollido at least P381.6-M which is composed of 51 projects from year 2017 to 2021 are possible to be reverted to the National Treasury if contractors cannot complete their projects by end of this year.
Engr. Rosario B. Rosete, OIC-Assistant District Engineer (ADE) reported that of the 51 projects, 23 are still on-going on the construction, 25 are already completed but on-going on some minor corrections on the projects while three are now on the process for final billing.
Under Executive Order (E.O) No. 91 series of 2019 or known as Cash-based Budgeting System, contractors have only until a year to complete the construction of their projects with a three-month extended period on the following year to process payment.
According to OIC-DE Bollido, contractors' failure to finish their projects by end of the year will not only loss profit but will also be blacklisted to participate any bidding on DPWH projects nationwide for a year.
"Work double time and avail the good weather condition so that you can complete the projects by December 31, 2022," OIC-DE Bollido said to the contractors.
South Korea-based church holds graduation ceremony for over 100,000 Bible students, the largest in the world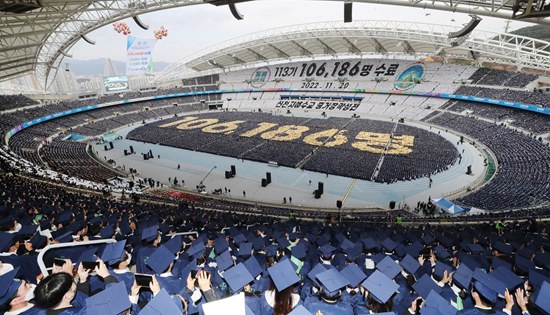 Press Release
November 21, 2022
DAEGU, South Korea – A graduation ceremony for Bible students from Zion Christian Mission Center (ZCMC) Class 113 was held at Daegu Stadium on November 20. With a total of 106,186 graduates from 79 countries including the Philippines, it was the largest in the world for a theological education institution.
ZCMC is the Bible education institution operated by Shincheonji (New Heaven and New Earth) Church of Jesus, a church based in South Korea. Their students completed a 9-month theology course that covers the 66 books of the Bible.
This is their second 100,000-person graduation, after almost 3 years. When the pandemic hit, the institution shifted to online learning and utilized the virtual platform to make their theology lessons more accessible to the public including pastors.
In a press conference held before the ceremony, Chairman Lee Man-hee shared, "When this world has become corrupt and is full of sin, God desires to carry out the work of recreation. That one book [Revelation] is actually the content of recreation... People have to become a new person, completely changed."
Among the graduates, there has been a significant increase in the number of pastors and seminarians for a total of 522 pastors in Korea and overseas.
One of the pastors, Heo Jeong-wook, presented his testimony at the graduation ceremony as a representative of domestic graduates. After 20 years of ministry, he said, "I only learned traditional theology at seminary, but I didn't know much about the Book of Revelation. I put aside the difficult words and only taught the words that are easy to convey to the congregation members. I repent that I was a sinner who added to and subtracted from the word of God." He added, "I have let go of everything I had and have come forward to the truth. I have completed this course by learning the real theology that leads to heaven, not human studies. I thank God for giving me a chance at life."
The organizers assured the participants on security measures being observed in cooperation with the local government, police and health officials, given the high concern about safety issues in Korea recently. "Above all, in order to hold the graduation ceremony safely, we prepared with safety as the top priority above all else", a church official said.
DAR-8 chief orders resurvey of CARP awarded lots in Balangiga to correct errors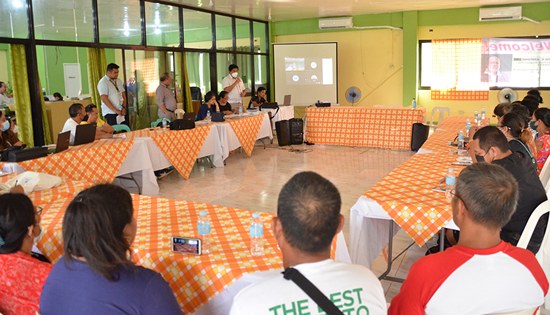 Protesting farmers from Balangiga, Eastern Samar thanked officials from the Department of Agrarian Reform (DAR) for the fruitful blended-mode dialogue which resulted to the resolution of their issues.
By JOSE ALSMITH L. SORIA
November 20, 2022
BORONGAN CITY, Eastern Samar – To correct the errors as the Department of Agrarian Reform (DAR) in this province implemented the Comprehensive Agrarian Reform Program (CARP), Regional Director Reynaldo Anfone ordered to re-survey the awarded lots in Balangiga town.
Anfone, who was at the moment in Manila attending a planning conference, joined virtually the dialogue with protesting farmers at the DAR Provincial Office in this city on Thursday and ordered Provincial Agrarian Reform Program Officer II (PARPO II), Lawyer Bryan Lassiter, to conduct the re-survey of the subdivided lots under Lot No. 2230 in Barangay Cag-olango in Balangiga to determine the correct area and assignment of lots based on the actual tillage of the farmer beneficiaries.
The erroneous survey was found out when the farmers complained that Simeona Bennet, a recipient of an individual Certificate of Land Ownership Award (CLOA) for Lot 2230-A, based on the approved survey plan (ASP), is not an actual tiller; while Elena Balagasay, who is actually cultivating the said lot, received her individual CLOA for Lot 2230-J.
Lassiter confirmed the allegations of the farmers which conformed with the findings of the DAR-Eastern Samar investigation team composed of the Chief of the Legal Division, Atty. Jane Arra Promeda; Municipal Agrarian Reform Program Officers (MARPOs) Ma. Flor Daganta and Glicerio Camenforte Jr.; Geodetic Engineer Renan Cadiente and Cartographer Saldy Corado.
Aside from the issue involving Bennet and Balagasay, other farmers within the 25-hectare lot also complained of erroneous survey, prompting Anfone to order the conduct of re-survey.
Further, Anfone likewise ordered the simultaneous identification of qualified actual tillers who will be awarded with individual CLOAs.
Furthermore, Anfone ordered the filing of petition for the cancellation of the two CLOAs issued to Bennet and Balagasay and issue CLOAs to the rightful occupants in this 25-hectare government-owned land (GOL).
Anthony John Jumauay thanked Anfone and the entire DAR workforce in behalf of the protesting farmers for a fruitful blended-mode dialogue facilitated by the Clientele Relations Service headed by Director Jayzon Collado.
Construction of cross-country roads in progress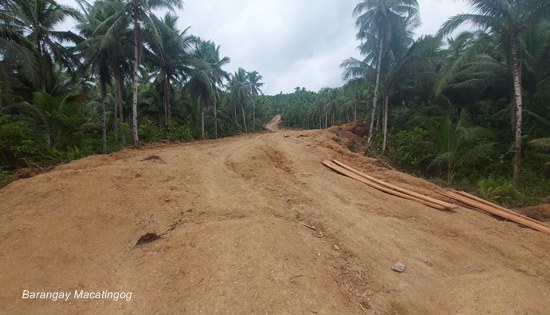 By GISELLE G. PARUNGAO
November 16, 2022
CALBAYOG CITY – An on-going construction of cross-country roads with a total contract amount of P187.5 million from Oquendo to Northern Samar will connect the northern portion of Samar, said OIC-District Engineer Raulito Yangzon.
This is a multi-year road projects which are targeted to be completed by 2024.
Phase I is an opening and gravel road which will start in Barangay Macatingog and will connect to the Municipality of Bobon, Northern Samar (Allen-Catarman Road).
Moreover, Phase II which is also a gravel road that will start from Barangay Sigo, along Oquendo-Pilar road and will traverse the isolated barangays of San Rufino and Cag-anahaw until it taps at Barangay Tarabucan along Calbayog-Catarman Road.
Both projects will span 4.293 kilometers and a width of 20 meters and each is allocated with P93.75 million.
Completing said road constructions will further develop those far-flung barangays and eventually promote peace and order. Furthermore, it will increase road network capacity and interconnectivity in the Island of Samar which will bring faster and more effective mobility from any parts of Samar.
New DAR-8 chief pays courtesy visit to Samar governor, congressman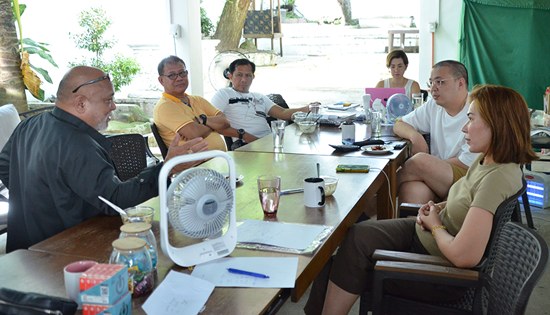 Newly installed Department of Agrarian Reform (DAR) Eastern Visayas regional director Reynaldo Anfone (left), pays a courtesy visit to Samar governor Sharee Ann Tan and second district representative Reynolds Michael Tan.
By JOSE ALSMITH L. SORIA
November 11, 2022
CATBALOGAN CITY – Securing a clearance from the Department of Agrarian Reform (DAR) and conversion of agricultural lots to give way to the construction of an airport in this city were among the issues discussed when DAR Eastern Visayas Regional Director Engr. Reynaldo Anfone paid a courtesy visit to Governor Sharee Ann Tan and her brother, Second District Representative Reynolds Michael Tan on Friday, November 4 this year.
During his meeting with the two Samar officials, Governor Tan consulted Anfone on how to go through these requirements so the provincial government and the Department of Transportation (DOTr) can proceed with the project.
Considering that the construction of the airport is a priority project of the Marcos administration, Anfone ordered Provincial Agrarian Reform Program Officer II (PARPO II) Alfonso Catorce, who was also present, to extend the necessary assistance to the local government unit (LGU).
Anfone, installed as the new regional chief of DAR on October 18 this year, included courtesy visits to local government officials to establish harmonious working relationship with the different LGUs as he went around the region the past two weeks.
Other issues discussed during the two-hour meeting were about activities related to End Local Communist Armed Conflict (ELCAC) particularly at the Calbiga-Pinabacdao Settlement, and funding for the construction of the DAR Provincial Office.
Governor Tan assured Anfone and Catorce the inclusion in the 2023 budget of the provincial government the funding requirement for the construction of the said DAR building.
Catorce disclosed that the lot where the DAR provincial office will rise was also donated by the provincial government.
According to him, at the moment they are only renting office space along corner San Francisco Street and Rizal Avenue here in this city.
Media groups submit complaints to UN experts before PH human rights review
Press Release
November 11, 2022
GENEVA, Switzerland – Media and academic groups submitted complaints to the office of United Nations Special Rapporteur on the Situation of Human Rights Defenders Mary Lawlor several days before the United Nations Human Rights Council conducts its universal periodic review on the human rights situation in the Philippines.
Pinoy Media Center (PMC), publisher of Pinoy Weekly, reported that then National Security Adviser Hermogenes Esperon has ordered the blocking of their website and 27 other organizations, which is still inaccessible to the public.
In its letter to Lawlor, the independent media outfit also stated that its website have also been subject to continuous cyber-attacks since 2018. The website www.pinoyweekly.org had also been hacked between November 17 and 18, 2021, the PMC said.
"Enforcing restrictions to access our website does not only violate our rights to freedom of the press, speech and free expression, which are guaranteed under the Philippine Constitution," PMC, though its executive director Angela Colmenares, said.
PMC added that copies of Pinoy Weekly's print editions have been confiscated and burned by members of the Philippine Army and the Bulacan Philippine National Police three times between September 5, 2019 and July 25, 2020 in Pandi, San Jose del Monte City and Norzagaray.
Bulatlat.com, the country's longest running alternative media outfit, also complained of its website's blocking by the National Telecommunications Commission last June 8 as well as incessant cyber-attacks using the Department of Science and Technology infrastructure assigned to the Philippine Army.
"Perpetrated by the state, the attacks are tantamount to content-based prior restraint and censorship," Bulatlat managing editor Ronalyn Olea said.
The submissions were made by the Philippine UPR (Universal Periodic Review) Watch, a network of church and human rights organizations, that is currently in this city to participate in the United Nations Human Rights Council review on the human rights situation in the Philippines on November 14.
Justice secretary Jesus Crispin Remulla is again expected to represent a high-level mission to represent the Philippine government.
Philippine UPR Watch also submitted to the UN experts a report on academic freedom developments in the Philippines by the Scholars at Risk Network.
The report said attacks and pressures on academic freedom escalated during the transition between the Rodrigo Duterte and Ferdinand Marcos Jr. governments.
"These have included the threat of red-tagging, anti-terrorism legislated, and censorship that undermine academic freedom and freedom of expression," according to the report.
As both Pinoy Media Center and Bulatlat, the academics said scholars and academic institutions have been subjected to red-tagging, it adds.
The report also cited the killing of two volunteer teachers of indigenous peoples' schools in February 2022 as well as former anti-insurgency task force spokesperson Lorraine Badoy's red-tagging of former Ateneo School of Law Dean Antonio La Vina.
Threats to academic freedom in the Philippines include the censorship of books in libraries of state universities by the Commission on Higher Education and the banning of the publication of books by the Komisyon ng Wikang Filipino, an attached agency of the Office of the President.
Philippine UPR Watch said that aside from Monday's review of the Philippines, the submissions are in anticipation of the official visit of UN Special Rapporteur on freedom of expression and opinion Irene Khan to the Philippines next year.