Declining trend in the number of registered births seen in EV
By PSA-8
November 10, 2022
TACLOBAN CITY – According to the latest Vital Statistics Report (January – December 2021) which was released on 13 August 2022, the number of registered live births by place of occurrence in Eastern Visayas is 56,105. This figure represents the total number of live births from the provinces of Biliran, Eastern Samar, Leyte, Northern Samar, Samar, Southern Leyte, and the highly urbanized City of Tacloban.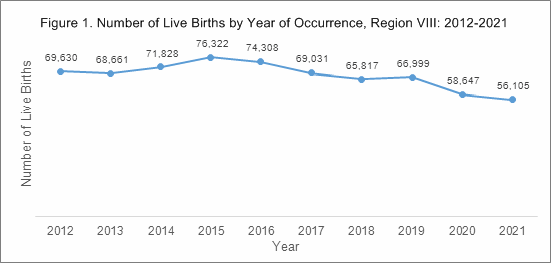 Figure 1 shows that there is a declining trend in the number of registered live births in Eastern Visayas from 2015 to 2021. The number of registered live births in 2021 is lower by 2,542 (4.3%) from the registered live births of 58,647 in 2020. Since 2015, the peak of the 10-year period, the number of live births is declining by an average rate of 4.9 percent annually, except in 2019 when a brief period of an upward spike occurred. The number of registered live births in 2021 is 29.0 percent lower than the 2015 record with 76,322 registered live births. (see Table 1)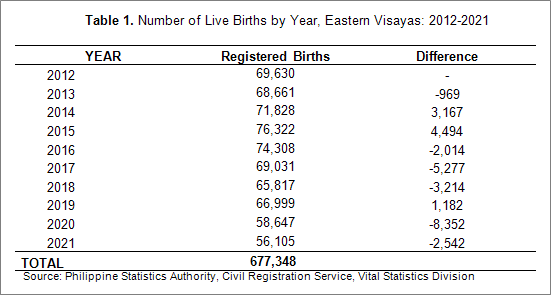 Among the six provinces and one highly urbanized city, the province of Leyte had the greatest number of registered live births by place of occurrence from January to December 2021, with 22,929 or 40.9% of the total registered live births in Region VIII. Leyte was followed by the province of Samar, with 9,795 (17.5%) registered live births. Northern Samar comes next, with 7,211 registered live births (12.9%). Biliran has the least number of registered live births with only 2,344 (4.2%), nearly 10 times fewer than Leyte's figure. The City of Tacloban, a highly urbanized city has registered live births totaling 3,379 (6.0%). (Figure 2 and Table 2)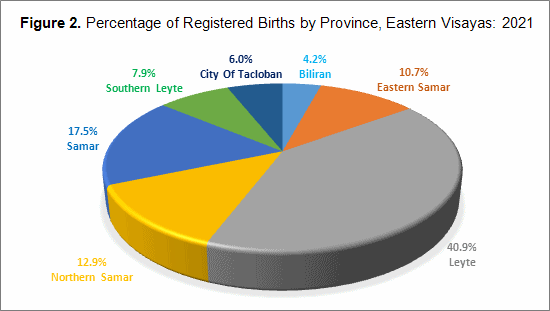 September recorded highest number of registered births
Figure 3 shows that the month of September had the highest number of live births in Eastern Visayas, totaling to 5,527 live births in 2021. September was followed by October, with 5,484 registered live births. The month of February observed the least number of 3,520 registered live births. (see Table 3)
More males born than females.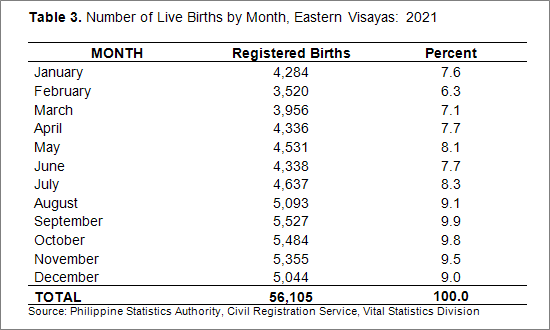 More males born than females
Eastern Visayas reported 2,165 (4.0%) more male registered live births than female live births, after recording 29,135 male births and 26,970 female births in 2021. This resulted to a sex ratio of 108 males per 100 female births. (see Figure 4 and Table 2)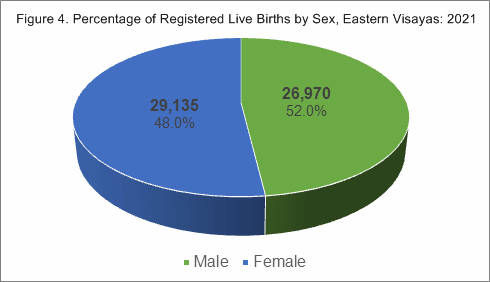 FAME+ Market Days 2022 releases new home, fashion, & lifestyle collection for int'l market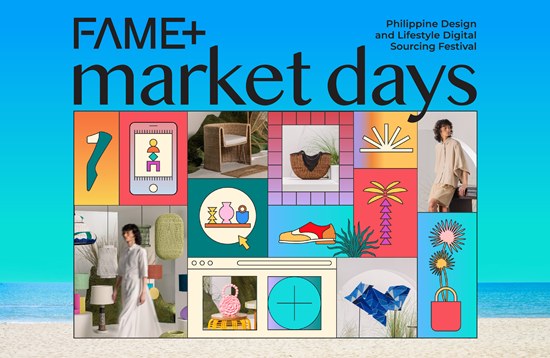 By DTI-TPG-CITEM
November 8, 2022
PASAY CITY – Emerging from the creative minds that continue to push the boundaries of Filipino artisanship, a new collection of home, fashion, and lifestyle pieces was unveiled at the digital sourcing festival FAME+ Market Days last October 21-22, 2022 via the online platform Hopin.
A total of 50 brands and manufacturers were able to develop more than 500 original designs for this year.
The new collection is housed under Design Commune, the culmination of the product development program by the Center for International Trade Expositions and Missions (CITEM). Design Commune is a main show feature at Manila FAME and a key section of its digital sourcing and storytelling platform www.fameplus.com.
In collaboration with design specialists Rita Nazareno and Gabby Lichauco, the collection this year revolved around the concept of 'Stitch'. Sewing traditions and tools of various cultures was the inspiration in crafting new indoor and outdoor pieces to showcase the versatility of Philippine artistry through a contrast of design disciplines.
The design specialists, in a talk on the first day of the event, expounded the creative process of Design Commune. "Guided by the sensibility of our personal universes, we are crafting grander stories together. This is how we are weaving worlds through the art of Stitch," Lichauco shared.
Cultivating a worldwide community through the digital sourcing festival
A total of 484 participants from different parts of the world attended the second edition of FAME+ Market Days 2022.
Assistant Secretary Glenn G. Peñaranda of the Foreign Trade Service Corps (FTSC) and OIC of Department of Trade and Industry-Trade Promotions Group (DTI-TPG) spoke at the opening ceremony. He highlighted that this edition is "geared to intensify business-to-business (B2B) efforts and continuously cater to the needs of buyers in different parts of the world." He also encouraged the attendees to support local businesses in their journey to the global stage.
CITEM's OIC Deputy Executive Director Ma. Lourdes D. Mediran, in her welcome message, said that the digital event is a key component in strengthening the FAME brand in the digital sphere. "The ultimate goal in staging this year's FAME+ Market Days is to spur an in-depth engagement with buyers as exhibitors present their design products," she added.
CITEM, the event's organizer, facilitated more than 100 business-to-business meetings among trade buyers and exhibitors that spanned for five days, from October 17 to 21. The trade buyers came from various countries such as the United States, Australia, China, Singapore, and India among others.
The two-day event augments the initiatives of FAME, the country's longest running export promotions program for MSMEs and artisan communities in the home, fashion, and lifestyle sectors. The program currently promotes 293 exhibitors and showcases 5,059 available products on its online platform www.fameplus.com. A total of 2,300 unique trade buyers have registered since it went live in 2020. Last year, the digital platform booked and negotiated USD635,119 export sales and generated P21.49M domestic sales.
Manila FAME, its signature event component, has been running for 38 years. However, due to the pandemic, it has shifted to digital means to reach international buyers. It is set to return onsite next year, October 19-21, at the World Trade Center Metro Manila in Pasay City, Philippines.
Sourcing made convenient
To innovate the digital sourcing experience this year, FAME+ Market Days introduced pitching rooms where exhibitors themselves shared their brand stories, inspirations, and latest product offerings through recorded videos.
These videos were made available on-demand during the event, giving the attendees adequate time to find brands that match their sourcing needs. Aside from the pitching rooms, the exhibitors were also able to showcase their products through digital storefronts in the expo section of the event. Trade buyers were then encouraged to set B2B meetings with the brands and manufacturers of their choice.
A shared vision of quality craftsmanship, design, and innovation
Thought leaders on design and market trends were also invited to share their knowledge with the participants.
Global trend ambassador Patti Carpenter talked about macro trends that will impact markets for 2023. She shared that "conscious consumerism" is on the rise, and that both longevity and sustainability are given importance by buyers of home, fashion, and lifestyle products.
Carpenter added that more and more individuals are opting for carefully cultivated spaces with culture-rich interiors filled with multi-functional, comfortable, and warm design concepts. "A myriad of material mixes allow technology to coexist with fashionable fibers and stylish silhouettes mixed with organic elemental essentials. These are the components for a hearty and hospitable habitat that finds us rooted in our retreats."
Meanwhile, Jacqueline Wong, a global trend consultant of WGSN, discussed consumer profiles and behaviors and their importance in the product creation. She said that the pieces people buy impact the spaces where they live, work, and play in.
Advising manufacturers and designers, Wong said, "Create an emotional connection between your brand or your product and this cohort of consumers. Support them in cherishing and curating their keepsakes and memories with mindful design throughout the home."
Trade chief reiterates e-commerce as important tool for economic development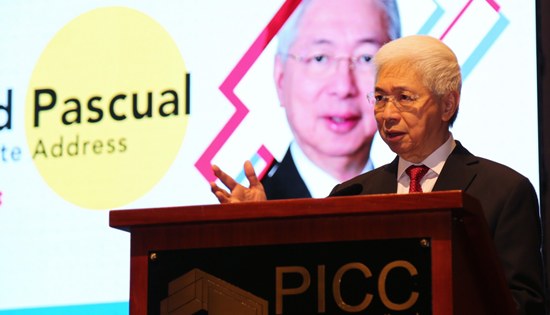 By DTI-OSEC-Public Relations Unit
November 4, 2022
MANILA – The Department of Trade and Industry, in partnership with the Philippine Bar Association, held the 1st eCommerce Congress on 4 November 22 at the Philippine International Convention Center. The event brought together government officials, members of the business sector, civil society organizations, and other stakeholders to pursue the overarching goal of strengthening eCommerce industry in the country.
The eCommerce Congress tackled the Internet Transactions Bill, a top legislative priority of President Ferdinand "Bongbong" Marcos, Jr., that aims to harness the overwhelming potential of the eCommerce market.
Based on Google Temasek Bain's e-Conomy SEA 2022 report, the Philippines' internet economy continues its upward trend at 20% year-over-year to reach USD20 billion this year, with e-commerce propelling it to USD35 billion by 2025.
According to DTI, the number of businesses on retail sales via the internet has increased, while there has also been an increase in the number of consumer complaints against online sellers. The time is thus ripe for a new, relevant, and responsive eCommerce Law. In this light, DTI deems the inputs of players in the internet economy as crucial to the efficient crafting of legislative policies that respond to the issues faced by the industry.
"We are grateful to the DTI for our long-term partnership, founded on common goals. We remain committed to supporting the eCommerce Road Map and regulatory framework being built, and believe that together, we can help drive the growth of the digital economy in the Philippines", said Lazada Philippines CEO Carlos Barrera.
Trade Secretary Alfredo Pascual thanked the participants for their contribution to making the eCommerce Congress possible to discuss the crucial policy reforms to boost the e-commerce in the country. The event hoped to promote a robust eCommerce environment in the Philippines, where online businesses, especially small ones, can develop and compete globally.
"We have all the ingredients – the economic assets – to make this happen: a young and digital native population, a growing middle class, available and affordable technologies, and significant surpluses in the financial sector. E-commerce is one of the most potent tools and fastest routes in unlocking these economic assets toward sustained accelerated economic development", Secretary Pascual said.
Last year, DTI launched the eCommerce Philippines 2022 Roadmap to employ strategies by the government that will speed up and broaden internet transactions by improving the digital infrastructure. The current administration is bent on working on and enhancing this agenda to increase the contribution of eCommerce to the Philippine economy with the development of the eCommerce Philippines 2023-2025 Roadmap.
In closing, Secretary Pascual mentioned that there are new laws and regulations related to e-commerce that are currently being drafted, such as on privacy, digital taxation, the gig economy, and pivoting to a cash-light society.
"I hope that there will be productive dialogues in these areas because we urgently need to develop and improve our policies to create an enabling regulatory environment for e-commerce to grow. With the brightest legal minds of the country gathered here today, let me make a humble request and professional challenge for all of us: Let these policy dialogues be united by one purpose – better lives for all Filipino families, with a target of a 9% poverty rate within six years", he added.
Samar vegetable growers thank DAR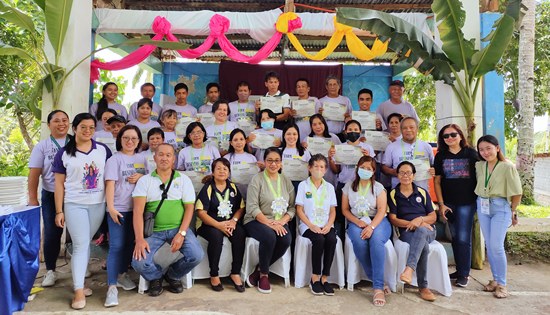 Thirty-three agrarian reform beneficiaries from Calbiga, Samar completed the 25 sessions Farm Business School (FBS) initiated by the Department of Agrarian Reform (DAR).
By JESSA LABAGALA
November 3, 2022
CALBIGA, Samar – A farmer from Barangay Macaalan in this town thanked the Department of Agrarian Reform (DAR) for the opportunity to learn the different aspects of marketing their produce such as planning, recording and even in planting.
Ricky Antony Cardeno, a leaseholder, was among the 33 agrarian reform beneficiary (ARB) members of the Calbiga Vegetable Growers Association (CVGA) who graduated recently from DAR's Farm Business School (FBS) after completing the 25 sessions in seven months.
Cardeno was chosen to receive the Mountain Mover Award for his active participation, dedication to his craft and the ability to provide solution when problem arises.
During their graduation, Thelma Alfaro, Chief of the Program Beneficiaries Development (PBD) at the DAR Samar Provincial Office, encouraged the participants of the FBS to apply what they have learned in order to increase their income.
FBS, according to the point person, Kimberly Morillo, is a sub-program under the Enterprise Development and Economic Support (EDES) of the Agrarian Reform Beneficiaries Development Sustainability Program (ARBDSP). It is guided by the principle of learning by doing together, which aims to improve market access and increase incomes of the farmers, she added.
Meanwhile, Fe Ocasla, barangay chairperson of Barangay Macaalan, emphasized to the FBS graduates that "By sharing what you have learned here will also help improve the lives of other farmers in our village."
At the moment, Cardeno disclosed, crops planted in their garden include eggplant, bell pepper, hot pepper and bitter gourd (amplaya), as a result from the market survey they have conducted, which was among the activities they have learned in FBS.
Apayao governor's recent order encourages commission of extrajudicial killing, other rights violations
By KARAPATAN
November 1, 2022
QUEZON CITY – Human rights group Karapatan slammed Apayao Provincial Governor Elias Bulut, Jr. for issuing "an official order that may potentially be used to drive and encourage the commission of extrajudicial killings."
In an executive order dated September 30, 2022 Bulut offered reward money of P100,000 for anyone who "captures, arrests or kills in a legitimate military operation a member of the Communist Terrorist Group (CTG)." The governor upped the bounty to P1,000,000 if the person arrested, captured or killed is a "high-ranking CTG personality."
This is a kill order, said Karapatan secretary-general Cristina Palabay. "It gives the go-signal for anyone to arbitrarily attack and kill political activists who have been repeatedly threatened and red-tagged, and be paid handsomely for it."
"Is it just a coincidence that last October 25, Lorraine Badoy and the other talking heads of NTF-ELCAC recited the names of members and community leaders of the Cordillera Peoples Alliance (CPA) as 'mga pangalan ng CPP-NPA' on their program aired over the SMNI network?" asked Palabay.
A Cordilleran governor issues a hit order with bounty, then Badoy and her ilk come up with a hit list comprised of Cordilleran activists, said Palabay. "Following the pattern we have observed in other cases," she said, "it looks like CPA leaders and activists are being set up not only for intensified threats, harassment and intimidation, but for arrest, capture or murder."
"With incessant red-tagging and this latest bounty offer, the State has cranked up its deadly campaign to suppress human rights defenders and other activists working for people's rights and welfare," said Palabay.
"All freedom-loving Filipinos must forge ranks to counter these virulent and stepped-up attacks on our civil and political rights."
Concreting from Barangays Balud to Jasminez completed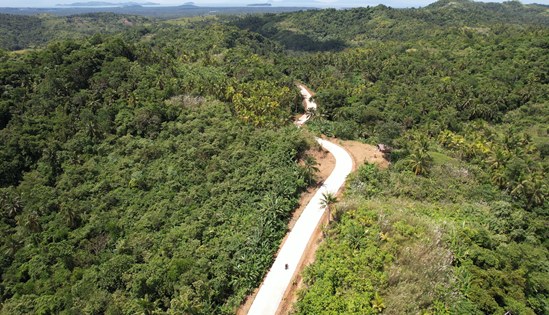 By GISSELLE G. PARUNGAO
October 28, 2022
CALBAYOG CITY – Samar First District Engineering Office finished a newly concreted road from Barangay Balud to Barangay Jasminez in Gandara, Samar.
The said project has a total contract amount of P48.7 million drawn from the Local Program. The road will connect the two barangays surpassing eight (8) barangays if you will go through the normal route along Daang Maharlika.
This road covers a total length of 2,803.6 meters and a width of 6.1 meters. Part of its scope of work is a stone masonry structure which provides for slope protection along the road. The 60-linear meter stone masonry are incorporated on the areas which are susceptible to soil erosion. In this way, the slope will be stabilized, maintain the quality and functional condition of the road construction by protecting the surrounding structure from damage and people from injury.
Through the construction of this road, socio-economic stability will be achieved. This will provide easiness to employment, social, health and education services, especially to residents in innermost barangays within the district.
DTI warns against establishments implementing a "No Return, No Exchange" policy; explains to consumers the rule on return and exchange
By DTI-Consumer Protection and Advocacy Bureau
October 28, 2022
MAKATI CITY – The DTI reiterates that the "No Return, No Exchange" policy is prohibited because this is considered a deceptive sales act. Under Republic Act No. 7394 (RA 7394) or the "Consumer Act of the Philippines," as well as its Implementing Rules and Regulations, the words "No Return, No Exchange" or words to such effect shall not be written into the contract of sale, receipt in a sales transaction, in any document evidencing such sale or anywhere in a store or business establishment.
The Consumer Act of the Philippines specifies, "Sellers are obliged to honor their warranties and grant corresponding remedies to consumers". As such, consumers should be allowed to return or exchange the goods, or avail themselves of other remedies, in case of hidden faults or defects, or any charge the buyer was not aware of the time of purchase. In enforcing these remedies, however, consumers should bear in mind to at least prove the sale transaction and show an evidence such as the official receipt. In cases where the official receipt is not available, the buyer may resort to any other alternative proof.
In the case of medicines, the seller is obliged to replace medicines that are adulterated, misbranded, counterfeit or expired upon purchase. However, if the product bought has no imperfection or defect, or if the medicine purchased is not adulterated, misbranded, counterfeit or expired, the seller may either refuse to replace or refund or, in the exercise of goodwill towards their customers, may grant the replacement or request for refund.
DTI Consumer Protection Group (CPG) Assistant Secretary, Atty. Ann Claire C. Cabochan emphasizes, "Consumers are entitled to the repair, replacement and refund of products with defects. However, they are not entitled to these because of a change of mind or a mistake on their part."
"This is why the Department constantly advises the consumers to examine the product prior to purchase and ask about the seller's return and exchange policies", Assistant Secretary Cabochan explains.
For consumer-related concerns and queries, send an email to ConsumerCare@dti.gov.ph or call the One-DTI (1-384) Hotline.
Caltex and AMCHAM foundation donate roofing materials to victims of Super Typhoon Odette in Southern Leyte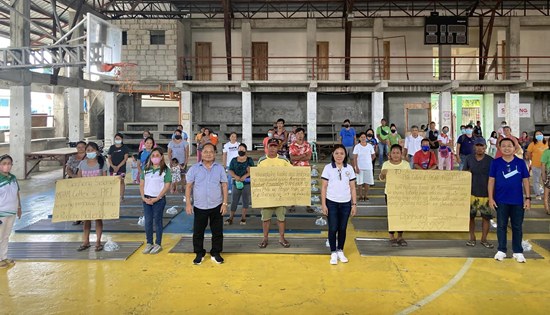 Residents and government officials of Padre Burgos, Macrohon, and Maasin Southern Leyte express their gratitude for the roofing materials donated to their communities.
Press Release
October 28, 2022
MAASIN CITY – Caltex, marketed by Chevron Philippines Inc. (CPI) in partnership with American Chamber Foundation Philippines (AmCham Foundation), provided roofing materials to 115 beneficiaries in Southern Leyte who were impacted by Super Typhoon Odette
Months after Super Typhoon Odette made landfall in the Philippines in December 2021, homes in Southern Leyte province are still in need of repair. With the help of PASAR Foundation who took charge of the distribution of the construction materials, each family from the city of Padre Burgos, Macrohon, and Maasin, received 10 corrugated zinc roof sheets and 2kg of roofing nails.
Distribution began on August 31, 2022 by handing out the construction materials to 46 beneficiary families in Maasin City, 36 beneficiary families in Padre Burgos and 33 beneficiary families in Macrohon. Residents of each city attended the turnover ceremony and expressed their gratitude for the donation to their communities.
"Typhoon recovery can be challenging, which is why we are always ready to lend a helping hand in any way we can. We are appreciative that we have partners like AMCHAM Foundation that assist us in establishing connections with the communities in need so that we can make these donations," said CPI Country Chairman Billy Liu.
Through the Caltex Biyaheng Pagtulong fuel promo launched earlier this year, Caltex was able to raise funds to help communities in five other provinces hit hard by Super Typhoon Odette.
EV employment rate up at 95.5% in July 2022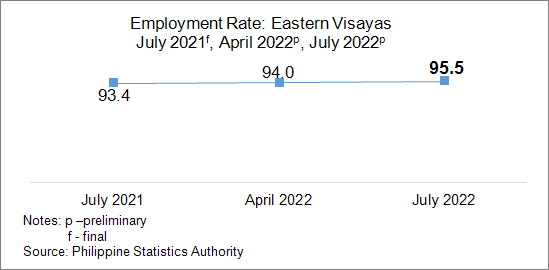 By PSA-8
October 27, 2022
TACLOBAN CITY – The Employment Rate (ER) in Eastern Visayas in July 2022 was estimated at 95.5 percent. This translates to 2.01 million employed persons out of the 2.11 million persons in the labor force. This was higher by about 182 thousand employed persons than the 1.83 million employed persons reported in April 2022. This was also higher by 2.1 percentage points compared with the 93.4 percent ER in July 2021.
The region registered a Labor Force Participation Rate (LFPR) of 65.0 percent in July 2022. This placed the region's labor force at 2.11 million persons who were either employed or unemployed out of the estimated 3.24 million population 15 years old and over in July 2022. The 65.0 percent LFPR was higher by 5.0 percentage points than the LFPR in April 2022 posted at 60.0 percent. This means that the labor force in July 2022 was stronger by around 161 thousand persons than the 1.95 million persons in the labor force in April 2022. Moreover, the LFPR was higher by 4.5 percentage points compared with the 60.5 LFPR in the same period in 2021.
Eastern Visayas' unemployment rate has improved at 4.5 percent in July 2022, lower by 1.5 percentage points compared with the 6.0 percent unemployment rate recorded in April 2022. This was equivalent to around 96 thousand persons in the labor force who were unemployed in July 2022, lower by 20 thousand unemployed persons compared with the 116 thousand unemployed persons in April 2022. The unemployment rate in July 2022 was also 2.1 percentage points lower than the unemployment rate in July 2021 at 6.6 percent.
The underemployment rate in Eastern Visayas was posted at 16.0 percent or 322 thousand persons out of the 2.01 million employed persons in July 2022. The latest underemployment rate has improved compared with the underemployment rate in July 2021 posted at 27.3 percent. However, it is slightly higher by 1.2 percentage points than the April 2022 underemployment rate of 14.8 percent.
NMP graces the opening of EVMC medical facility for OFW and seafarers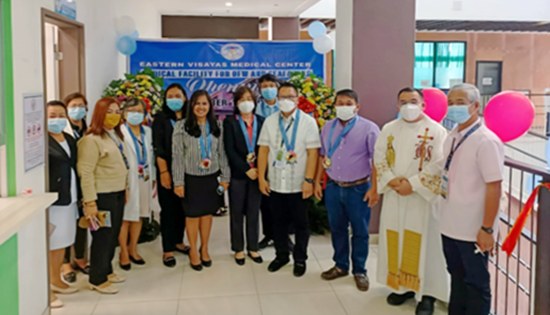 Press Release
October 25, 2022
TACLOBAN CITY – The National Maritime Polytechnic (NMP) graced the Grand Opening and Ribbon Cutting of the Eastern Visayas Medical Center (EVMC) Medical Facility for Overseas Filipino Workers and Seafarers last 19 October 2022 at the 3rd Floor OPD Building EVMC, Bagacay, Tacloban City.
The said project is a great help especially for the OFWs and NMP stakeholders particularly the Filipino seafarers in Region 8 as they no longer need to travel to Cebu, Manila or to other regions just to undergo the Pre-Employment Medical Examination (PEME) which is one of the requirements to work abroad for both land-based and sea-based OFWs.
The services offered by the said medical facility are the mandatory Pre-Employment Medical Examinations such as: Physical Examination, Laboratory, Chest X-ray, ECG, Drug test, Visual Acuity and Ishihara, Dental Examination, Audiometry and Psychological Examination.
In her speech, NMP OIC-ED Mayla N. Macadawan, commended the EVMC for the noble undertaking. She expressed that NMP, as the only government maritime training and research institution dedicated for the Filipino seafarers is grateful for the said initiative. She also emphasized the advantages of the said facility that aside from its strategic location, it is owned by the government, thus, it offers services with affordable rates and performed by competent medical professionals.
"Thank you for stepping forward in behalf of the OFWs and seafarers of Region 8. This is a substantial support specifically to our Filipino-seafarers who are considered as "modern heroes" being at the forefront of delivering goods and services in all parts of the world even in the midst of global challenges like the COVID-19 pandemic," OIC ED Macadawan expressed.
The activity was also attended by the EVMC Medical Chief Dr. Salvador Evardone, Dr. Lilibeth Andrade of DOH-8, Atty. Mark Stephen Reyes of the Multi Sectoral Governance Council and some representatives from DOLE, MARINA and POEA.
Slope protection structure built in Gandara, Samar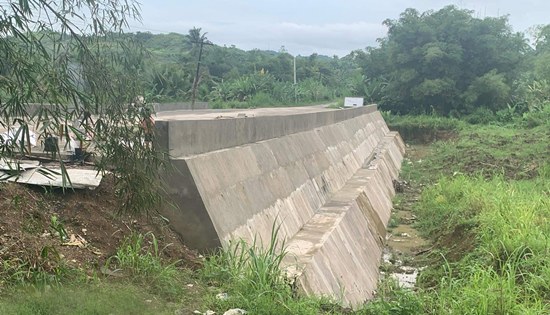 By FLORSELISSA A. JUSAYAN
October 23, 2022
CALBAYOG CITY – Samar First District Engineering Office has constructed a slope protection structure along Barangay Piñaplata to Barangay Tawiran Road in the Municipality of Gandara with a total revised contract amount of P19.50 million drawn from the General Appropriations Act (GAA) of 2022.
The slope protection structure has a length of 82 linear meters with a height of six (6) meters on its left area while on its right side, has a 70-linear-meter length with a 3-meter height. Part of the structure's scope of work is a Portland Cement Concrete Pavement (PCCP) on both side of the road with a length 82 linear meters (left) and 70 linear meters (right). This road has a width of 3.35 meters on each side.
The said project is located along Gandara-Matuguinao Road which is being requested to be converted into a national road, thus, widening is already incorporated. Similarly, the surrounding area is a grassy field and part of it has a stream of water which contributes to the scouring of soil, that in turn damages the paved road.