Calbayog City Coastal Road: An update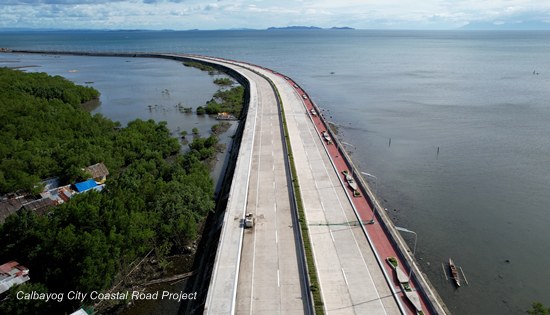 By GISSELLE G.PARUNGAO
December 23, 2022
CALBAYOG CITY – Continuous construction of the Calbayog City coastal road is being done since it started in 2018. This multi-year project will connect Barangay Rawis to Barangay San Policarpo through Barangay Aguit-itan allowing vehicles to by-pass Calbayog City Proper.
Calbayog City is now one of the fast-expanding city and with it comes the heavy traffic which is prevalent in the streets of the city proper. This coastal road will serve as a detour to manage traffic congestion. Also, tourist attractions are being developed since the city is blessed with several natural attractions such as clean and wide beaches, unexplored caves, waterfalls and hot spring which will eventually add to the growing number of vehicles plying in and out of the city.
Since 2018 to 2020, much has been accomplished on the coastal road in terms of embankment and gravel road as well as concreting including its slope protection. A total of 3.074 lane kilometers is embanked and 9,335.86 square meters of slope protection is built in Barangay Rawis. Also, 3.073 lane kilometers is embanked and 9,333.31 square meters of slope protection is constructed in Barangay Aguit-itan. Moreover, 3.286 lane kilometers and 9,952.70 square meters of its slope protection is also built in Barangay San Policarpo. Likewise, part of the embanked portion are now concreted in Barangay Rawis and Aguit-itan for a total length of 3.08 lane kilometers.
However, the construction of two bridges that is part of the 2019 (package A) and 2020 (package 2A) projects just recently started which will link to a special bridge that will eventually connect to Barangay Aguit-itan.
In 2021, a total of 2.2366 lane kilometers of embankment are constructed along Barangay San Policarpo consisting of three packages (package 5A, package 4A and package 3A). Also, the scope includes 2,236.6-meter of slope protection.
By 2022, two of the three (3) packages are already completed. One of those is the concreting of road from Brgy. San Policarpo to Brgy. Matobato (Package A). The four-lane Portland Cement Concrete Pavement (PCCP) spans 1.423 lane kilometers with a width of 24.9 meters including the bike and pedestrian lanes. Apart from it, roadway lightings of 168 single arm and 28 double arm LED lights are installed including median island.
An extension of package A (Package 6A) is also completed which consists of Portland Cement Concrete Pavement (PCCP) with a length of 549.30 linear kilometers (including the pedestrian lane) and an additional embankment of 262.3 linear kilometers as well as 262.3-meter slope protection is also built. A median island is also part of the scope of work including 99 LED lights that are installed in the middle part of the road as well as on the side. Construction of the bridge which is the third package for the year is suspended.
5 flood control structures in Dagami nears completion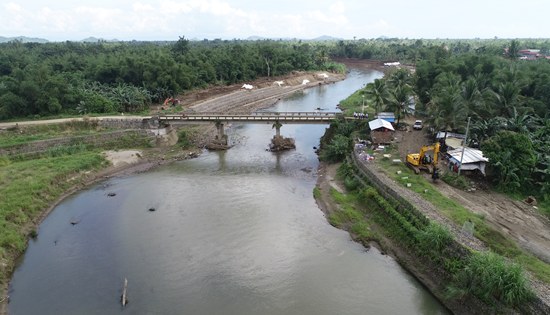 By DPWH 2nd LED
December 23, 2022
DAGAMI, Leyte – Ensuring protection against possible flooding, the Leyte Second District Engineering Office (L2DEO) of the Department of Public Works and Highways (DPWH) is now on its final phase for the construction of the Binahaan Flood Control Structure and Drainage System along the portion of the Binahaan River Basin in Dagami, Leyte.
For the current year, L2DEO has implemented five (5) flood control structure projects stretching the Binahaan River Basin, located in the barangays of Balilit (upstream and downstream), Cansamada, Digahungan, and Abre.
According to District Engineer Leo Edward Oppura, the flood control structure being built in Cansamada and upstream and downstream of Balilit will not only reduce flooding but will also protect the Balilit bridge from ravaging water surges as the river passes through the bridge.
Meanwhile, 440-linear meters of revetment wall are constructed for the Digahungan flood control and 328 linear meters of gabions are also installed located in Barangay Abre as protection against strong currents and to prevent riverbank erosion.
Flood control structures, such as gabion barriers, are necessary for communities near the Binahaan River to reduce erosion and scouring on river banks during floods and high-velocity river streams, as well as to avoid further damage to water-logged areas.
River banks will not be compromised during sudden occurrence of rains and tropical storms, thereby protecting the lives and property of those living nearby.
This project will ensure safety and protect residents' livelihoods and properties once it is fully completed in the first quarter of next year.
With funding sourced from the General Appropriations Act (GAA) of 2022, these five (5) flood control structures along the Binahaan River in Dagami town cost a total of P235.05 Million.
KADIWA brings noche buena goods and local products in Tacloban
By DTI-Regional Operations Group
December 22, 2022
TACLOBAN CITY – The Department of Trade and Industry (DTI) Leyte Provincial Office joined the Department of Agriculture (DA) Region 8 to conduct Kadiwa ng Pasko through its Diskwento Caravan: Noche Buena Edition.
The Diskwento Caravan has been a part of Kadiwa from November 16-18, 2022 in Rizal Plaza, Tacloban City. Basic necessities, prime commodities, Noche Buena products, and Christmas decorations from major distributors in the region, as well as locally manufactured delicacies and handcrafted items of assisted MSMEs were on display in this huge marketing event.
After the three-day selling event, Kadiwa ng Pasko continued to showcase basic goods, farm fresh fruits and vegetables, fish, local delicacies and items for five Sundays – November 20, November 27, December 4, December 11, and December 18, and will run before Christmas Day.
Through the Diskwento Caravan, DTI invited and helped nine retail distributors and 32 DTI-assisted MSMEs to generate total cash and booked sales of P1.2M over the course of 8 days.
This year's successful edition of Kadiwa ng Pasko is a testament of the strong partnership between DTI, DA, DILG, DOLE, DSWD, and Tingog Sinirangan.
DTI will continue to establish strong local presence and partnership among government enablers.
Flood control structure built to protect residents of Brgy. Nabang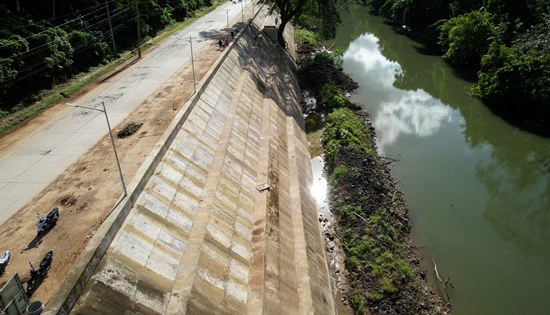 By FLORSELISSA A. JUSAYAN
December 19, 2022
CALBAYOG CITY – A flood control structure was built by Samar First District Engineering Office along Jibatang River in Barangay Nabang, Calbayog City.
The above-mentioned structure spans 254.6 meters in length and has an average height of 3-12 meters since some areas have existing flood control structure. Part of the scope of work includes the installation of 16 solar street lights every 20 meters along the structure. This will serve as a protection wall for residents of the said barangay.
The structure has a total revised contract amount of P43.61 million drawn from the General Appropriations Act (GAA) of 2022.
Barangay Nabang is a low-lying area that is prone to flooding, particularly during typhoons and heavy rains. Flood control was built to reduce the effects of flood water or high-water levels in flood-prone communities.
NPA in Northern Samar use anti-personnel mines blatantly disregard IHL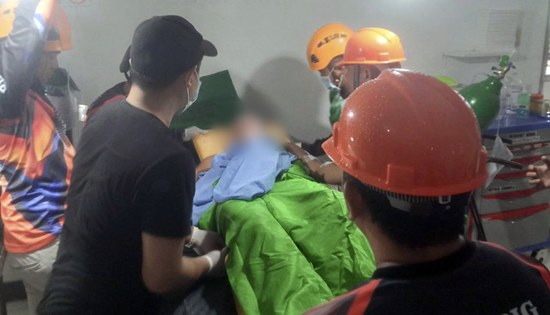 By DPAO, 8ID PA
December 18, 2022
CAMP LUKBAN, Catbalogan City – Six members of the Army's 20th Infantry "We Lead" Battalion (20IB) of the 8th Infantry "Stormtroopers" Division (8ID), Philippine Army were wounded while providing Peace and Development Program at Barangay Quirino, Las Navas, Northern Samar on December 18, 2022.
The Communist NPA Terrorists (CNTs) used Anti-Personnel Mines (APMs) against the Mobile Community Support and Sustainment Program (MCSSP) Teams of the 20IB while securing the water system project.
The Commanding Officer of 20IB, Lieutenant Colonel Joemar Buban said that Barangay Quirino is among the seven barangays in Las Navas, Northern Samar that are recipients of the Support to Barangay Development Program 2022 as part of the National Task Force-ELCAC Program. Barangay Quirino was also set to receive a Level II Water System Project after the groundbreaking ceremony at Brgy. Magsaysay on December 16, 2022.
"The 20IB has been doing its best to help the former conflict-affected barangays through our Mobile Community Support and Sustainment Program Teams to achieve long-lasting peace and sustainable development in Northern Samar." Lt Col Buban said.
Lt Col Buban also calls on the Commission of Human Rights to investigate and make a statement on these continuous inexcusable violations of the Ottawa Convention, International Humanitarian Law, and RA9851 by communist NPA terrorists in Northern Samar.
Major General Camilo Ligayo, Commanding General of 8ID said " The continued use of members of the terrorist NPAs of Anti-Personnel Mines that have been banned is a blatant disregard of international humanitarian law. For this, they deserve our highest level of condemnation."
The CTGs once again made a serious violation of International Humanitarian Law in Northern Samar. It can be recalled that last April 03, the CNTs used Anti-Personnel Mines against CSP Teams of the 20IB at Barangay San Miguel, Las Navas, Northern Samar which resulted in the death of two PNP Personnel and injured four others. Another APM incident happened at Barangay Magsaysay, Mapanas, Northern Samar last July 05, wounding seven Army Personnel. Last July 19, a soldier was killed and five others were wounded after a Communist Terrorist attack using APMs in the remote Osang village in Catubig, Northern Samar.
IBP conducts finance summit for chapter legal aid clerks
Press Release
December 19, 2022
PASIG CITY – The Integrated Bar of the Philippines held its first-ever Finance Summit on December 12, 2022, a three-day workshop on IBP Chapter Compliance and Liquidation, designed to strengthen the chapters' capacity and enhance reporting and liquidating processes by empowering chapter legal aid clerks. To that end, the legal aid clerks of the IBP chapters from all over the nation traveled to the IBP National Office in Pasig, Metro Manila, where the National Office's Finance Department provided a series of lectures and activities aimed at enhancing and strengthening the legal aid programs and administration of the chapters.
The Summit covered matters such as peak season requirements, how to utilize the IBP's new online payment options, and how to help members download and use the myIBP app. The clerks were again reappraised on how to create financial and liquidation reports and guarantee compliance with BIR and SC requirements.
The National Center for Legal Aid used the occasion to host the legal aid clerks' first-ever physical Christmas party on the first day of the Finance Summit, taking into account the fact that this was the first time they had all been together at the National Office.
As a way of giving back for the efforts that the legal aid clerks, as frontliners, have exerted, National President Burt Estrada also informed the clerks that the 25th Board of Governors has approved a performance-based bonus, a Christmas cash allowance, and the provision of vacation and sick leaves, in lieu of service incentive leaves for qualified clerks, starting January 2023. Our clerks were likewise provided health benefits through an HMO program negotiated by the IBP with CareHealth Plus, with the coverage beginning immediately on 13 December 2022.
Lastly, in coordination with Huawei and Radenta Technologies, Inc., the National Office, through Director for Chapter Affairs, Atty. Manuel Joseph B. Ibañez III was able to distribute laptops on the final day of the summit to all the clerks for use in the legal aid programs of the chapters all over the country.
Calubian farmers receive CLOAs as early Christmas gift from DAR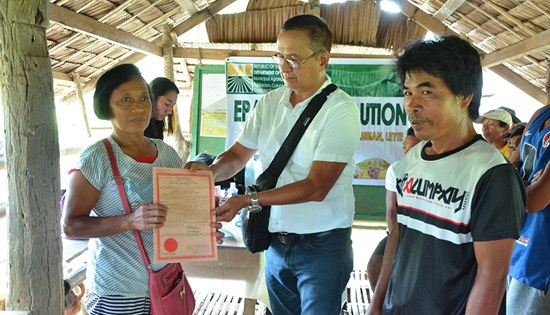 Thirty-one tenants in an hacienda in Barangay Engage in Calubian, Leyte received individual Certificates of Land Ownership Award (CLOAs) from the Department of Agrarian Reform (DAR).
By JOSE ALSMITH L. SORIA
December 15, 2022
CALUBIAN, Leyte – Thirty-one agricultural tenants in an hacienda here received an early Christmas gift from the Department of Agrarian Reform (DAR) when their individual land titles were handed to them on Friday making them now owners of the land they are tilling.
Sixteen days before Christmas, Municipal Agrarian Reform Program Officer (MARPO) Maximo Castañeda Jr. distributed the 31 individual Certificates of Land ownership Award (CLOAs) to the agrarian reform beneficiaries (ARBs) in a simple ceremony in Barangay Enage where the subject landholding is situated.
Castañeda disclosed that the CLOAs covered a combined area of 39.9546 hectares.
He further disclosed that the awarded lots are part of the 58-hectare hacienda owned by Caridad Enage covered under the Comprehensive Agrarian Reform Program's (CARP's) Land Acquisition and Distribution component.
Widower Romeo Cuizon, 67, received the maximum three hectares an ARB could avail.
Cuizon shared that he started working in the said hacienda when he was only 15 years old helping his tenant-father until he himself became one of the tenants too.
According to him, "As gratitude for this blessing, I will donate 2,000 square-meter for our association's office/hall."
Presently the Enage Agrarian Reform Farmer Beneficiaries Association's (EARFBA's) center stands temporarily in a private lot which can be evicted anytime.
Edgardo Juntilla, 56, recipient of a 1.1812-hectare lot, shared that "I am happy, and I am aware of my obligation to pay tax."
Widow, Maria Maloloy-on, 50, a mother of three and one of the six female- beneficiaries shared that she became tenant of Enage in 1989, when she and her husband started working in the hacienda.
According to her, they did not believe when someone from DAR told them that they would soon own the lot they were tilling. "I was surprised when I was awarded with 1.0912 hectares," Maloloy-on added.
It was learned from Castañeda that 10 of the 31 ARBs are former rebels. Providing land to the landless gives these former rebels the opportunity to livelihood, which is DAR's contribution to End Local Communist Armed Conflict (ELCAC), a whole-of-nation approach to address insurgency in our country, said Castañeda.
The beneficiaries applauded when Castañeda announced that per Executive Order No. 4 of President Ferdinand "Bongbong" Marcos Jr., payment of their land amortizations is suspended for one year.
They applauded lauder when Castañeda shared that there is a priority bill of the Marcos Administration which, when approved, ARBs will no longer pay amortizations.
DAR validates Leyte farmer organizations as among potential recipients of the P16-B assistance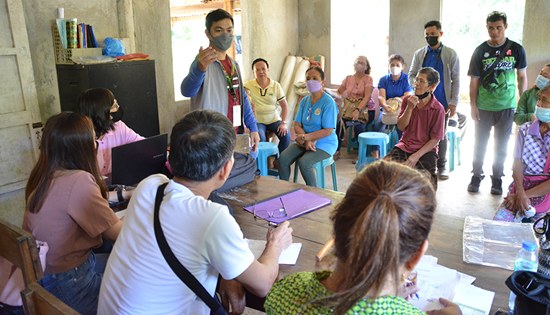 The Department of Agrarian Reform (DAR) validates the Brgy. Petrollo Farmers Multi-Purpose Cooperative in Calubian, Leyte as potential recipient of a package of support services under the Sustainable and Resilient Agrarian Reform Communities (SuRe ARCs) program.
By JOSE ALSMITH L. SORIA
December 13, 2022
TACLOBAN CITY – Six agrarian reform beneficiaries organizations (ARBOs) from remote villages in the province of Leyte are being considered as among the potential recipients of a package of support services from the Department of Agrarian Reform (DAR) which aims to develop the rice and corn as well as coconut producing areas in the country.
Melecia Ong, Chief of the Program Beneficiaries Development Division (PBDD) at the DAR Regional Office, disclosed that ₱16-billion from the agrarian reform fund (ARF) is earmarked for the Sustainable and Resilient Agrarian Reform Communities (SuRe ARCs) program to develop areas under major crops in support to the food security program of the Marcos administration.
In Eastern Visayas, Ong shared, we recommended areas planted to rice and corn, and coconut, which are the dominant crops here.
Last week, staff from DAR Central Office's Bureau of Agrarian Reform Beneficiaries Development (BARBD) validated the rice producing Canmarating, Odiongan, Pagsang-an, Sulpa Irrigators Association (COPS-IA) in Abuyog; Catoogan, Ulhay, Lacdas Irrigators Association, Inc. (CUL-IA, Inc.), with members from Abuyog and Javier; Sanulmaco Irrigators Association, Inc. in Javier; and the coconut-based Brgy. Agutayan Farmers Association in Hilongos; Enage Agrarian Reform Farmer Beneficiaries Association (EARFBA) and the Brgy. Petrollo Farmers Multi-Purpose Cooperative (BPFMPC), both in Calubian.
The said ARBOs were validated based on the organization's operation management, program engagement, governance, farm mechanization, physical infrastructure, and support from local partners and other agencies.
Ong further disclosed that those who will qualify will receive a package of support services which include farm inputs, machineries, trainings, and infrastructure projects, in line with Agrarian Reform Secretary Conrado Estrella III's nine primary goals which include farm mechanization and capacitating the ARBOs.
She added that DAR's SuRe ARCs program is seen to boost the agriculture sector which eventually will bring an increased income to the farmers particularly the agrarian reform beneficiaries (ARBs) which will benefit not only the recipient ARBOs, but the entire community as well.
Ong also stressed that this undertaking will likewise contribute to End Local Communist Armed Conflict (ELCAC), a whole-of-nation approach to address insurgency in the country.
DTI chief partners with Google, provides scholarship for low-income students
By DTI-OSEC-Public Relations Unit
December 10, 2022
MANILA – Trade and Industry Secretary Fred Pascual has initiated the partnership with Google for 4,000 scholarships in the Google Career Certificate Courses on IT support, project management, data analytics, and UX design. This presents an opportunity for young entrepreneurs and underserved communities, including low-income and vocational students and college drop-outs, to participate in the digital economy.
Earlier, on 11 November 2022, Secretary Pascual issued the IRR of Republic Act No. 11904 or the Philippine Creative Industries Development Act. In May, DTI released the Joint Department Circular for Cylinders Exchange, Swapping, and Improvement Program, the IRR for Republic Act No. 11592 or the LPG Regulation Law.
Further, since his appointment, Secretary Pascual raised about USD18 billion foreign investment pledges during the presidential visits in Indonesia, Singapore, and the United States, performing well as the country's chief marketing officer.
The Trade Secretary was part of the Philippine delegation to the state and official visits of President Ferdinand R. Marcos Jr. to attract investments in the country. It is estimated that these pledges, once actualized, will generate thousands of jobs.
"These investment pledges are in industries of strategic importance, including the establishment of data centers, digital connectivity, renewable energy, textiles and garments, construction, among others", Secretary Pascual boasted.
The Trade Chief has also prioritized addressing the issue involving work-from-home (WFH) arrangements of IT-BPM companies.
"The Fiscal Incentives Review Board, in its meeting on 14 September 2022, decided on a seamless transfer of registration from one Investment Promotion Agency to another (from PEZA to BOI) to allow up to 100% WFH arrangement without reduction on existing incentives. It is ensured that the mechanism for this should be less burdensome for the Registered Business Enterprises (RBEs) and be done expeditiously", Secretary Pascual said. He co-chairs the Fiscal Incentives Review Board (FIRB) with Finance Secretary Benjamin Diokno.
Moreover, between July 1 and October 8, the Board of Investments (BOI) has approved P125.9 billion worth of investments with potential to generate over 9,000 jobs.
During the initial stage of his stint as DTI chief, Pascual also formulated the country's Science, Technology, and Innovation (STI)-driven Industrialization Strategy 2022-2028, which serves as the framework for the Philippine economic recovery initiatives with an aim of attaining a resilient, sustainable, and inclusive economy by 2028.
The country's industrialization strategy focuses on handholding the biggest majority of its constituents – the MSMEs as they navigate a rapidly changing market and the consuming public.
According to DTI's report, "MSMEs comprise the overwhelming majority of Philippine business. To hasten the digital transformation of the backbone of the country's economy, DTI enabled 43,878 MSMEs to adopt e-commerce through online transactions and cashless payments, onboarded 981 MSME sellers with 4,635 products to digital malls and marketplaces, and mainstreamed 413 MSMEs through the Go Lokal! Program".
Meanwhile, on the consumer welfare front, Secretary Pascual has continued to work on guaranteeing sufficient food supply at reasonable prices, safe and quality products in the market, and efficient resolution of consumer complaints.
From July to October, he also monitored sugar prices that allowed consumers to have access to affordable sugar. As of date, DTI has organized 7 runs of Diskwento Caravan Balik Eskwela-Presyong Risonable Dapat (Frozen Meat Edition) in 7 NCR cities, conducted 26 inspections and 63 factory audits, issued 13 Show Cause Orders, and tested 726 samples.
Relative to consumer protection, the Department has also issued Suggested Retail Price (SRP) Bulletins for basic necessities and prime commodities (BNPC) and a Price Guide for Christmas staples, ensuring that Filipino consumers will have access to reasonably-priced goods this holiday season.
Yu returns as DAR Eastern Visayas head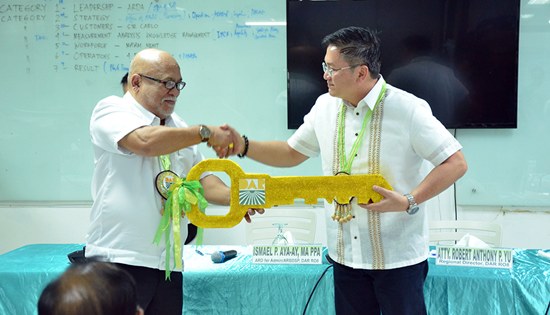 Department of Agrarian Reform (DAR) Eastern Visayas Regional Director Reynaldo Anfone (left) formally turns over his post to returning Regional Director Robert Anthony Yu (right).
By JOSE ALSMITH L. SORIA
December 2, 2022
TACLOBAN CITY – Lawyer Robert Anthony Yu assumed office on Friday as returning Regional Director of the Department of Agrarian Reform (DAR) in Eastern Visayas after Engineer Reynaldo Anfone formally relinquished his post.
Yu's reassignment to Region-8 was based on Special Order No. 682, series of 2022, issued by Agrarian Reform Secretary Conrado Estrella III on November 15 this year.
Prior to his new assignment, Yu had already served this region from August 2021 to July this year, when he was recalled to DAR Central Office to serve as the Director of the Bureau of Agrarian Legal Assistance (BALA).
Meanwhile, under the same document, Anfone, who assumed office here on October 18 this year only, is transferred to central office as Deputy Project Director for Operations of the Support to Parcelization of Lands for Individual Titling (SPLIT) project.
InfiniVAN completes Boracay leg of largest, longest Philippine subsea cable project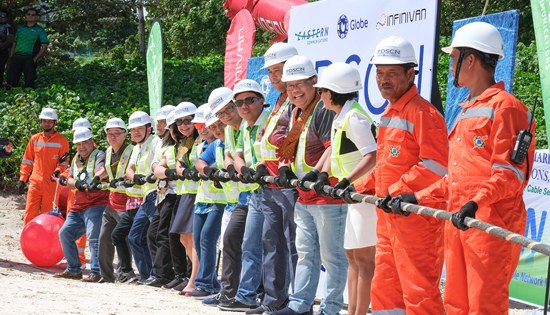 Press Release
December 2, 2022
TAGUIG CITY – The Philippine Domestic Submarine Cable Network (PDSCN) – designed to directly interconnect islands and provinces in the Luzon, Visayas and Mindanao island groups to the internet – has finally touched down in Boracay Island.
Representatives of the project proponents and joint-build partners InfiniVAN, Eastern Telecom, Globe Telecom, LGU officials, suppliers and community members gathered in a ceremonial cable pulling event on November 25 at the Savoy Hotel in Boracay's Newcoast.
The joint-build project is regarded as a milestone because it will add a huge amount of domestic data transmission bandwidth capacity and much needed resiliency to the country's internet network infrastructure. When completed, the PDSCN project will improve mobile and broadband connectivity across the country, including far-flung islands and other underserved areas. It is in line with the current administration's goal to make the Philippines a digitally-advanced nation that is in step with the advances and innovations going on in the world. Cable installation began in July 2022 and was marked by a kick-off event in Subic. Since then, cable pulling events similar to the recently-held one in Boracay have been held in Mactan Island in Cebu and Siargao Island in Surigao.
The Boracay cable pulling event was graced by Aklan City Mayor Hon. Frolibar Bautista, Aklan Provincial Administrator Atty. Selwyn Ibbareta, National Telecommunications Commission Director Imelda Walcien, Board of Investments Governor Atty. Marjorie Ramos-Samaniego and BOI Director Atty. Elyjean DC Portoza.
InfiniVAN, Inc. Chief Technology Officer Alberto "Abet" Espedido said that besides connecting major islands in the country, the project will also help boost tourism and commerce in more provinces. "We see this as an opportunity to fulfill our objective of providing connectivity to far flung areas and hope that the good communications infrastructure will also pump-prime economies," he said.
Espedido said the fiber optic cable technology used in the country's biggest and longest submarine cable installation is "future-proof." Unrepeatered fiber cables used in the project can handle large data throughputs that can be further expanded through advances in terminal equipment over the next 20 to 25 years.
"As a new entrant in the market, we are happy to work with well-established partners on a project that will really create an impact on people and progress in the next few years. It is heartwarming to have our so-called industry competitors work with us on this gift to our countrymen and the country as a whole. We look forward to the next phases of this project," Espedido added.
PH active participation in 5th CIIE showcases strength of the Philippines' food exports to China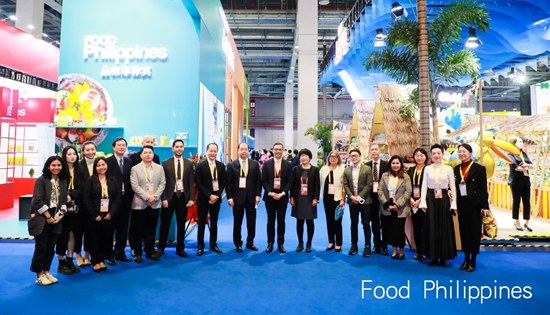 By DTI-Foreign Trade Service Corps
November 28, 2022
SHANGHAI, China – The Philippines once more showcased the strength of its food exports to China through a highly successful participation in China's largest import-themed trade show – China International Import Expo (CIIE), held in Shanghai on 5 to 10 November, 2022.
In his remarks during the opening of the CIIE, Department of Trade and Industry (DTI) Secretary Fred Pascual stated that "The Philippines' participation in CIIE has become not only a practical response to opportunity, but an imperative to expand our international market, cement the Philippines' reputation as a reliable sourcing destination for food, and introduce more quality food products into China's mainstream markets."
The Trade Chief further mentioned that "The DTI's Export Marketing Bureau (EMB) has also provided the much-needed tools in upskilling our exporters to be fully equipped to join this exposition. We have also partnered with the private sector through Liwayway China, which carries the highly renowned "Oishi" brand – a brand that is deeply cherished with fond memories both in the Philippines and in China, and a testament that quality products can truly be a bridge that connects our country, and our people."
The Country's participation is supported by the Philippine Trade and Investment Center (PTIC) in Shanghai, Center for International Trade Expositions and Missions (CITEM), Philippine Consulate General in Shanghai, and in partnership with our Department of Agriculture's Office of the Agriculture Counsellor (OAC) in Beijing.
Additionally, the DTI, through its Trade Promotions Group (TPG) and the EMB also formed strategic linkages via signed cooperation intentions with 2 of China's largest food chambers – the Beijing based China Chamber of Commerce of Foodstuffs and Native Produce (CFNA) and the Shanghai Food Association (SFA). With both chambers having a combined number of 7,500 member companies, these cooperation arrangements will be vital to enhance cooperation between food exporters in the Philippines and Chinese food companies in areas of business matching, technical cooperation, and investments to boost capacities in food production.
TPG OIC, Assistant Secretary Glenn Peñaranda affirmed the importance of these agreements and commented that "We value the partnership with CFNA and SFA as we pursue increased collaboration in enhancing food trade. We hope that this can progress to deeper collaboration in the whole value chain in food production, processing, and marketing".
Likewise, PTIC Shanghai Head Mario C. Tani said, "The amount of products we export to China has vastly increased in the past five to six years, and sales were five times larger compared to the first time the Philippines has participated in the 2018 CIIE."
For this year's CIIE, due to strict travel restrictions still in place related to China's Zero-Covid Policy approach, the official Philippine delegation was physically led by the Philippine Consulate General in Shanghai as represented by Consul General Jose Ignacio. In the official pavilion opening at Shanghai's enormous 500,000 sqm National Exhibition and Convention Center (NECC), CG Ignacio stressed in his message that "What is constant is that the FOOD PHILIPPINES Pavilion's central message - "healthy and fresh", as only food products from the Philippines can offer, bar none, and as devoted and new buyers and importers alike can strongly attest to."
At the forefront of the CIIE "FOOD PHILIPPINES" Pavilion design and conceptualization, CITEM presented this year a unified one-country promotional approach featuring three brands – "FOOD PHILIPPINES", "COCONUT PHILIPPINES", and the famous "Oishi" brand by Liwayway China, with a single storyline – a call to experience a "Festival of Island Flavors".
For the first time, several Philippine coconut products were on display at the Coconut Philippines Pavilion. The Country is known worldwide to be a major producer and supplier of coconut oil, and the exhibits did not only showcase coconut oil in various forms, but also other innovative products made from coconut – the tree of life.
A key partner for the CIIE, the Department of Agriculture (DA), through the OAC in Beijing, also highlighted new and exciting products featured in this year's expo, namely Philippine specialty coffee, and innovative coconut-based products.
Agriculture Counsellor Ana Abejuela reiterated the need to sustain the good momentum of the Philippines' agricultural exports to China. "The Philippines is already the top exporter of tropical fruits such as bananas and pineapples to mainland China. We must sustain this momentum by introducing even more innovative and exciting products through the CIIE such as PH specialty coffee and where to introduce this best but in the city known to be the coffee capital of China – Shanghai, and at the largest import expo – CIIE." The Philippine specialty coffee brands were well received by coffee aficionados in both offsite and onsite tasting events.
With a record high of 62 food and food-related exporting companies from the Philippines, total sales recorded from this year's participation reached USD655.15 million (exact amount: USD655,145,756.02), the highest yield recorded for a Philippine country participation anywhere in the world for the year, and the highest sales generated from the CIIE, since its inception in 2018. Of this total amount, 97% came from onsite sales and bulk purchase contracts, with 3% coming from online business matching activities.
In 2018, the CIIE was launched as one of China's major trade promotion initiatives and was supported by Chinese President Xi Jinping who attended the first 2 editions in 2018 and 2019 in Shanghai. The Philippines registered sales of USD128 million in 2018 and USD256 million in 2019. Despite the pandemic, increased sales were generated both in 2020 and 2021.