Estrella pledges support to Samar's agri development programs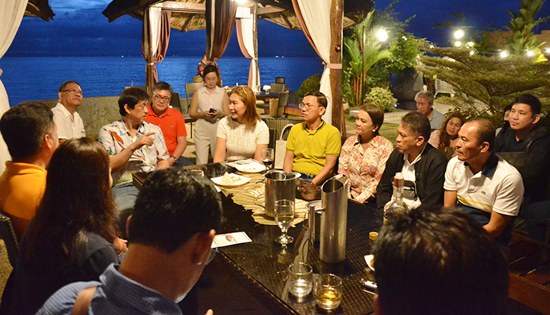 Agrarian Reform Secretary Conrado Estrella III met Samar Governor Sharee Ann Tan and all the provincial board members and mayors in Marabut town where he pledged to support the province's agricultural development programs.
By JOSE ALSMITH L. SORIA
February 17, 2023
MARABUT, Samar – Not only projects from the Department of Agrarian Reform (DAR) did Secretary Conrado Estrella III commit to Samar governor Sharee Ann Tan during the former's recent visit to Eastern Visayas, but promised to link them as well to other government agencies, and even to the president in support to the province's agricultural development programs.
The two government officials had a short meeting at the Layao Beach Resort in this municipality after Estrella distributed Certificates of Land Ownership Award (CLOAs) and turned over a "Tulay ng Pangulo" project and several farm equipment and machineries in nearby Balangiga town in the province of Eastern Samar.
Prior to Estrella's arrival to Region-8, Tan arranged an audience with him to discuss her administration's plan to develop the coconut and cacao industries in the province.
In his meeting with Tan, which was also attended by the provincial board members and all the city and town mayors of Western Samar, Estrella said that DAR could establish processing centers in agrarian reform communities (ARCs) where there are huge number of agrarian reform beneficiaries who would be benefited by these projects.
Aside from various support services that could be extended by DAR, Estrella expressed that he will invite Bernie Cruz, former DAR Secretary, now the Administrator of the Philippine Coconut Authority (PCA), who is expected to provide better assistance to their coconut-related endeavors, in their future meetings.
Based on the data gathered from the Samar web site, coconut is the main commercial crop in the province, which are mostly concentrated in coastal areas.
Estrella also assured the local government officials that he will mention their plan in developing the agriculture sector during cabinet meetings to solicit assistance from other government agencies.
President Ferdinand Marcos Jr. wants to bring the government closer to the people, Estrella stressed.
In her facebook post, Tan shared, "Thank You, Secretary Estrella, for sharing your time and thoughts with us. We look forward to a steady partnership with you and DAR as we continue our efforts to better serve the people of Samar!"
Plans of the Samar provincial government in developing the Peace and Prosperity Village within the Calbiga-Pinabacdao Settlement Project, where DAR donated a three-hectare lot as the agency's contribution to the End Local Communist Armed Conflict (ELCAC), was likewise discussed in this meeting.
DTI Chief stresses the importance of RCEP and stronger PH-EU trade relations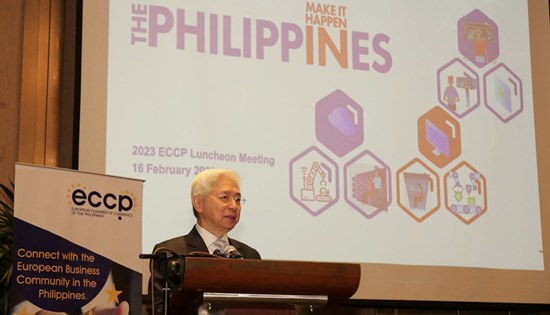 By DTI-OSEC-Public Relations Unit
February 17, 2023
MAKATI CITY – Department of Trade and Industry (DTI) Secretary Fred Pascual boasted about the Philippine government's ongoing efforts to create an enabling environment where businesses can thrive during the European Chamber of Commerce of the Philippines (ECCP) Luncheon Meeting held on 16 February 2023 at the Dusit Thani Manila.
During his keynote speech, Secretary Pascual unveiled the priorities of the DTI to facilitate increased trade and investment and to improve global competitiveness, "The goal is to grow our economy and develop globally competitive and innovative industries that support inclusive growth and quality of life for all Filipinos", he said.
The Trade Chief also took the opportunity to advocate the ratification of RCEP stating that, "The drive for immediate ratification of the Regional Comprehensive Economic Partnership Agreement and other trade agreements is considered vital to expand the country's market reach and foster globally competitive economic industries. The possible influx of investments that these agreements would bring will also create employment opportunities for Filipinos." Likewise, President Ferdinand R. Marcos Jr. earlier emphasized that RCEP would greatly complement the country's game-changing economic reforms.
Apart from RCEP, Secretary Pascual urged European businesses to support the Philippines' re-application for the upcoming renewal of the European Union Generalised Scheme of Preferences Plus (EU-GSP+). This was also supported by Assistant Secretary Allan B. Gepty, who was also present at the Luncheon Meeting and underscored the significant role of the EU-GSP+ during the open forum, "That is why EU-GSP+ is very important because it caters to the demands, the needs of our local stakeholders, and even investors who are exporting to the EU market", he said.
Secretary Pascual further reiterated that "the Philippines counts on European businesses' continued support for our re-application in the upcoming renewal of the EU-GSP+ scheme and our advocacy to resume the PH-EU FTA negotiations. Your business presence here proves that the Philippines stands on sound economic and social reforms."
The European Chamber of Commerce of the Philippines (ECCP) is a bilateral foreign chamber that promotes European interests in the Philippines and vice versa. ECCP also organizes business meetings; seminars with resource speakers from the Philippines, Asia, and Europe, which coordinate the position of the business sector; as well as dialogues with the Philippine government officials on important economic issues affecting the Philippine-European business relations.
No to RCEP! No to sellout of PH economy! – GABRIELA
Press Release
February 17, 2023
QUEZON CITY – The national alliance of Filipino women GABRIELA denounced Marcos Jr.'s push for Congress to immediately ratify the Regional Comprehensive Economic Partnership (RCEP) Agreement, citing that the move will have 'dire consequences' to food security and to the agriculture industry in the Philippines. The women's group called on legislators to exercise its autonomy as an independent branch of the government and 'refuse to be complicit in further jeopardizing farmers' livelihoods and in the sellout of our patrimony."
"Words obviously mean nothing to pathological liars like the Marcoses. From supposedly having 'reservations' about the RCEP, Marcos Jr. has since completely backpedaled by leading the push for its ratification – to the detriment of the already suffering agricultural sector. Naturingang DA Secretary pero puro peste sa magsasaka ang dala ni Marcos, mula sa Rice Liberalization Law, importasyon ng mga produktong pang-agrikultura, at ngayon ito namang RCEP," hit GABRIELA Secretary General Clarice Palce.
GABRIELA cited how farmers – millions of whom are women – are struggling to compete with imported products due to government's neglect of agriculture. Many are drowning in debt because of sky-high production costs and depressed farmgate prices. Agri groups have been calling for subsidy and aid, as well as for an end to Marcos Jr.'s import-driven response to soaring prices of farm products.
"Departamento ng Angkat ang pinatatakbo ni Pangulong Marcos. Kung dati'y nagkakanda-kuba lang ang magsasaka habang nananatiling hikahos, ngayon nagsisimatayan na ang marami sa amin. Nito lamang Enero, limang magsasaka ang nagpakamatay sa Bayambang, Pangasinan. Ayon mismo sa misis ng isa sa kanila, pagkabaon sa utang ang nagtulak sa asawa niyang gawin ito dahil hindi umano nito mabawi ang milyong utang para sa produksyon dahil sa importasyon. Nasaan ang kalinga ng gobyerno sa nagpapakain sa taumbayan?" raised Amihan National Chairperson Zen Soriano.
With women's month just around the corner, women agricultural workers are among the sectors that GABRIELA aims to highlight on March 8, the International Working Women's Day, as they are among the most underpaid and undervalued workers In the Philippines and across the globe.
GABRIELA and Amihan both urged the government to prioritize the interests of Filipino farmers and the country. The groups emphasized that Congress must oppose RCEP and instead pass measures to strengthen the agricultural sector of the country, which in recent years had historically the lowest share in GDP despite the Philippines being an agricultural country. GABRIELA urged, "give Filipino farmers a fighting chance."
"Malaking pagtatraydor sa bansa ang pagsasaalang-alang sa sektor ng agrikultura, laluna habang kumakaharap ng malalang kagutuman ang mamamayan. Kaya hinahamon namin ang mga mambababatas na wag magsilbing 'rubberstamp' lang ni Marcos Jr., at sa halip ay tindigan ang mamamayang nagluklok sa kanila sa puwesto. Pilipinas naman," Palce called.
Children football teams from conflict-affected areas in Samar compete in the prestigious Thirsty Cup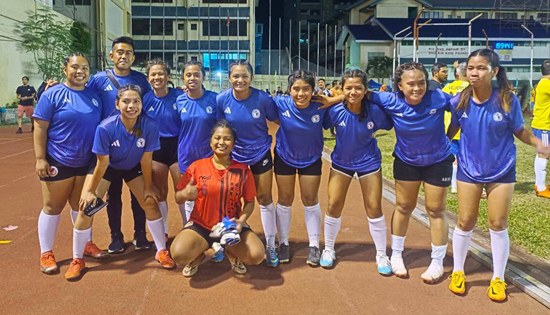 By DPAO, 8ID PA
February 15, 2023
CAMP LUKBAN, Catbalogan City – The Stormkickers and Palapag Football Club competed in the recently concluded 17th Thirsty Cup on February 12, 2023, held at Abellana Sports Complex, Cebu City.
The Thirsty Cup is a 3-day football competition where more than 200 teams from all over the Philippines competed to clench for the championship and be recognized.
Major General Camilo Z. Ligayo, Commander of 8th Infantry Division organized the team with the Palapag Football Club which was composed of kids from remote barangays or barangays then influenced by NPAs in Northern Samar when he was still the Commander of 801st Infantry Brigade.
The Stormkickers is composed of 10 females and 15 male players that participated in the Ladies Open and Under 19 (U19) Boys Categories, respectively. On the other hand, the Palapag FC has 10 players that participated in the Under 13 (U13) Boys Category.
Under the Ladies Open, the team garnered three wins and made it up to the Quarter Finals, and in the U13 category, the Palapag FC recorded two wins.
Even though the team didn't advance to the championship finals, Private Rueben Ranille, one of the Stormkickers and Palapag FC coaches, was appreciative of the chance given to these eager football neophytes.
Private Ranille has also expressed his gratitude to 8ID Commander, Maj. Gen. Ligayo, for the new milestone achieved by the team.
"Iyon 'yong pinaka-first time nilang maglaro at nakakaproud kasi ang mga bata na kasali sa Palapag FC ito ang mga bata na tinuruan ko noong nasa Community Support Program pa ako. Nagpapasalamat kami sa ating 8ID Commander, Maj. Gen. Ligayo, kasi sinusuportahan niya ang mga programa na pang sports. Syempre malaki rin ang aming pasasalamat sa oportunidad na ito kasi alam namin na magbubukas pa ito ng iba pang oportunidad para sa mga kabataan nating football players," Private Ranille said.
Both teams were coached by two soldiers of 8ID, Philippine Army, Private Rueben Ranille and Corporal Edelyn Panaguiton, and another soldier who also played during the said competition under the Women's Category, Private Angelie Pagpaguitan.
Meanwhile, 8th Infantry Division Commander, Major General Camilo Ligayo, congratulated the team for their hard work and for making it to the said competition.
"I assure you my full support to sports, especially these football teams. I believe that they will achieve more in the future; we just need to support, help and train them."
"It is better to immerse our children or youths in sports to give them opportunities which are way better than engaging in activities organized by left-leaning groups," Maj. Gen. Ligayo concluded.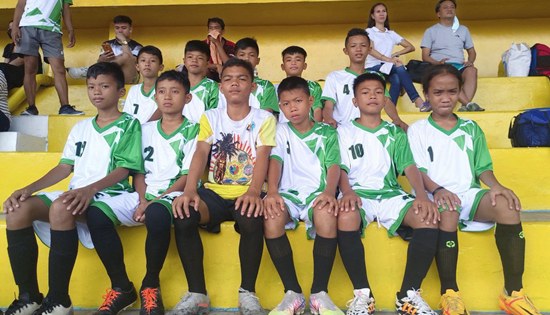 DTI chief graced the launching of OTOP Hub in Bacoor, Cavite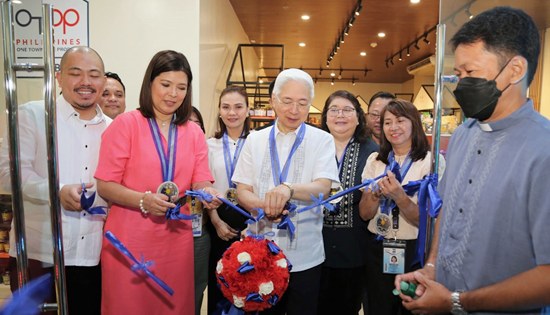 L-R: Congressman Bryan Revilla, Congresswoman Lani Mercado-Revilla, Vice Mayor Rowena Mendiola, DTI Secretary Fred Pascual, DTI-CALABARZON OIC Regional Director Marissa Argente, DTI-Cavite Provincial Director Revelyn A. Cortez.
By DTI-OSEC-Public Relations Unit
February 14, 2023
BACOOR CITY, Cavite – On 14 February 2023, Department of Trade and Industry (DTI) Secretary Fred Pascual graced the launching of the One Town, One Product (OTOP) Hub in Bacoor City, Cavite. The OTOP Hub in Bacoor is the second one established in the Province of Cavite, this is in partnership with the Office of Congresswoman Lani Mercado-Revilla, Mayor Strike Revilla, the City Livelihood Office, and the Local Government Unit (LGU) of Bacoor.
OTOP Philippines is a priority program of the government to assist micro, small, and medium enterprises (MSMEs) in reaching wider markets. The Hub in Bacoor will serve as a venue for OTOPreneurs to strengthen linkages, negotiate potential partnerships and collaborations with other MSMEs and institutional buyers, and showcase various products developed under the OTOP Next Generation Product Development Project.
The launching was also attended by Congresswoman Lani Mercado-Revilla, Congressman Bryan Revilla, DTI Undersecretary Blesila A. Lantayona, Assistant Secretary Dominic Tolentino, DTI-CALABARZON OIC Regional Director Marissa Argente, DTI-Cavite Provincial Director Revelyn A. Cortez, Mayor Strike Revilla, Negosyo Center Manager Ms. Carmelita Gawaran, and Councilor Reynaldo Fabian.
NMP sets course for 2023; Aligns commitments with DMW
Press Release
February 14, 2023
TACLOBAN CITY – The National Maritime Polytechnic (NMP), the only maritime training and research center in the country, has aligned its course for 2023 with the programs and organizational outcome of the Department of Migrant Workers (DMW) during its recently concluded Hybrid Agency Planning Exercise on 07 February 2023.
As NMP embarks on a new chapter, as it fully transitions to the DMW, its sectoral and organizational outcomes for FY 2023 are set to change in line with the shift in its client focus. Its Sectoral Outcome, as drawn from the Philippine Development Plan 2023-2028 will focus on the Improvement of Quality of Life of Overseas Filipino Workers (OFWs) and their Families. By closely aligning its goals with DMW, NMP will be strategically positioned to make a significant impact in the achievement of the department's Organizational Outcome, that is: Empowerment and Protection of Overseas Filipino Workers Ensured.
As a subsumed agency of the DMW, NMP is specifically responsible for the implementation and successful realization of the Maritime Research and Skills Competency Program, one (1) of the four (4) programs of the department.
Under the said program, NMP has three (3) Outcome Indicators that need to be attained this year: (1) 82% employment for seafarer-trainees a year after completion of their training; (2) 100% of seafarer-trainees having jobs related to the skills they acquired through training at NMP; and (3) 100% of research papers used as input for policy formulation and program development.
Additionally, NMP also has three (3) key Output Indicators as stated in the 2023 General Appropriations Act: (1) 10,000 trainees/participants who successfully completed the course; (2) 100% trainees issued with certification within 72 hours of successful completion of all course requirements; and (3) 2 completed research projects.
2023 is indeed a challenging year for NMP. While some targets represent a significant increase compared to the previous years, others bring NMP back to its pre-pandemic commitments. The achievement of these targets will undoubtedly require dedicated efforts, innovative approaches, and a steadfast commitment to excellence from all NMP personnel.
Accordingly, NMP's four (4) organizational units have outlined specific action plans and strategies that are aligned with the overall commitments of the Agency. The four (4) units will be working closely together and with stakeholders to ensure the successful implementation of these plans and the achievement of the desired outcomes. Regular monitoring and evaluation of their performance will also be conducted to ensure that the Agency stays on track and remains accountable to its commitments.
As NMP sets its sights on its targets for the year, NMP OIC Executive Director, Mayla N. Macadawan emphasized the importance of keeping in mind that the Agency is currently in a period of transition.
"DMW is still in the process of becoming fully operational and this may pose challenges in meeting our targets for the year. To overcome these potential hurdles, it is vital to have a clear and defined roadmap. To guide our efforts and ensure success, we should align our plans with the comprehensive Strategic Plan 2023-2028, which outlines a six-year strategy for the NMP," she disclosed. "While we receive instructions to continue as usual, it is uncertain what directives will be given from higher authorities in the future. There may be instructions that may not be aligned with our current commitments, however, they may have recognized the need to address them," she added.
She also encouraged all employees to adopt a positive mindset and embrace the changes that come with the transition, by doing so, NMP ensures to continuously provide quality services to its clients.
Further, she emphasized the crucial importance of each employee's contribution in realizing NMP's mandates and objectives. She noted that each individual's performance has a far-reaching impact on the success of the organization and stressed the need for a collaborative effort towards reaching common goals, so as to take NMP to even greater heights.
"Let us all work together to rekindle the excitement and passion that brought us to government service. Let us rediscover the joy of serving and find fulfillment in our work. By doing so, we can not only achieve greater productivity as government servants, but also find satisfaction and meaning in our careers," she mentioned.
8ID reorganizes its Defense Press Corps, cites media role in information dissemination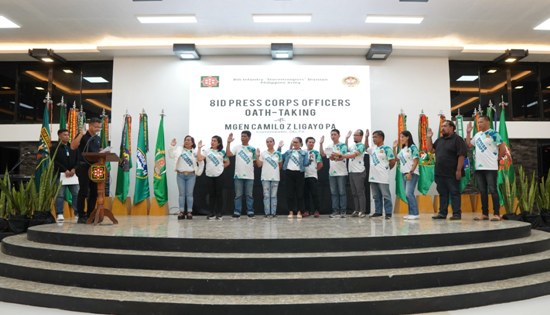 By DPAO, 8ID PA
February 14, 2023
CAMP LUKBAN, Catbalogan City – Major General Camilo Z. Ligayo, Commander of the Philippine Army's 8th Infantry Division (8ID) recognized the contribution of the media practitioners in Eastern Visayas during the reorganization of 8ID press corps on Sunday, February 12, 2023.
In his speech, Maj. Gen. Ligayo cited the journalists' hard work as partners in disseminating accurate and timely information.
"I would like to thank the 8ID press corps for being a reliable partner in our fight of telling the truth to the people of Eastern Visayas. If we work together, we can continue to make difference and indeed we can accomplish our common goal, to serve the people," Maj. Gen. Ligayo said.
The new 8ID press corps officers took their oath of office before Maj. Gen. Ligayo.
Elected as the new President is Miriam T. Desacada of Philippine Star, Vice-President Gina Dean of Kauswagan Radio, Secretary Elmer Recuerdo of Daily Tribune, Treasurer Josie Serseña of Eastern Visayas Mail, Auditor Imelda Baronda of Agence France Press, Sgt at Arms Dan Kerk Riqiez of FMR Tacloban, Leyte Representative Jasmin Bonifacio of Rappler, Southern Leyte Representative Jade Nombrado, Samar Representative Rene Castino of DYMS Catbalogan, Eastern Samar Representative Luisidro Moscosa of GMA 7 Stringer, and Northern Samar Representative Danny Balading.
In her statement, Desacada urged fellow media practitioners to unite and set aside differences.
"We are journalists! And inside the Press Corps, we must have unity, which means we must work together for the common good. There is no other way to merit us to be called journalism professionals, except to show to the 8th ID and the public that we are men and women of integrity and credibility in the profession", said Desacada.
Before the election, the journalists from different media outlets in Eastern Visayas gathered for a two-day activity for team building to strengthen the corps' unity and camaraderie. The reorganization of the press corps aims to facilitate the dissemination of the programs and projects of the 8ID in Region 8.
Among the activities conducted were marksmanship, command briefing, and team building.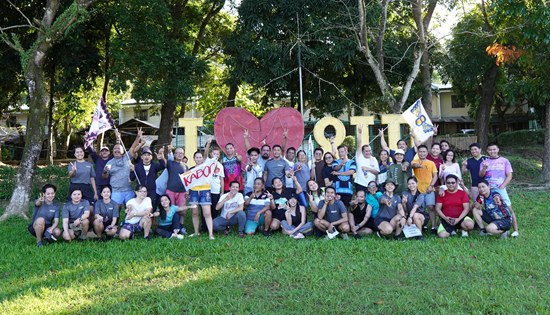 Ex-Usec Mañalac, group appeal to PBBM: Take full control of Malampaya
Press Release
February 13, 2023
MANILA – Former DOE Undersecretary Eduardo Mañalac and the National Movement for the West Philippine Sea (NYMWPS) on Monday, February 13, appealed to President Bongbong Marcos to terminate the Service Contract 38 or the Malampaya project when it expires in 2024.
The Malampaya project is currently operated by Prime Infrastructure Capital owned by Enrique Razon Jr. and Udenna, owned by Dennis Uy.
Mañalac and NYMWPS instead, asked Marcos Jr. to order the Philippine National Oil Company (PNOC) to operate the Deepwater Gas-to-Power Project.
The PNOC was created in 1973 by Former President Ferdinand Marcos Sr. for the purpose of taking over operations after the contract ends.
In a news release by NYMWPS following an online conference last February 9, Mañalac said this process will deliberately place direct control of Malampaya operations in the hands of the government.
He added that this will also serve to maximize earnings for the Filipino people, who are at this point, losing billions of pesos to what they believe as unqualified private companies.
Udenna and Prime Infra currently earn P50M each, or a combined P100M daily from Malampaya gas, the same amount the Philippines government may earn if it takes full control of the operations. Presidential Decree No. 87 or the Oil Exploration Act of 1972 mandates that said activities should ensure maximum benefits to the people.
PD 87 also requires that only companies that possess technical expertise and financial capability shall be granted service contracts. Mañalac and the NYMWPS had earlier questioned the processes by which Prime Infra and Udenna acquired the Malampaya interests from Shell and Chevron because the two service contractors allegedly do not have the required technical capability to operate the gas field.
Prime Infra and Udenna each controls 45% stake or a total of 90% of the shares in the gas field. PNOC holds the remaining 10%. Malampaya supplies 20% of the power requirements of Luzon, the biggest of three major islands in the Philippines.
8ID renders arrival honor to the Area Police Commander of Visayas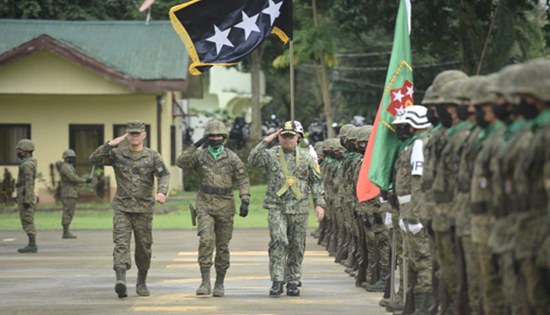 By DPAO, 8ID PA
February 11, 2023
CAMP VICENTE LUKBAN, Catbalogan City – The 8th Infantry "Stormtroopers" Division, Philippine Army, rendered an arrival honor to Police Lieutenant General Patrick T. Villacorte, the new Commander, Area Police Command (APC), Visayas at the 8ID Grandstand on February 10, 2023.
PLt.Gen. Villacorte is a former Director of the Philippine National Police Special Action Force (SAF) and the Commander of APC-Eastern Mindanao. He is a member of Philippine Military Academy (PMA) "Sambisig" Class of 1991.
During the visit, discussion included among others is the interoperability operations between the Philippine Army and the Philippine National Police in Eastern Visayas Region to stop the communist terrorists in their atrocities that affect the socio-economic development in the region.
"We look forward to upcoming collaborative efforts among security forces for us to be effective in our efforts to attain peace, stability, and security in the region," in a statement made by Major General Camilo Z. Ligayo, Commander, 8ID.
PLt. Gen. Villacorte expressed his appreciation for the warm welcome rendered to him during his arrival at the home of the Stormtroopers.
Karapatan scores bill on special privileges for ex-presidents
By KARAPATAN
February 10, 2023
QUEZON CITY – Human rights alliance Karapatan scored a bill filed in the Senate that seeks to provide official government roles as well as special privileges to former presidents at the public's expense.
"Senate Bill No. 1784 will benefit three living ex-presidents, all of whom earned infamy for massive corruption, among other scornful acts," said Karapatan secretary general Cristina Palabay.
"Ex-Pres. Joseph Estrada was forced out of office for the jueteng payola scandal," said Palabay. "Ex-Pres. Gloria Arroyo's nine-year rule was marked with several impeachment attempts due to the 'Hello, Garci' electoral fraud scandal, the multi-million peso fertilizer and pesticide scam and the numerous extrajudicial killings and involuntary disappearances of activists, to name a few," she added. "And ex-President Rodrigo Duterte is, of course, infamous for the thousands of summary executions of suspected drug personalities and activists, among others."
"Why should we pay for the political resurrection of ex-presidents whose reputations stink to high heaven and who have already been roundly repudiated by the people?" asked Palabay. "Do the authors of this bill want to make political resurrections fashionable because the current president himself is from a family that the Filipino people have relegated to the trash bins of history?"
"Senate Bill No. 1784 and its counterpart bill in the House of Representatives should be rejected the same way its intended beneficiaries have already been junked by the people," concluded Palabay.