Calbayog City Coastal Road: An update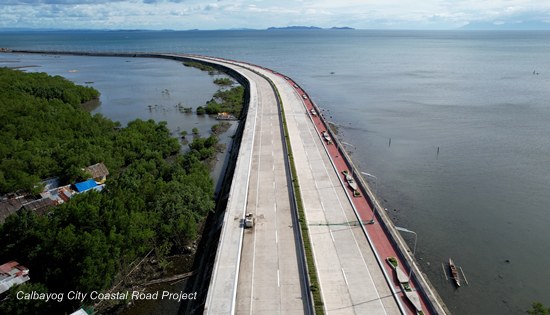 By GISSELLE G.PARUNGAO
December 23, 2022
CALBAYOG CITY – Continuous construction of the Calbayog City coastal road is being done since it started in 2018. This multi-year project will connect Barangay Rawis to Barangay San Policarpo through Barangay Aguit-itan allowing vehicles to by-pass Calbayog City Proper.
Calbayog City is now one of the fast-expanding city and with it comes the heavy traffic which is prevalent in the streets of the city proper. This coastal road will serve as a detour to manage traffic congestion. Also, tourist attractions are being developed since the city is blessed with several natural attractions such as clean and wide beaches, unexplored caves, waterfalls and hot spring which will eventually add to the growing number of vehicles plying in and out of the city.
Since 2018 to 2020, much has been accomplished on the coastal road in terms of embankment and gravel road as well as concreting including its slope protection. A total of 3.074 lane kilometers is embanked and 9,335.86 square meters of slope protection is built in Barangay Rawis. Also, 3.073 lane kilometers is embanked and 9,333.31 square meters of slope protection is constructed in Barangay Aguit-itan. Moreover, 3.286 lane kilometers and 9,952.70 square meters of its slope protection is also built in Barangay San Policarpo. Likewise, part of the embanked portion are now concreted in Barangay Rawis and Aguit-itan for a total length of 3.08 lane kilometers.
However, the construction of two bridges that is part of the 2019 (package A) and 2020 (package 2A) projects just recently started which will link to a special bridge that will eventually connect to Barangay Aguit-itan.
In 2021, a total of 2.2366 lane kilometers of embankment are constructed along Barangay San Policarpo consisting of three packages (package 5A, package 4A and package 3A). Also, the scope includes 2,236.6-meter of slope protection.
By 2022, two of the three (3) packages are already completed. One of those is the concreting of road from Brgy. San Policarpo to Brgy. Matobato (Package A). The four-lane Portland Cement Concrete Pavement (PCCP) spans 1.423 lane kilometers with a width of 24.9 meters including the bike and pedestrian lanes. Apart from it, roadway lightings of 168 single arm and 28 double arm LED lights are installed including median island.
An extension of package A (Package 6A) is also completed which consists of Portland Cement Concrete Pavement (PCCP) with a length of 549.30 linear kilometers (including the pedestrian lane) and an additional embankment of 262.3 linear kilometers as well as 262.3-meter slope protection is also built. A median island is also part of the scope of work including 99 LED lights that are installed in the middle part of the road as well as on the side. Construction of the bridge which is the third package for the year is suspended.