Army deploys two additional battalions to boost anti-insurgency campaign in EV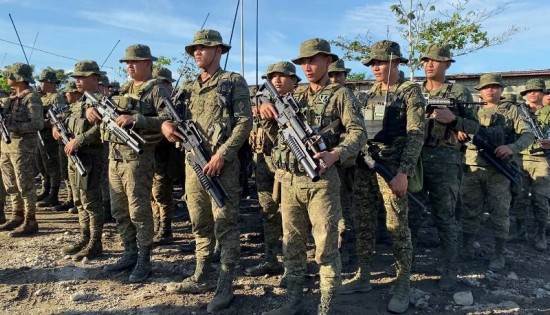 By DPAO, 8ID PA
February 22, 2023
CAMP LUKBAN, Catbalogan City, Samar – The 8th Infantry "Stormtroopers" Division (8ID) welcomes the arrival of 74th Infantry "Unbeatable" Battalion and 42 Infantry "Tagapagtanggol" Battalion at Government Center, Palo Leyte Yesterday, February 20, 2023.
The said Battalions will be placed under the operational control of the Joint Task Force -Storm (JTF-Storm) and will help sustain the gains of the Stormtroopers in the successful implementation of its campaigns.
The 74IB is one of the battalions of the 2nd Infantry "Jungle Fighter" Division. Prior to their deployment in Eastern Visayas, 74IB have made significant accomplishments in the fight against the Abu Sayaff Group (ASG) in Basilan Province. The unit also made significant contributions in the campaigns of the Western Mindanao Command under the Operational Control of Joint Task Force Zamboanga.
Meanwhile, the 42IB of the 9th Infantry "Spear" Division also showed exemplary performance in the conduct of offensive operations against the Communist Party of the Philippines - New People's Army operating in Quezon and Bicol area.
The unit have been assigned to different areas in the Philippines; Camarines Sur, Zamboanga Peninsula, Lanao Del Sur and Sulu.
The unit also contributed to the liberation of Marawi City, where they took part in the 6-month fight against the ISIS-Maute Group.
Significant accomplishments in Zamboanga Del Norte was also recorded as they were able to neutralize key NPA leaders and personalities and were able to dismantle the Regional Leadership of Western Mindanao Regional Party Committee (WMRPC).
With their deployment in Eastern Visayas, the Commander of 8th Infantry Division, Major General Camilo Ligayo said that the two additional battalion will boost the anti-insurgency campaign in the region especially that four of the last five remaining guerilla fronts in the country is located here in region 8.
"This Division is in the the winning momentum in dismantling the four active guerilla fronts in the area of operations. Thus, an additional force would be great as we continue to strike hard on the Communist Terrorist Groups and will shorten the time in attaining strategic victory and to finally put an end to this insurgency."
"The higher headquarters of the Armed Forces of the Philippines is very supportive, from additional forces to war-fighting equipment, they really ensure that we are fully equip in this fight. And definitely, in no time we can totally eradicate the CTGs in the region," Ligayo said.
Last February 17, 2023 the 21st Scout Ranger Company belonging to the elite force of 4th Scout Ranger Battalion has also arrived as an additional forces to help end the decades-long insurgency problem in the region.
Since last year, a total of four additional battalions have been deployed to Eastern Visayas that will contribute in the internal security operations against CTGs in the region.