Capoocan-diversion road in progress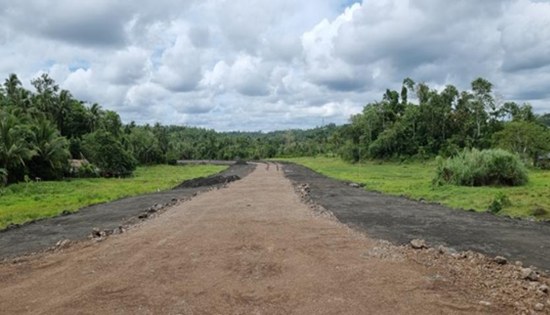 By GISSELLE G. PARUNGAO
August 31, 2021
CALBAYOG CITY – Samar First District Engineering Office is undertaking the construction of a by-pass and diversion road from Barangay Capoocan to Barangay Dagum (diversion road) which is a multi-year project that will start in 2020 and is targeted to be completed by 2023.
Phase I of said project that started in 2020 is an opening of gravel road with a length of 1,227.82 meters and a width of 30 meters. As of July 2021 its actual accomplishment is at 80.34% and is currently suspended due to Road-Right-of-Way (RROW) problems that needs to be settled.
While the problem for Phase I is being resolved, Phase II is already on-going and is at 70.67% actual accomplishment. Scope of work for this phase will include concreting of road that will span 1,227.82 meters (two lanes). An off-carriageway improvement (bicycle lane) is also part of the project's works with a width of two (2) meters and a length of 750 linear meters.
The two projects have a total contract amount of P105.65 million under the General Appropriations Act of FY 2020 and 2021.
This project will address the problem on the large volume of traffic along Daang Maharlika during peak hours starting in Barangay Matobato. Apart from it, this will also serve as an alternate route for motorists and private vehicles if ever new businesses will be established (e.g. malls and other big establishments) wherein other cities or municipalities are expected to visit Calbayog City.