Matuguinao peace advocates unite against NPA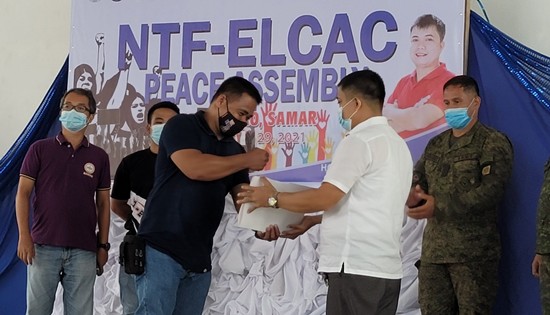 By DPAO, 8ID PA
January 29, 2021
CAMP LUKBAN, Catbalogan City, Samar – Some 350 residents of Matuguinao, Samar joined a walk for peace and rejected the presence of the Communist Party of the Philippines-New People's Army-National Democratic Front (CPP-NPA-NDF) in their municipality, in a Peace Assembly on Friday, January 29, 2020.
Led by Mayor Aran Boller and Vice-Mayor Cleofe Belonio, the participants, who included barangay officials, law enforcers, employees of various government agencies, and former rebels, denounce the communist terrorists' deceptive recruitment scheme of the youth and the atrocities committed against government security forces and Matuguinaonons.
"It's about time to end the chaos and the damage brought by the communist terrorist group. I encourage every Matuguinaonon to help the government by stopping providing sanctuary, financial, material, or any kind of support to the NPA terrorists," Mayor Boller said.
During the program, hundreds of residents from the 20 barangays of Matuguinao were joined by municipal and barangay leaders, Philippine Army personnel, employees of various government agencies, and former rebels in the ceremonial signing of a peace covenant and resolution declaring the CPP-NPA-NDF as persona non grata in their town. They also burned flags of the CPP-NPA-NDF.
"I appeal to all members of the CPP-NPA-NDF to stop destroying the future of our youth by becoming victims of your deceptive recruitment. I also encourage them to lay down their arms and go back to the folds of the law and be productive citizens," Mayor Boller added.
The former rebels who joined the peace assembly narrated their experiences while inside the organization and witnessed the inhumane acts of the NPA. They said they are thankful for the government's help to their families after they have decided to surrender. They were not only given a chance to live peacefully with their families but were also given livelihood.
Like the LGU, they are also appealing to their former comrades to return to the folds of the law as the government is ready to help them so they can have peaceful and normal lives as productive citizens of the society.