DAR-EV welcomes new RD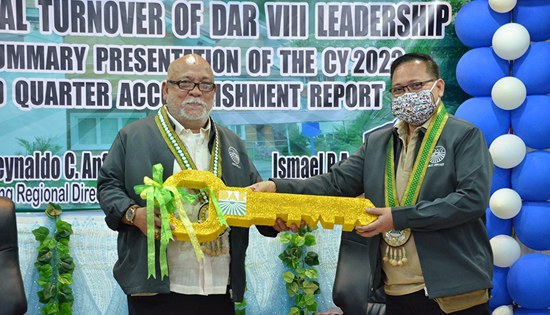 Engr. Reynaldo Anfone (left) is now the new Regional Director of the Department of Agrarian Reform (DAR) in Eastern Visayas.
By JOSE ALSMITH L. SORIA
October 21, 2022
TACLOBAN CITY – Only three months and four days ago when lawyer Robert Anthony Yu, then regional director of the Department of Agrarian Reform in Eastern Visayas, turned over his post to Ismael Aya-ay. On Tuesday, Aya-ay relinquished it again to Engr. Reynaldo Anfone.
By virtue of Department Special Order No. 573, series of 2022 issued by Agrarian Secretary Conrado Estrella III on October 6 this year, Anfone, Regional Director of Central Visayas, was transferred to Eastern Visayas replacing Aya-ay.
On the same document, Aya-ay, who was concurrent Assistant Regional Director for Administration (ARDA) will now focus on his work as ARDA.
An agricultural engineer, Anfone said in his acceptance message, "I am expecting so much with regards to the tasking of the mandates of the Department."
"I will assess everything," he stressed. The new regional director added "Titingnan natin kung meron dapat baguhin o meron dapat i-improve." (We will see if there are things that need to be changed or improved.)
Anfone, the 22nd Regional Director to serve this region since the agency was created on September 10, 1971, is a native of Pikit, Cotabato.
He joined the DAR in 1985 as Agrarian Reform Technologist (ART) and rose from the ranks.
From ART, Anfone was promoted to Engineer II. Then he became Municipal Agrarian Reform Program Officer (MARPO) for 23 years. In 2018, he was appointed Provincial Agrarian Reform Program Officer II (PARPO) by then president, Rodrigo Roa Duterte.
In March this year, Duterte appointed him Director IV. His first assignment as regional director was in Central Visayas.
As a regional director, Anfone said during his installation that he reads and analyzes all the documents before signing them, but emphasized he is not used to micro-managing.
He assured the PARPOs and the MARPOs "I will not interfere on all your affairs. I will just be directing the PARPOs and the MARPOs."
Anfone hopes that his assignment here will not be as short as his stay in Central Visayas. According to him, he just stayed in Region-7 for only three months and 21 days. "I hope to stay here for quite a long time, so we will really know each other," Anfone quipped.