Caltex and AMCHAM foundation donate roofing materials to victims of Super Typhoon Odette in Southern Leyte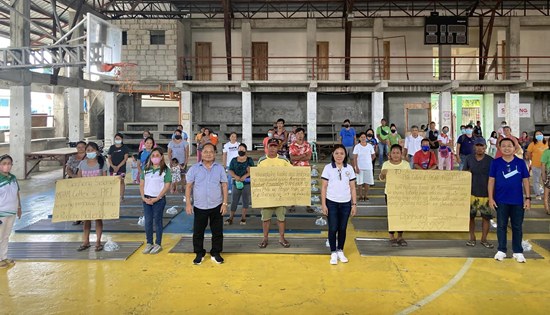 Residents and government officials of Padre Burgos, Macrohon, and Maasin Southern Leyte express their gratitude for the roofing materials donated to their communities.
Press Release
October 28, 2022
MAASIN CITY – Caltex, marketed by Chevron Philippines Inc. (CPI) in partnership with American Chamber Foundation Philippines (AmCham Foundation), provided roofing materials to 115 beneficiaries in Southern Leyte who were impacted by Super Typhoon Odette.
Months after Super Typhoon Odette made landfall in the Philippines in December 2021, homes in Southern Leyte province are still in need of repair. With the help of PASAR Foundation who took charge of the distribution of the construction materials, each family from the city of Padre Burgos, Macrohon, and Maasin, received 10 corrugated zinc roof sheets and 2kg of roofing nails.
Distribution began on August 31, 2022 by handing out the construction materials to 46 beneficiary families in Maasin City, 36 beneficiary families in Padre Burgos and 33 beneficiary families in Macrohon. Residents of each city attended the turnover ceremony and expressed their gratitude for the donation to their communities.
"Typhoon recovery can be challenging, which is why we are always ready to lend a helping hand in any way we can. We are appreciative that we have partners like AMCHAM Foundation that assist us in establishing connections with the communities in need so that we can make these donations," said CPI Country Chairman Billy Liu.
Through the Caltex Biyaheng Pagtulong fuel promo launched earlier this year, Caltex was able to raise funds to help communities in five other provinces hit hard by Super Typhoon Odette.