One Town, One Product Philippines Act of 2022 gets Senate nod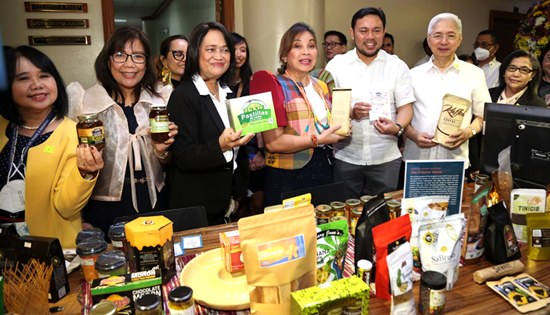 L-R: DTI RIII OIC Regional Director Bi Pili, DTI Assistant Secretary Leonila Baluyut, DTI Undersecretary Bles Lantayona, Senator Loren Legarda, Senator Mark Villar, and DTI Secretary Fred Pascual during the opening of the OTOP Hub at the Senate of the Philippines on 6 March 2023
By DTI-OSEC-Public Relations Unit
March 22, 2023
MAKATI CITY – On Monday, 20 March 2023, the Senate of the Philippines passed Senate Bill No. 1594 also known as the One Town, One Product (OTOP) Philippines Act of 2022, with twenty-two (22) affirmative votes and no negative votes. This facilitates the institutionalization of OTOP as a program that aims to drive inclusive economic growth by supporting micro, small, and medium enterprises (MSMEs), the backbone of the Philippine economy.
Acknowledging the significant contribution of MSMEs toward economic growth and development, OTOP Philippines Act of 2022 warrants the provision of assistance for MSMEs to develop new, innovative, and more complex products with significant improvement in the areas of quality, product development, design, packaging, standards and regulatory compliance, marketability, production capability, and brand development.
Likewise, rural communities will be given assistance to foster local economic development by creating higher quality and innovative products. Furthermore, the act shall promote the convergence of initiatives from local government units (LGUs), national government agencies (NGAs), and the private sector in developing and promoting Filipino-made products that can compete in the local and international market.
"We thank the Senate for passing this very important legislation that will increase the capacity of our MSMEs by addressing gaps in terms of training and product development. As we all know, more than 99% of the country's business enterprises are MSMEs, when we uplift them, we uplift the nation and our economy. Through this, the Department will be able to customize interventions that will pave the way for the development of new and innovative products from various regions of the country. It will also help promote our cultural identity in the international market," Department of Trade and Industry (DTI) Secretary Fred Pascual said.
Further, through the establishment of OTOP Hubs and as part of the national government's inclusive economic growth agenda, OTOPreneurs or budding MSMEs from the grassroots are given the opportunity to showcase their unique products in various locations and access larger market and earning potential.
From 2017-2023, OTOP Philippines has already assisted 79,985 MSMEs, generated P10.9 million in sales, developed 39,815 products, established 111 OTOP Hubs (52 in Luzon, 18 in Visayas, and 41 in Mindanao), and conducted 1,390 trade fairs. MSMEs were mainly assisted in the form of standards compliance, product development, capacity building, and promotional activities.
Secretary Pascual further said that "Since we aim to introduce Filipino-made products in the international market, we also want to assist MSMEs in terms of standards and market compliance. We aim to preserve the OTOP brand as a mark of excellence and for that to happen, Filipino entrepreneurs must be capacitated in observing various standards and requirements. We need to make our products export quality, and this is where the DTI-Bureau of Philippine Standards comes in. They oversee the establishment of standards that will increase the competitiveness of our products."
Through the OTOP Philippines Act of 2022, the DTI is likewise authorized to establish the OTOP Philippines Trustmark, an assurance that products under the OTOP Program represent the country's best and that these have been marked as excellent in terms of quality, design, value, and marketability.
The OTOP Philippines Program covers products that are known to an area or locality and those that are ingrained in the community's cultural identity such as processed foods, agricultural-based products, home and fashion and creative artisanal products, and arts and crafts.