Northern Luzon humanitarians unite for government accountability for continuous judicial harassment and HRVs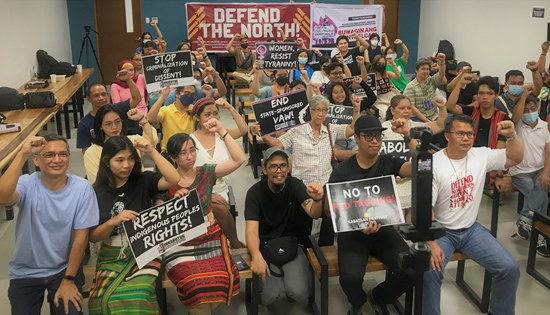 By KATRIBU
March 24, 2023
QUEZON CITY – A delegation of activists and human rights defenders from the Cordillera, Cagayan Valley, and Ilocos regions rallied to the National Capital Region from March 20-21, 2023. The delegation aimed to engage in several activities with government agencies, officials, and civil society to bring light to the continuous attacks on communities and human rights defenders at a national level.
They held a symbolic action and dialogue with the Commission on Human Rights (CHR), lobbied at the House of Representatives, and organized a forum at the University of the Philippines-Diliman to give attention and solicit urgent responses to the intensifying human rights violations in Northern Luzon. Alongside these activities, the contingent also dedicated time to honor the Northern Luzon heroes inscribed on the walls of the Bantayog ng mga Bayani.
The dialogue with the CHR proved fruitful, with representatives from national minority and peasant organizations in the NCR joining in solidarity with the pleas and demands of the delegations. Highlighted in the dialogue were the recent community bombings by the Armed Forces of the Philippines in the barangays and municipalities in Cagayan and Kalinga provinces that happened in recent months. The CHR committed to the independent investigations of these bombing incidents, the red-tagging and terrorist labeling of people's organizations, and trumped-up charges of the Northern Luzon 7. The delegation also followed up on unresolved cases that they raised in the recent past, such as the attempted assassination of Brandon Lee and the abduction of Steve Tauli.
The trooping to the House of Representatives to gain support for the #DefendTheNorth campaign also resulted in several positive developments. The delegation met with Kalinga District Rep. and Chair of the House Committee on Indigenous Cultural Communities and Indigenous Peoples Committee, Allen Jesse Mangaoang, Mt. Province District Rep. Maximo Dalog Jr., Manila District Rep. and Chair of the House Committee on Human Rights Benny Abante Jr., Kabataan Partylist representative Raoul Manuel, and ACT Teachers Partylist France Castro.
Hon. Mangaoang, Dalog, and Manuel shall file a resolution to investigate the bombings in Kalinga. Alongside raising the current HRVs, the delegation also discussed the ongoing Gened dam project in Kabugao, Apayao.
Kabataan Partylist Rep. Raoul Manuel delivered a privileged speech in which he challenged his fellow lawmakers to take action on the cases of the North. He called to stop the attacks, harassment, and filing of false charges against the citizens of Northern Luzon.
Katribu supports the Defend the North campaign. We encourage all peace-loving citizens to stand in solidarity with them as well. The trooping of the delegation from the different regions is a first of a series of activities calling for judicial and legislative reforms to protect activists and human rights workers. The struggle continues for us human rights defenders to resound the calls and demands of Northern Luzon and to hold the perpetrators accountable.