NMP reaches 179% accomplishment in seafarers trained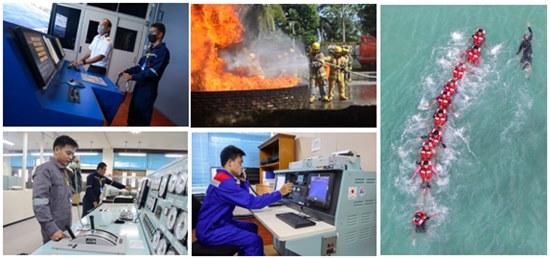 By National Maritime Polytechnic
December 29, 2022
TACLOBAN CITY – The National Maritime Polytechnic (NMP), the only government maritime training and research center of the country achieved its annual target in training seven thousand (7,000) trainees as stated under its commitment on the Office Performance Commitment Review (OPCR) as part of the agency's major deliverables for the calendar year 2022.
As of 15 December 2022, the total number of trainees trained is 12,501 composed of trainees aspiring and active seafarers, maritime instructors and assessors and/ or other allied personnel in the maritime industry. This means an accomplishment of 179 % of the 7,000 target trainees to be trained for the year.
This is a notable performance considering the pandemic-related restrictions implemented by NMP wherein its class intake was reduced to 50%-70% from the previous maximum capacity until July 2022 to effectively observe physical distancing. Likewise, NMP started accepting enrollees from other regions only in May 2022.
As part of the NMP's commitment to prompt service, 100% of trainees received their certificates within seventy-two (72) hours from the successful completion of all course's requirements. Likewise, the Agency achieved an average satisfaction rating of 94.66% on 8 service quality dimensions as of November 2022. These figures reflect the NMP's untiring endeavors to ensure the delivery of quality services to its clients.
Moreover, two (2) additional Standards of Training, Certification, and Watchkeeping for Seafarers (STCW) courses, namely: Safety Training for Personnel Providing Direct Services to Passengers in Passenger Spaces and Passenger Ship Crisis Management and Human Behavior Training were accredited by the Maritime Industry Authority (MARINA) and will soon be offered in 2023. This would mean additional enrollees to be trained and certificated by end of next year.
Meanwhile, NMP continues to upgrade its facilities and provide maritime trainings required pursuant to the Standards of Training, Certification, and Watchkeeping for Seafarers (STCW) Convention as amended in 2010 including value-adding courses towards improving the qualifications of Filipino seafarers for their employment acceptability and enhanced competitiveness. It also regularly conducts maritime studies to come up with policies for the improvement of the manpower sector of the industry.
Those interested to take NMP training programs may visit the Online Registration System via reserve.nmp.gov.ph or the agency's Facebook page (www.facebook.com/nmptrainingcenter) where all updates and relevant information on NMP programs are available. Likewise, for information on NMP research undertakings please visit the NMP website and access the e-Research Information System Portal (www.research.nmp.gov.ph) which is designed to disseminate NMP completed researches, present the Research Agenda, and engage the industry stakeholders to collaborate in the research activities.