NPA leaders and members surrenders, 13 high powered firearms seize in EV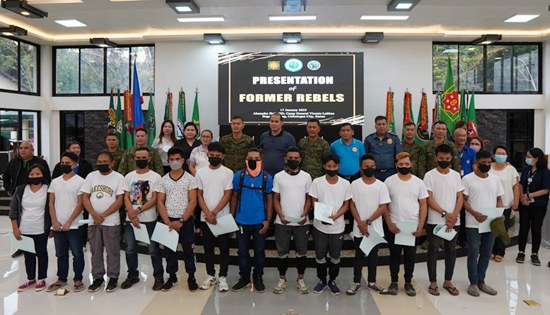 By DPAO, 8ID PA
January 17, 2023
CAMP LUKBAN, Catbalogan City – Thirteen New People's Army (NPA) surrendered along with their issued firearms to the 801st Infantry "Bantay at Gabay" Brigade (801st IBde) of the 8th Infantry "Stormtroopers" Division (8ID), Philippine Army at Barangay Fatima, Hinabangan, Samar last January 12, 2023.
The surrenderers were members of Bugsok Platoon, Sub Regional Committee (SRC) Sesame, Eastern Visayas Regional Party Committee (EVRPC) under the leadership of Martin Colima alias Antos operating in the tri-boundaries of Pinabacdao, Calbiga, and Basey all of Samar.
Their surrender was made possible through the intervention of the Local Peace Engagement (LPE) Cluster of the Provincial Task Force End Local Communist and Armed Conflict (PTF-ELCAC) of Samar. The continued talks with their families and relatives prompted them to return to the folds of the law. According to the surrenderers, the hardships, longingness for their families, and lack of support for the exploited masses are some of the primary reasons that prompted them to leave the armed struggle.
Together with his group, Dino Bachicha alias Linoy the former NPA Terrorist Leader of the Sentro De Grabidad, Bugsok Platoon, SRC Sesame, EVRPC handed over ten M16 rifles, two Cal. 45 and one Glock 17 pistol as a symbol of goodwill and willingness to be integrated back to the society. They also revealed the locations of prohibited anti-personnel mines, medical paraphernalia, and numerous ammunitions.
Meanwhile, Colonel Lenart Lelina, Brigade Commander of the Army's 801st Bde said, "The disintegration of the leaders and members of the EVRPC is a manifestation that our efforts together with our stakeholders and peacebuilders have made them realize that we are sincere to help them."
"I would like to extend my deepest gratitude to the members of the PTF-ELCAC for the unending help and effort in quest of attaining lasting peace in Samar." Col Lelina added.
Likewise, Major General Camilo Z Ligayo the Commander of the 8ID said "The communist terrorist groups are dwindling in numbers and are under pressure with the loss of their forces and mass bases which urged them to surrender to the government authority. Their surrender only proves that they are fed up with the wrong ideologies of the NPA. Also, this indicates that their trust and support are now shifted from the CTG to the government. With this, rest assured that the Army will assist them to avail the benefits under Enhanced Comprehensive and Local Integration Program (ECLIP)."
"I hope that the continued commitment of the Army and different stakeholders in implementing the ECLIP will motivate the remaining members of the NPA to lay down their arms and return to the folds of the law," Maj Gen Ligayo added.
Said surrenderees will process their ECLIP benefits and privileges after their Medical and Physical examination at Camp Lukban Station Hospital.